The Value of an Aeroplan Point

The average dollar value of 1 Aeroplan point is
$0.0155
| | | |
| --- | --- | --- |
| Dollar value of 1 point | Flexibility of points | Can points cover taxes and fees? |
| $0.0155 | Medium | Yes |
---
Aeroplan is one of the most popular airline loyalty programs in Canada with over 5 million active members. Many banks like CIBC and TD offer a variety of different Aeroplan credit cards that'll earn points on all your everyday purchases; so make sure you do your research because the annual net rewards of each card will vary.
Ratehub.ca Recommends: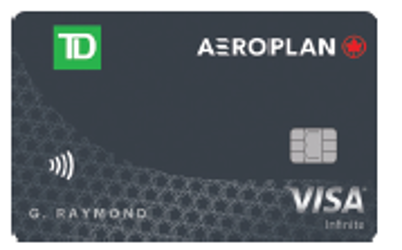 Apply now
Earn up to 1.5 points per dollar
Annual fee: $139
---
How much are your Aeroplan Points worth?
The value of an Aeroplan point when redeemed for travel isn't consistent and can fluctuate quite considerably based on the Aeroplan Flight Rewards Chart, which splits up the world into four major travel zones: North America, South America, Atlantic, and Pacific.
Your Aeroplan points value can vary based on multiple variables, including:
Which of the 4 zones you're travelling within or between
The distance (in miles) between your city of departure and arrival
Which type of seat you're booking (economy, business, or first-class)
The time of year you're travelling (high-or-low demand travel seasons)
Whether you choose to redeem a flight on Air Canada or one of Aeroplan's over two dozen airline partners (including United Airlines, Lufthansa, and more)
Whether you carry an Aeroplan credit card (cardholders receive better redemption rates versus general loyalty members)
At Ratehub.ca, we ran 35 different travel scenarios involving economy flights departing from Canada to destinations across the globe at various times of the year and determined the average value of 1 Aeroplan point to be $0.0155 or 1.55 cents.
Aeroplan points can also be redeemed for non-travel oriented rewards including retail gift cards and merchandise, however, they'll typically reap lower returns ($0.0071 / 0.71 cents per point on average). Values can fluctuate depending on which gift card or merchandise item you redeem for.
---
Here is the methodology we used to determine the average value of an Aeroplan point:
Look up the price of a flight (in cash) from your city of departure to your desired destination
Use the Aeroplan points filter on the Air Canada website to determine the cost of the same or equivalent flight in points
Take the price of a flight in cash and divide the dollar amount by the number of points required to book the flight to find the net gain
Depending on how you redeem your points (for example, if you choose to use a mix of points and cash), you must go through a multi-step process and subtract the amount you're paying in cash first to determine the net gain (example below)
---
Calculating Aeroplan points value example
Round-trip flight from Toronto to Los Angeles
Total cost of flight
Combination of Cash and Points required to book

$422.52

Total price of the flight in dollars

$122.90

cash needed

23100

Aeroplan points needed
Step 1:
Determine the net gain of redeeming your points
$422.52
flight price
$122.90
cash needed
=
Step 2:
Determine the value of your points
$299.62
net gain
÷
23100
points
=
Note: The value of Aeroplan points is directly correlated with the price of flight tickets. With the airline industry facing volality due to COVID-19, Aeroplan points values are even more sensitive to change.
Overall Flexibilty: Medium
| Taxes and fees covered? | Consistent value? | Transferable to/from other rewards programs? |
| --- | --- | --- |
| Yes | No | Yes |
| Yes, Aeroplan allows you to pay for taxes and fees with your points. | No, the value of your Aeroplan points change with many factors like flight destination and seasonality. | Yes, you can transfer your points with select rewards programs. |
| More than one airline involved in program? | Can the points be used retroactively? | Expiration date on points? |
| Yes | No | Depends |
| Yes, in addition to Air Canada, all airlines under the Star Alliance bracket are included. Popular ones include: United Airlines and Lufthansa. | No, you must use your points at the time of purchase. | If you carry an Aeroplan credit card, points don't have an expiry date. Otherwise, if you are inactive on your Aeroplan account for 18 consecutive months, your Aeroplan points will expire. |
For a travel rewards program owned and operated by a specific airline (Air Canada), Aeroplan does offer some considerable flexibility.
You can redeem points directly for flights on Air Canada as well as on over two dozen Partner Airlines that make up the Star Alliance network. Plus, you can convert your Aeroplan points to other loyalty programs (e.g. American Express Membership Rewards and Marriott Bonvoy).
Here are some more great flexible benefits offered by Aeroplan:
Stopovers: you can add up to a 24-hour stopover on each one-way flight for an incremental 5,000 points (some exclusions apply, like direct flights within North America). When optimized, this policy means you can create complex and creative routes using stopovers to see other cities along the way or book different arrival and departures cities all while using fewer points.
Last-minute booking: you can book your ticket up to 2 hours before departure
Cancellations or changes: for a fee (can range between $25 - $170 depending on your tickets), you have the ability to change or cancel your flight up to 2 hours before departure without losing your points
While relatively flexible for an airline loyalty program, Aeroplan isn't perfect. You can't redeem points from any airline of your choice or book your rewards flight using third-party travel comparison sites like Google Flights or Expedia. It can also be quite complicated to understand how to calculate and maximize what your points are worth since values can fluctuate based on so many variables (like your travel destination and seasonality). However, it's this complexity that makes Aeroplan a popular choice among points optimizers, travel hackers, and "left-brain" thinkers, since a well-strategized trip can stretch the value of Aeroplan points and even achieve the ability to book business class flights on a budget.
The Aeroplan program now allows you to use your points to cover taxes and fees. You can either cover the entire expense using only points or use a combination of points and cash. If you choose to use only Aeroplan points to cover the entire cost of the flight, the value of your points may vary.
Best Way to Use Your Aeroplan Points
The value of your Aeroplan points depends on what rewards you redeem for. Some flights offer you very little value for your rewards and if you think you'll fly in the near future, it's worth saving your Aeroplan points for more valuable destinations. In this post we will go over several techniques that can be used to maximize the value of your Aeroplan points.
Maximization Rules
---
---
View Other Points Programs