The Value of a TD Reward Point
The dollar value of 1 TD Reward point is
$0.005
| | | |
| --- | --- | --- |
| Dollar value of 1 point | Flexibility of points | Can points cover taxes and fees? |
| $0.005 | Very Strong | Yes |
---
Ratehub.ca Recommends: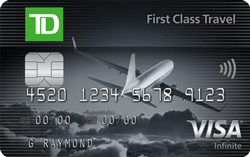 Apply now
Limited Time: $120 annual fee waived in the first year
Welcome Offer: Get up to 80,000 TD Rewards points*
Earn 9 TD Points per dollar on travel through ExpediaforTD and 3 TD Points per dollar on everything else
---
When using Expedia for TD, TD rewards points are worth $0.005 each, and must be redeemed in minimum increments of 200 or 250 at a value of $1 per 200 points. Ratehub.ca has calculated the value of a TD Reward point below when you book via Expedia For TD. The redemption value will change if you redeem for Cash or if you use the Book Any Way option.
10000
TD reward points
÷
$50.00
value of
10,000 points
=
Overall Flexibilty: Very Strong
Taxes and fees covered?
Consistent value?
Transferable to/from other rewards programs?
Yes
Yes
No
Yes, TD Reward points can be used to cover the full cost of taxes and fees
Yes, TD rewards points are worth $0.005 each, and must be redeemed in increments of 10,000, at a value of $50 per 10,000 points.
No, you cannot currently transfer TD points to other reward programs
More than one airline involved in program?
Can the points be used retroactively?
Expiration date on points?
Yes
Yes
No
Yes, you can book with any airline and pay for it using your TD Rewards points
Yes, the points can be redeemed for up to 90 days after booking using your TD credit card
No, TD Points do not expire while your account is open.
If you close your TD Account, you'll have 90 days from the date of closure to redeem your TD Points for travel already charged to your account.
---
The TD Rewards program has become one of the most flexible travel rewards programs in Canada. The TD Rewards program offers great flexibility as you have the option of booking through any provider with the "Book Any Way" option.
After you book travel on your credit card, you have 90 days to redeem points towards that travel booking and receive a full credit. Using this option you can redeem points towards the travel purchase online or over the phone by speaking to a TD rewards travel specialist. The TD rewards program also has a full service online travel agency, where you can use points to book travel.
TD Reward points can also be used to purchase a variety of merchandise, such as electronics, gift cards and appliances, however, when using your rewards for merchandise you will receive less value per point than if you were to use the points to book travel.
The Expedia for TD partnership adds to the flexibility of the program, allowing you to choose convenient flights, with the additional bonus of receiving 9 reward points for every dollar spent on Expedia travel.
TD Points can be used to cover taxes and fees.
Best Way to Use Your TD Rewards Points
The best way to maximize your TD Rewards is to use the TD First Class Travel Visa Infinite for travel purchases online through Expedia for TD. Using this method you will receive 9 points per dollar spent, plus, you can redeem the points you have earned against the purchase you have just made. As another added bonus, you receive an extra 1,000 TD Points when you use Expedia for TD to book travel (this offer is time-limited and may be changed).
Example 1: Book a $1,000 trip booked through Expedia for TD
Step 1:
Calculate TD Points earned from booking trip
$1,000.00
trip cost
9
TD points
per dollar
1000
bonus TD points
=
Step 2:
Calculate dollar value of points
10000
total TD points
$0.005
value per point
=
$50.00
dollar value of points
Step 4:
Calculate your new cost of trip
$1,000.00
trip cost
$50.00
dollar value of points
=
Example 2: Book a $1,000 trip booked through a third party website (Kayak)
Step 1:
Calculate TD Points earned from booking trip
$1,000.00
trip cost
3
TD points
per dollar
=
Step 2:
Calculate dollar value of points
3000
total TD points
$0.005
value per point
=
$15.00
dollar value of points
Step 4:
Calculate your new cost of trip
$1,000.00
trip cost
$15.00
dollar value of points
=
---
---
View Other Points Programs