The Value of a TD Reward Point
The dollar value of 1 TD Reward point is
$0.005
| | | |
| --- | --- | --- |
| Dollar value of 1 point | Flexibility of points | Can points cover taxes and fees? |
| $0.005 | Very Strong | Yes |
---
Ratehub.ca Recommends: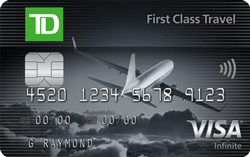 Apply now
Limited Time: $120 annual fee rebated in the first year
Earn 9 TD Points per dollar on travel booked online through the ExpediaforTD website
Earn 3 TD Points per dollar on everything else
---
TD Rewards is the official branded rewards program of TD Bank, and is arguably one of the most flexible and easy-to-understand credit card points programs in Canada.
Quick facts about TD Rewards points
About: Since 2011, TD Bank and Expedia have been in a unique partnership. TD points are worth the most when redeemed online for travel rewards from the ExpediaforTD website (which offers access to the same travel options as Expedia.ca including flights from virtually any airline, hotel stays, vacation packages, car rentals, and tours)
Points values: TD Rewards are redeemable at a rate of 200 points for $1 (or 0.5 cents per point / 0.5% in travel rewards) for anything listed on the ExpediaforTD website. Points can be used to cover taxes and fees too
Ease of use: There are no complicated rewards charts and maps, and points values never change regardless of where or when you're travelling. Simply log in to the ExpediaforTD website and start redeeming in 200 point increments
How to earn TD Rewards: Points can be earned on either the premium TD First Class Visa Infinite, mid-level TD Platinum Travel Visa, or the entry-level no fee TD Rewards Visa Card. You can also earn up to triple the points on any travel purchase you make when using a TD Rewards credit card on the ExpediaforTD website
Other redemptions options: You can opt to redeem TD points for other rewards outside of the ExpediaforTD ecosystem, but you'll reap a lower return from your points - roughly between a quarter or half the value
TD points values - by redemption type
Redemption
Value of 1 point
ExpediaforTD
BookAnyWay Travel

0.4 cents (0.4%) on the first $1,300 of the travel expense
0.5 cents (0.5%) on $1,301 and beyond

Education credit
Amazon.ca
Gift cards
Statement (cash) credit
Merchandise

0.23 -0.3 cents (0.23-0.3%) on average
Values vary
How to redeem TD points
Using your TD Rewards points is extremely straightforward - regardless of what you redeem for. We've provided quick explainers for each redemption option below.
ExpediaforTD
In order to leverage the partnership between TD and Expedia and reap the maximum value out of your TD points, simply visit ExpediaforTDdotcom, use the search filters to create the ideal travel itinerary, and input the number of points you'd like to redeem in 200 point increments at the online checkout when you're ready to book.
You can use any combination of points and credit as you like, so you won't need to build up a giant stockpile of rewards points before you can start putting them to good use. Just note: you must visit ExpediaforTDdotcom, not expedia.ca. While both website share the same travel options, only ExpediaforTDdotcom allows for direct redemption of TD points.
Merchandise rewards and statement credits
Redeeming for merchandise is simple too and can be done by visiting the TD Rewards website homepage.
You may need to cover the cost of the reward entirely in points depending on what you redeem for. For example, if a hairdryer requires 20,000 points, you must redeem all 20,000 points and can't use a combination of points and credit or cash. The same goes for gift cards.
In the case of statement credits, you'll need a rewards balance of at least 10,000 points, with additional redemptions made in 400 point increments. Credits will be applied on statement and serve to reduce your balance (similar to cash back).
When using points for Amazon.ca purchases, you must first enrol your TD account with Amazon.ca (can be done via TDrewardsdotcom) where 10,000 points is worth $33.
Book Any Way
Book Any Way is slightly more involved but extremely fleixble, allowing you to purchase virtually any travel booking directly from an airline or travel provider of your choice using your TD rewards credit card and redeem your TD points after the fact. Your points will be applied to your card bill as a statement credit to offset the cost of the travel purchase. Here's how it works:
Make a travel purchase on your TD Rewards Visa Card and wait for it to appear on your credit card statement (usually takes at least 3 business days)
Visit the TD Rewards website (or contact TD Rewards over the phone) to apply TD points against your travel purchase (must be done no later than 90 days from the date you purchased the travel booking)
Redemption values may differ slightly depending on the price of your travel booking. On the first $1,300 of the travel expense, you're able to redeem in flat increments of 250 points for $1 (0.4 cents per point). On anything $1,301 or beyond, you can redeem in increments of 200 points for $1 (0.5 cents per point)
A range of expenses are eligible for redemptions under Book Any Way option, including everything from the conventional like air travel and hotel stays, to airport parking, bed & breakfasts, and theme park tickets; making it a great option if you're looking to redeem TD points for a travel reward not available on the ExpediaforTD website
In some cases, you may even be able to use points to offset gas and restaurant bills you paid for while travelling (however, point redemption requests may be reviewed on a case-by-case basis for less conventional travel redemption requests)
Redeem for education
Are you (or a loved one) a student enrolled in a post-secondary institution? As a TD Rewards points collector, you can redeem points for education credits that'll go towards reducing the cost of tuition and student loans.
Points can be redeemed for education credits at over 100 universities, colleges, and higher-education institutions including OSAP, Canada Student Loans, University of Toronto, Queen's University, University of British Columbia, and so many more.
You'll need to redeem a minimum of 62,500 TD points for the equivalent of $250 in education credits. The whole process is pretty straightforward: visit the TD Rewards website, select "Redeem for Education", and link your TD account to the HigherEDPoint.com website - an institution that partners with loyalty rewards programs and universities. Once you've redeemed your points, you'll transfer the credits from HigherEDPoint.com to your university or student loan provider. One important note: once you transfer your TD points to HigherEDPoint.com, you must use your credits within two years otherwise they'll expire.
Overall Flexibilty: Very Strong
Taxes and fees covered?
Consistent value?
Transferable to/from other rewards programs?
Yes
Yes
No
Yes, TD Reward points can be used to cover the full cost of taxes and fees
Yes, TD rewards points are worth up to $0.005 (200 points for $1). Points don't fluctuate according to a travel rewards chart
No, you cannot currently transfer TD points to other reward programs
More than one airline involved in program?
Can the points be used retroactively?
Expiration date on points?
Yes
Yes
No
Yes, you can book with any airline and pay for it using your TD Rewards points
Yes, points can be redeemed for up to 90 days after booking using your TD credit card (only when using the BookAnyWay option)
No, TD Points do not expire while your account is open.
If you close your TD Account, you'll have 90 days from the date of closure to redeem your TD Points for travel already charged to your account.
TD Rewards is one of the most flexible credit card points programs in Canada.
Thanks to TD and Expedia's partnership, you can redeem TD points for anything listed on one of the largest travel search engines in the world via the ExpediaforTD website including:
Flights from virtually any airline of your choice with no blackout dates or seat restrictions
Hotel stays at hundreds of resorts
Vacation packages
Car rentals
Cruises
Tours (e.g. museum tours)
Anything else available on Expedia
With the ability to use the Book Any Way option, you can also opt to redeem your points for any travel expense directly from a travel provider (in those rare cases where you can't find the ideal booking on Expedia). This flexibility means you can effectively use points to save on everything from B&Bs and RV rentals to theme park tickets, and more.
Like with virtually all credit card points programs, TD Reward points can also be used to purchase a variety of merchandise, such as electronics, gift cards, and appliances. However, when using your rewards for merchandise you will receive considerably less value per point than if you were to redeem for travel. TD Rewards has a vast catalogue of gift cards and merchandise to choose from (you're virtually guaranteed to find something you'd want).
The option to use TD points towards tuition or student loans is a more unique addition not offered by all rewards programs.
TD Points can be used to cover taxes and fees.
Best way to use your TD Rewards points
Tip 1: Redeem for travel (and stick with ExpediaforTD whenever possible)
Objectively speaking, the best way to maximize TD Rewards is to redeem your points for travel. Specifically from the ExpediaforTD website.
The benefit is two-fold: you'll get the maximum value when redeeming points on ExpediaforTD (0.5 cents per point); plus you can earn up to triple the points per dollar for any travel expense paid for on the ExpediaforTD website using a TD rewards credit card. ExpediaforTD's travel catalogue is vast and doesn't just include flights but hotel stays and rental cars too.
The next best alternative is to use the Book Any Way redemption option. While this does offer roughly 25% less value on your points when compared to ExpediaforTD, it does allows you to redeem points for virtually any travel booking including B&Bs or RV rentals, which aren't offered by Expedia.
Here's an example to compare the two.
When redeeming TD points for a $1,500 round-trip flight to Asia (not including taxes and fees).
Redeeming with ExpediaforTD:
A total of 300,000 TD Points would need to be redeemed, at a rate of 0.5 cents per point
Redeeming with Book Any Way:
For the first $1,300 of the flight ticket, you would need to redeem 325,000 points, at a rate of 0.4 cents per point
For the remaining $200, you'd need to redeem 40,000 points, at a rate of 0.5 cents per point
Adds up to a total of 365,000 points (required 22% more points versus if you used ExpediaforTD)
When paying for a $1,500 round-trip flight to Asia (not including taxes and fees)
Purchasing on ExpediaforTD:
You could collect triple the points per dollar. In the case of the TD First Class Visa Infinite, that would add up to 9 TD points per dollar or a total of 13,500 TD points on the travel purchase
Purchasing outside of ExpediaforTD:
You would earn the base number of points per dollar. With the TD First Class Visa Infinite, that would be 3 TD points per dollar or a total of 4,500 TD points on the same travel purchase
Tip 2: If you don't want to travel, your next best option is to redeem for education credits
If you or a loved one is a post-secondary student and you've got no travel plans for the foreseeable future, the best way to redeem your TD points is for educational credits. You'll get a flat 0.4 cents (or 0.4% return).
Tip 3: Avoid redeeming points for merchandise
Using your points for merchandise rewards - whether in the form of gift cards, Amazon.ca purchases, or items from TD Rewards' merchandise catalogue - will always net you a lower return. In several cases, you'll get half as much value out of your points when redeeming for merchandise versus if you were to redeem for travel.
As a result, it's best to stick to only redeeming points for travel or education credits. The silver lining is TD points never expire as long as your account is in good standing, so you can technically hoard your points until you do eventually want to book a flight, hotel stay, car rental, or another eligible travel reward far off into the future.
If you'd prefer to earn rewards as a way to save on your everyday purchases - as opposed to travel - we recommend checking out some of the best cash back credit cards in Canada instead.
---
---
View Other Points Programs