---
Update: On August 21, 2018 Aimia Inc. accepted a revised $450-million offer from Air Canada, TD, CIBC and Visa Canada to buy back Aeroplan as well as assume the loyalty program's $1.9 billion of points liabilities. We are closely monitoring the situation and will provide further updates as the situation evolves.
Aeroplan is one of the most popular travel rewards programs in Canada and it's also one of the oldest. It was originally founded in 1984 as a loyalty program for frequent flyers of Air Canada. Today, more than five million active members use their membership cards and/or travel rewards credit cards to earn Aeroplan Miles wherever they shop. Miles can then be redeemed for travel expenses (flights and hotels), be converted into points under other programs or even be donated. If you're a frequent flyer of Air Canada and want to be rewarded for your loyalty, keep reading.
CIBC, TD, and American Express offer several credit cards that are affiliated with the Aeroplan rewards program. Most Aeroplan credit cards offer one mile for every $1 spent on the card, but certain purchases are rewarded with more miles. For example, the TD Aeroplan Visa Infinite offers 1.5 Aeroplan Miles for every $1 spent on gas, grocery and drugstore purchases.
Additional miles are also rewarded when you take Air Canada flights that were purchased with your Aeroplan credit card. It's important to note that you actually have to take the flight to get these miles. For example, if you book a flight on your credit card and your spouse takes the flight instead, you won't receive the miles yourself but your spouse could get them. Finally, note that you won't receive any miles for flights booked with Aeroplan Miles.
To earn miles twice, you can use your Aeroplan membership card and present it at more than 150 Aeroplan partner brands (such as Avis, Esso, Fairmont, Hertz, Home Hardware, Marriott, and Uniprix), and use your Aeroplan credit card to pay. If you sign into your Aeroplan account and shop through the eStore, you can also earn Miles at a number of online retailers, including Apple, Club Monaco, eBay, Gap, Hudson's Bay, Indigo, Macy's, Roots, Saks, Sephora, and Well.ca.
You can also convert other rewards program points (such as American Express Membership Rewards, CIBC Aventure points, Hilton HHonors, Marriott Rewards, and Starwood Preferred Guest) to Aeroplan Miles.
Also, if you sign up for Aeroplan's email newsletter, you can find out about special offers and deals.
TD Aeroplan Visa Infinite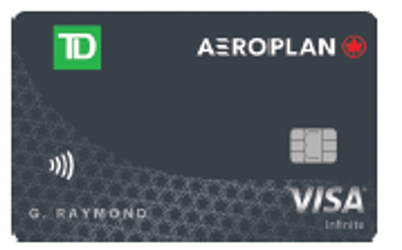 Receive up to 30,000 Bonus Aeroplan Miles – enough Aeroplan points for an economy long-haul flight!
Earn 1.5 Aeroplan Miles for every $1 spent on gas, grocery and drugstore purchases, and eligible purchases on aircanada.com
Earn 1 Aeroplan Mile for every $1 you spend everywhere else
50% Annual Fee Rebate for the first year(Primary Cardholder only) – that's $60 in savings! Offer Valid until Dec. 2, 2016
Comprehensive suite of travel protection, including auto rental collision/loss damage insurance, travel medical insurance and trip cancellation/trip interruption insurance
Receive VISA Infinite benefits
Distinction status
Distinction status is an added reward for Aeroplan members who accumulate a high number of miles in a calendar year. There are three distinction levels: Silver, black, and diamond. If you earn 25,000 miles in a calendar year, you reach the silver distinction level, which rewards members with up to 20% off the required miles for market fare flights. If you earn 50,000 miles, you reach the black distinction level, which rewards members with up to 25% off the required miles for market fare flights. If you earn 100,000 miles, you reach the diamond distinction level, which rewards members with up to 35% off the required miles for market fare flights. All three distinction levels offer opportunities to earn bonus miles. Once you reach a distinction level, benefits begin for that year and continue through the following calendar year.
Altitude status
Aeroplan Miles earned on Air Canada flights count as Altitude Qualifying Miles, which can qualify you for Air Canada's Altitude Program. Air Canada's Altitude Program rewards frequent flyers with priority reservation services, priority airport services, lounge access, and more.
To reach Altitude status, you need to earn 25,000 Altitude Qualifying Miles in a calendar year. Air Canada offers 100% of the miles flown for Air Canada Flex and Latitude flights booked using your Aeroplan credit card. For example, if you booked an Air Canada Flex or Latitude flight with a distance of 250 miles, you'll earn 250 miles (100%). The miles earned on these flights would count as both Aeroplan Miles and Altitude Qualifying Miles. However, if you book a Tango flight, you only earn 25% to 50% Aeroplan Miles and these don't qualify for Altitude status.
Aeroplan Miles/Altitude Qualifying Miles accumulated
| | | | | |
| --- | --- | --- | --- | --- |
| Tango | Flex | Latitude | Executive Lowest | Executive Flexible |
| 25% to 50% (don't qualify for Altitude status) | 100% | 100% | 125% | 150% |
Once again, it's important to note that you actually have to take the flight to get these miles. Credit card purchases for anything other than flights will not earn you any Altitude Qualifying Miles.
How to redeem Aeroplan Miles
To see how many miles you've earned, login to your Aeroplan account. Under the "Your Account" tab, you can view all the transactions you have earned Aeroplan Miles from. Here, you can see how many miles you have accumulated in total or during a specific month. The account will also distinguish between miles earned through flights versus credit card purchases. Only miles earned on eligible flights will count towards airline programs, such as Air Canada's Altitude program. In your account, you can also view past rewards that you booked and see how many miles you redeemed to get those rewards.
To redeem your Aeroplan Miles for a flight or hotel stay, scroll over the header "Use Your Miles" and click on "Travel." To search for available flights via Air Canada, choose your departing airport, arriving airport, and the dates you want to travel.
There are two types of flights you can book: Fixed Mileage (formerly called ClassicFlight) and Market Fare flights. Fixed Mileage rewards offer flights at low fixed mileage levels with Air Canada and more than 25 Star Alliance member airlines. Keep in mind that the number of available Fixed Mileage seats is controlled by the airline and will often run out early for popular flights.
On the other hand, Market Fare flights are offered at variable mileage levels as the required miles is derived from the market price at the time of booking and the conversion of the market price into mileage requirements. When purchasing a Market Fare flight, you have access to any unsold seat on the flight. Market Fare flights have higher mileage requirements but offer greater access to flight departures, routes, and travel times. For example, I tried booking a round-trip economy flight to Boston in mid-October and the lowest Fixed Mileage flight cost 15,000 Miles plus taxes and fees. However, the lowest Market Fare flight cost 31,400 Miles plus taxes and fees but there were a lot more flight options to choose from.
Aeroplan Miles can be redeemed online without any charge but you'll have to pay a $30 fee to redeem over the phone. Miles can also be redeemed online for a wide variety of merchandise.
Fly cash-free
As of April, Aeroplan began allowing members to use their Miles to cover the taxes, fees, and surcharges associated with a flight reward. Previously, Aeroplan users couldn't use their Miles to pay all of these additional charges. These fees and charges (such as airport fees, passenger fees, fuel surcharges, and taxes) are charged by the airlines and not Aeroplan.
The value of an Aeroplan Mile
Have you ever wondered how much an Aeroplan Mile is worth? Many consumers only focus on earning Miles, instead of determining the best way to redeem their Miles. The truth is that the value of Aeroplan Miles varies greatly based on which reward you redeem your miles for. For example, if you choose to redeem your Miles for a round-trip to New Zealand, one Aeroplan Mile could be worth as much as $0.026. But if you used the same miles and only flew to Montreal, 1 Aeroplan Mile could be worth only $0.004. According to our calculations, the average value of 1 Aeroplan Mile = $0.0120.
Ratehub.ca Recommends
As of 2020, the Aeroplan program will be separating from Air Canada and its likely that Aeroplan points will lose a lot of their value as a result. Ratehub.ca recommends using your points and switching programs. Scotiabank, BMO and American Express all have great travel rewards programs with simpler point structures and redemption processes. One of our favourites is the Scotia Rewards program using the Scotiabank Gold American Express card. To learn more about the program, see this post.
Scotiabank Gold American Express Card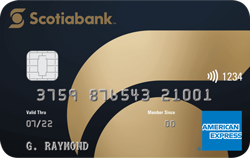 Recieve 30,000 Scotia Rewards ($300 value) when you spend $750 in the first 3 months
Earn 4 Scotia Rewards points per dollar on gas, groceries, entertainment, and restaurant purchases; 1 point per dollar on everything else
No blackout dates; points can be used to cover taxes/fees
$99 annual fee – first year free
One of our favourite replacements for the TD Aeroplan Visa Infinite is the Scotiabank Gold American Express. It currently has the highest earn rate on the market, giving you four points per dollar (that's 4% back in travel rewards) spent on gas, groceries, entertainment, and restaurants, and one point per dollar on all other purchases.
There's no minimum income requirement, and the $99 annual fee is slightly lower than other travel credit cards and waived for the first year. However, you still get a suite of benefits, including access to VIP airport lounges worldwide with a Priority Pass membership (renewed annually), complimentary concierge services, extensive travel insurance, and access to American Express Invites. This card's flexibility makes it a win: You can book your trip yourself or use Scotia's full-service travel agency, travel on any carrier with no blackout dates, and use points to cover all taxes and fees.
Also read:
---