---
You're likely reading this EQ Bank review because the bank caught your attention with its no-fee accounts, myriad of no-cost perks, and high interest rates on Guaranteed Investment Certificates (GICs) and High-Interest Savings Accounts (HISAs).
Rest assured, the hype is accurate; the online bank does deserve all of the attention that it's getting.
EQ Bank currently offers some of the best interest rates on high-interest savings accounts and GICs in Canada—but it doesn't stop there. Ratehub.ca took a closer look with an EQ Bank review to learn more about what they have to offer fiscally conscious Canadians seeking the best interest rates in Canada.
What is EQ Bank?
EQ Bank is a digital-bank that operates solely online. It is owned by Equitable Bank, Canada's 9th largest Schedule 1 bank. EQ Bank opened its digital doors to all Canadians in 2016. As of 2019, EQ Bank currently has 60,000 customers.
The online bank currently offers one of the best High-Interest Savings Accounts in Canada, as well as some of the best GIC rates in Canada.
However, EQ Bank does not currently offer registered accounts, such as Tax-Free Savings Accounts (TFSAs) or Registered-Retirement Savings Accounts (RRSPs). They currently do not offer joint account options either.
Who Owns EQ Bank?
EQ Bank is owned by Equitable Bank, a Canadian independent bank with $29B in assets. Equitable Bank opened its doors in Canada over 45 years ago. In 2016, it introduced Canada to EQ Bank.
Is EQ Bank Safe?
EQ Bank, like most banks in Canada, is insured by the Canada Deposit Insurance Corporation (CDIC). Your finances are protected up to $100,000. This includes savings in a HISA or investments in a GIC.
EQ Bank: High-Interest Savings Account
One of two financial products that EQ Bank offers is the EQ Bank Savings Plus account. In other words, it's their high-interest savings account (HISA).
While several other accounts in Canada offer interest over 2%, EQ Bank uniquely allows its customers to connect this savings account with their daily banking accounts for seamless fund transfer. They also provide a handful of benefits that come with the account.
EQ Bank High-Interest Savings Account offers a high-interest rate of 2.3%.
The bank account also allows its clients to set automatic bill payments, direct deposit funds, and transfer money between their EQ Bank account and third-party accounts. 
It's an excellent option to use in tandem with other no-cost accounts, such as a free-chequing account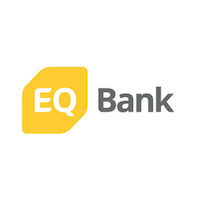 EQ Bank
Savings Plus Account
2.30%
No minimum deposit or monthly fees

Unlimited Interac e-Transfers

Deposits are CDIC Insured
Debit Card and Chequebook
An EQ Bank account does not come with a debit card or chequebooks. Since EQ Bank offers unlimited fund transfers, there is no need to provide chequing accounts, rendering a debit card or chequebook is unnecessary. 
e-Transfers and Transactions 
EQ Bank offers unlimited transfers. This feature allows the savings account to operate like a high-interest chequing account. The bank account also allows sending money to recipients overseas at no additional cost or delay. 
EQ Bank also allows its customers to make an unlimited number of transactions from their HISA each month. This means paying bills, sending money, or moving finances around.
Mobile App and Online Interface
EQ Bank offers a mobile banking app that allows you to do everything a physical branch at a bank would. You can use fingerprint or facial recognition to open the app. You can also deposit cheques through the application. 
They also offer an online interface that can serve most of your daily banking needs. 
A digital account with EQ Bank also comes with a savings goal feature that allows account owners to monitor their financial progress and set various goals. 
Customer Service
EQ Bank offers telephone and online customer service. Telephone banking support is available from 7 days a week, from 8 AM until Midnight EST. Online customer service is accessible 24/7. As of this year, EQ Bank has 750 employees. 
EQ Bank: Guaranteed Investment Certificate (GICs)
Chances are, you've heard of the incredible rates EQ Bank offer on GICs. The online bank offers GIC terms ranging from terms as low as 30-days to as long as 5-years.
Purchasing GICs with EQ Bank requires a minimum deposit of $100. 
Should I use EQ Bank?
There's no doubt that EQ Bank is an excellent investment option. While it's important to consider that everyone has different financial habits, goals, and needs, EQ Bank pretty much has all of the features someone would want out of a digital bank, without the costs. 
Also, Read:
---