---
If you're shopping for a rewards credit card (or already have one in your wallet), odds are you're familiar with what an annual fee is and have put considerable thought into how to avoid it.
In the list of potential fees credit card holders have to account for – from interest fees to balance transfer fees – an annual fee is arguably the most straight forward and is defined as an automated bill that is charged every year in exchange for possessing a card. Annual fees are not universal to all cards and tend to accompany credit cards that offer valuable points or cash back rewards.
Below, we run through some basics about annual credit card fees and provide 4 strategies to help you get out of paying this fee on your card.
How much are annual credit card fees?
While there's no set amount, annual credit card fees typically hover between $30 and $150, with the majority of rewards cards charging at least $100.
There is a small selection of ultra-premium credit cards that do charge annual fees above the $500 mark, such as the American Express Platinum Card, but these cards have strict qualification requirements and offer an assortment of high-end perks not available to other cardholders.
Why get a credit card with an annual fee?
While it can almost seem counterintuitive to pay an annual fee for a credit card (after all, who wants to pay to spend money?), the right combination of rewards and benefits can deliver more value than the extra $100 or so in fees. Especially if you use your credit card for the majority of your purchases.
From the ability to earn rewards points on every purchase to travel insurance benefits, and more, annual fee cards include a suite of perks not offered by even the best no fee credit cards.
How (and when) is an annual credit card fee charged?
Most annual credit card fees are charged once in a calendar year – usually on the first day of the month after an account was opened (i.e. if you signed up for a card on September 5th, 2018, you'd be charged the annual fee on October 1st every year going forward).
There are exceptions to the norm however. The American Express Cobalt Card, for one, has a fee structure that mirrors that of a Netflix subscription and charges $10 on the first of every month. All in all, the way annual fees are charged can vary, so it's always best to read the terms and conditions of your credit card to avoid any surprises.
In terms of how they're charged, annual fees appear on a monthly credit card statement to be paid off like any other purchase.
---
4 Ways to Avoid Annual Credit Card Fees
1.) Open a premium bank account that offers credit card annual fee waivers
Not entirely unlike how insurance providers offer savings when you bundle your home and auto coverage, some banks will waive their credit card's annual fee if you also have an accompanying premium account with them.
In the case of the TD Aeroplan Visa Infinite for example, you can receive a full rebate on the card's $120 annual fee (and up to five other select TD cards) when you also have a TD All-Inclusive Account. The same applies for the BMO World Elite Mastercard's $150 annual fee and the BMO Premium Plan account, as well as RBC Visa Infinite Avion's $120 fee and the RBC VIP Banking Account.
It's important to note that simply having a credit card and chequing account with the same bank is often not enough. To waive your annual credit card fee, most banks require that you have a premium account. Emphasis on the world premium here – these accounts often come with their own fees or require that you maintain a minimum balance of several thousands of dollars in your chequing account at all times. Depending on your cash flow and your ability to park money in the bank, you may want to consider whether this is the most effective way for you to avoid annual credit card fees.
You may also be eligible to have your credit card's annual fees reduced or rebated if you carry multiple financial products (such as a mortgage or home line of credit) with the same bank. In the case of the Scotiabank Gold American Express Card for example, you can cut down the card's $99 annual fee to $59 if you also have a Scotiabank account with a Scotia Total Equity Plan line of credit.
2.) Ask your bank to waive your credit card's annual fees
As the saying goes, "it never hurts to ask."
Credit card providers spend a pretty penny on marketing campaigns and sign-up bonuses to woo new customers, and that means they'll often go to great lengths to satisfy and retain existing ones. While you're far from guaranteed to have your credit card's annual fee waived just for calling your credit card provider and asking, there's no loss in trying.
Credit card providers tend to be more receptive to requests for annual fee waivers if the person who's dialing in is either a long-time customer or uses a number of their financial products. So, if you have a mortgage or line of credit with the same bank as your credit card, make sure to leverage that fact.
One additional bit of advice – while your phone call may involve a fair bit of back-and-forth negotiations and instances of being put on hold, try to avoid confrontation. After all, there's a real person on the other line, and a little politeness can go a long way in securing some good will and a deal on your card.
3.) Seek out credit cards that waive their annual fees for the first year
At any one time, card providers will waive the annual fees on some of their best credit cards for the first year for new applicants. For example, the Scotia Momentum Visa Infinite's $99 annual fee is waived for the first year for anyone who applies by October 31, 2018.
While the annual fee will eventually kick in after the promotional period expires, you'll still pay no fees for an entire year – during which you can accumulate rewards and get a real sense of whether the credit card is right for you based on your personal spending habits.
Scotia Momentum Visa Infinite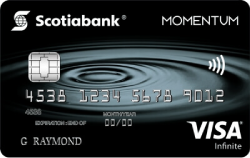 Annual fee: $99 (waived for first year)
Earn 4% cash back on gas and groceries, 2% back on drugstore purchases and recurring bill payments, and 1% cash back on all other purchases
Receive VISA Infinite benefits
Gift cards or free rewards points are other popular types of sign-up bonuses that can help to offset the cost of annual fees for card holders. For the latter, you may be required to spend a certain amount on your card (e.g. $1,000 in the first 3 months) to be eligible to receive the bonus.
4.) Consider downgrading or cancelling your credit card to avoid annual fees
If your credit card is costing you more in annual fees than what you're recouping in points, you may want to consider opting for a no or low fee alternative. This is especially true if you're only looking to get out of paying annual fees to break even or cut your losses on a card.
One option is to ask your credit card provider if you can downgrade to one of their no fee cards. Depending on your request and the provider, you may be able to switch cards with little to no impact to your credit history. From CIBC to TD, we've gathered a list of the best credit cards offered by every major financial institution here (scroll to the bottom to pick your card issuer).
If you're juggling multiple credit cards with annual fees or you're looking to jump to another credit card provider, another course of action to consider is cancelling your card altogether. While cancelling your credit card can result in a small, temporary ding to your credit score, it can have a positive impact on your finances in the long-term.
---