---
Consumer surveys show that most Canadians interested in buying a condo were unclear about what insurance protection they needed. Worse, most were completely unaware of the differences between condo and home insurance, or that the condo corporation has a separate policy in place. This lack of knowledge can cost you if you have an incident and need the insurance policy to pay out.
Condo insurance and house insurance are alike in some basic ways, but vastly different in others. The main difference is that there are two aspects of protection for a condo: (1) a commercial condo policy purchased by the condo corporation, and (2) a personal condo insurance purchased by unit owners.
Commercial condo policy vs. personal condo policy
The image below differentiates between areas that are typically covered by a commercial condo policy (coloured green) and a personal condo policy (coloured purple).
Personal condo policy: This protects the financial interests of individual unit owners, which includes upgrades due to unit improvement and the personal property contained within. Many unit owners make the mistake of not purchasing this insurance because they're under the impression that the commercial condo policy has them covered. This isn't the case. Always get your own coverage.
Commercial condo policy: This protects the building itself and pertains to common areas located both inside and outside of the building. These are areas that no one condo owner could be reasonably responsible for on their own. Examples of such areas include shared hallways, foyers, pool, gym, elevators, roof, and windows. It also protects residents in situations that could pose a public danger, such as falling glass. This is not a rare thing in large cities and there have been notable newsworthy incidents at a number of Toronto condos over the past few years.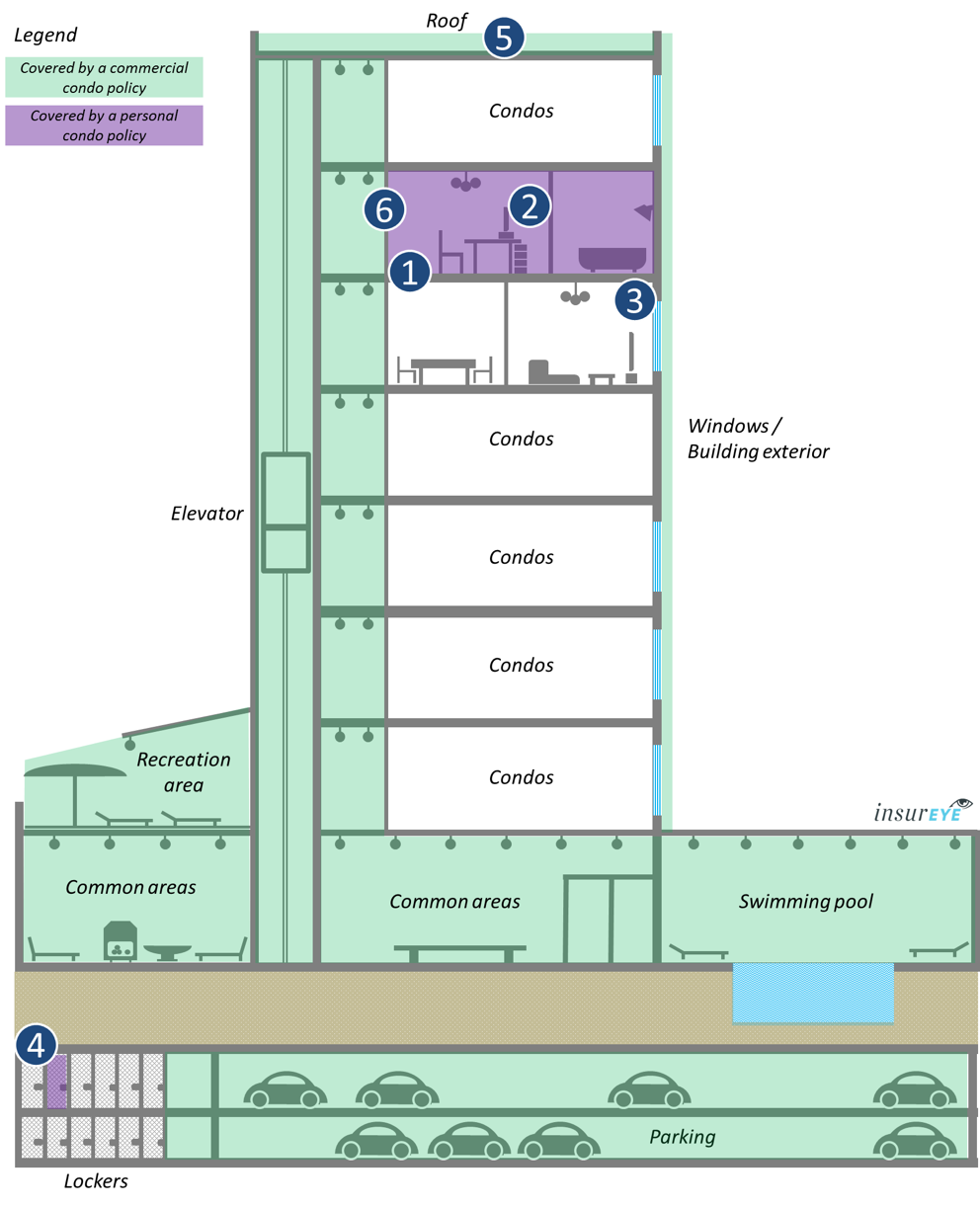 Understanding personal condo policies
Understanding what the commercial condo policy covers, versus your personal condo policy, is one of the most critical things you need to understand as a unit owner. If there are any grey areas for you, clarify it before you buy.
1. Upgrades: You're responsible for insuring any upgrades or improvements that have been made to your unit, even if they were a part of the original construction or made by a previous owner. Upgrades or improvements include hardwood floors, new cabinets or countertops, crown moulding, and wall coverings. Be very clear about what your condo contains when talking to your insurer. Some condo corporations have passed bylaws that make unit owners responsible for all flooring materials and countertops in their units, even if they're not upgrades. Coverage limits for upgrades usually start at $2,500.
2. Contents: Any of the personal or specialty property inside your unit must be insured under your personal condo policy. This includes furniture, high-value jewelry (such as engagement rings), electronics, household goods, clothing, etc. Most policies will protect your contents against water damage, as well as other types of loss. Policies usually permit you to choose a limit that starts at about $20,000 and goes as high as you may need (for example, to also cover expensive artwork or special kitchen equipment).
3. Third-party liability: Should you, for example, leave a candle lit and it burns a hole through the wall you share with a neighbour, they can sue you for damages. Liability coverage is for cases like this, and also for when somebody gets injured while in your unit (e.g., slipping on a wet floor). The typical amount of coverage in this personal policy ranges between $500,000 and $3 million.
4. Your locker: Even though it's not inside your unit, your locker is considered a part of your personally insurable property so tell your insurer that you have a locker in order to get it covered for theft.
5. Special insurance assessments: Condo owners dread these two words: special assessment. Poorly managed condo finances can cause a shortfall when it's time to replace the shingles on the building or do an entire re-roof. One owner may have smoked in bed and caused a fire that damaged the majority of the building. These types of incidents—where the condo's corporate insurance policy or financial practices don't cover all the costs—mean the corporation can pass an assessment to each unit owner. These assessments can run into the thousands of dollars and be financially devastating. Even if you sell your unit, you have to disclose the special assessment. As a unit owner, it's essential that you protect yourself against insurance-related assessments by having the right personal condo policy.
6. Theft: This item is strongly linked to the contents aspect of your personal policy. Generally, the risk of theft is not that high in condos because of condo security services like security guards and cameras as well as key fobs required to access elevators and common areas. However, your personal policy will protect you from thefts that occur in your unit.
Additional living expenses: Even if all the pieces are in place—you have a personal insurance policy and the corporation's policy and financial management are great—if you don't have friends or family to stay with while your condo is undergoing insurance repairs, you could be out thousands of dollars in food and accommodation costs. Make sure your personal condo policy provides additional living expenses to cover these needs. Coverage usually starts at around $10,000.
How much does personal condo insurance cost?
Personal condo insurance is very affordable compared to other types of insurance, especially when you consider the protection it provides. This type of insurance policy can cost as little as $20/month. Home insurance experts say that an average personal condo insurance policy in Canada costs somewhere between $27 and $33 per month.
The amount you can expect to pay will be dictated by the limits of insurance you select. The bigger and more comprehensive the policy, the more you pay per month; but don't undercut yourself just to save a few dollars. This can mean paying for additional living expenses in the policy, but perhaps paying a higher deductible if you have savings set aside for a random incident. Talk to an insurance broker to ensure you get the coverage you need at the price you want.
These insights are shared by InsurEye, a leading Canadian platform for consumer reviews, educating Canadians about different types of insurance and offering best rates for cheap condo insurance in Toronto and condo insurance in Calgary.

Flickr: Sam Xu
---