Ratehub.ca – Canada's leading financial comparison site for mortgage rates, credit cards, banking and insurance – is donning cupid's arrow this Valentine's Day to help Canadians find their financial soulmate. The company is highlighting the importance of knowing both partner's credit scores and how that number can impact the financial success of a couple.

Ratehub.ca is also launching an enhancement to its free online credit score tool by providing each Canadian who requests their score a full credit report outlining the details of current and past accounts such as credit cards or loans. Ratehub.ca is making it easier than ever for Canadians to make smarter financial decisions based on their credit score and history.
"Time and time again we see statistics on money woes being the leading cause of friction in relationships or even leading to divorce. Having open conversations about money is an important aspect of a healthy relationship, and sharing credit scores is a straightforward way to start that conversation," says Kerri-Lynn McAllister, Chief Marketing Officer for Ratehub.ca. "We hope Ratehub.ca's tools and advice will help Canadians get informed, make better financial choices, lessen that stress and focus on the love!"
Your credit score will help determine if you qualify for a mortgage or loan, a credit card, or some types of insurance. Ratehub.ca uses credit scores to make personalized product recommendations on its website. According to Ratehub.ca's recent Digital Money Trends Report, 73 per cent of Canadians believe their credit score is "very good" or "excellent", yet only 42 per cent of Canadians say they know their credit score.
A Lover's Guide to Credit Scores 

Date Night!
Cuddle up and check your credit scores together at home by candlelight with a glass of wine. After all, it may be needed, depending on the results! In all seriousness though, couples may be surprised to know that 85 per cent of Canadians have a "good" score or better, according to Equifax. It's easier than ever for Canadians to manage their credit in the comfort of home, and free online credit scores through Ratehub.ca is a "soft check" and will not impact your score.
Red flags:
A dozen red roses are no apology for a dozen red flags. Pay attention to accounts you didn't know were open, missed bills or late payments. Combined, your payment history and amounts owed make up 65 per cent of your score.
Mutual Support:
Don't let you or your partner's dark past dictate your future. Encourage each other to make minimum payments on time and move any high-interest debts to a lower interest credit product like a loan or balance transfer credit card, like the MBNA Platinum Plus MasterCard. Start over if needed with a secured credit card, like the Peoples Trust Secured MasterCard, and don't open any mutual credit products together before working on the individual first.
Taking the Plunge:
Without strong individual scores, a couple may not qualify for the best mortgage rates available to those with excellent scores (typically 700 or better). Worse, they may not be approved at all. One partner may become the sole measure for a mortgage approval, which could drastically alter affordability. Equifax reports fewer than 10 per cent of Canadians check their score before applying for a mortgage. Check your score before comparing mortgage rates and plan accordingly.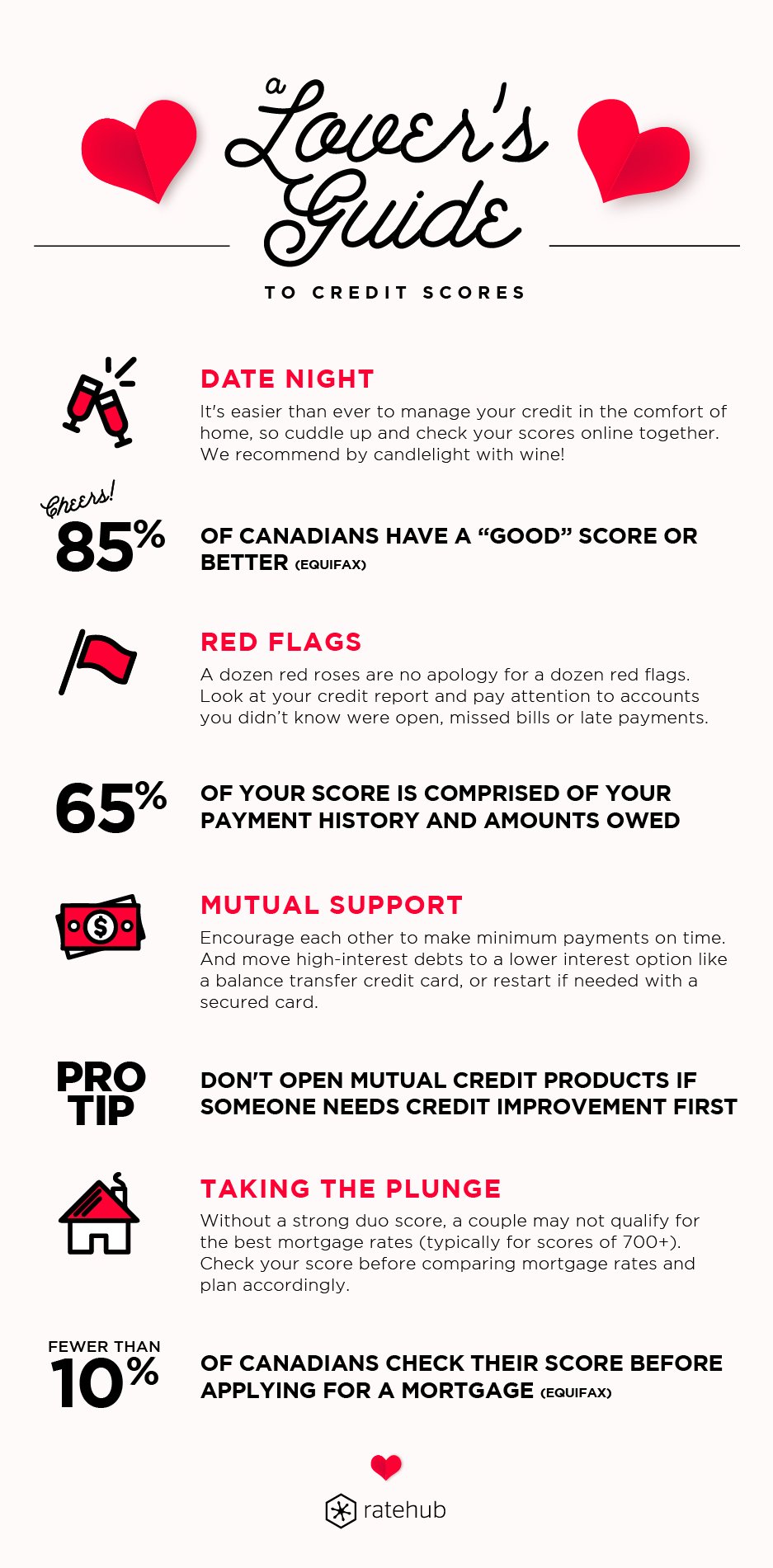 If you enjoyed this infographic, share it with your community.
You can copy and paste this HTML snippet:
Also Read: