If you're shopping for the cheapest cars to insure in Ontario, you've come to the right place. We break down the 10 cheapest cars to buy, which of them are the cheapest to insure, and even compare the annual car payments to better understand how much your new car will cost you.
If you're buying a car for the first time, it's a good idea to know how to save money on car insurance. While gas mileage and maintenance are important costs to understand, your insurance may be your biggest monthly expense long after the loan is paid off.
We took a list of the 10 cheapest new vehicles in Canada to rank them in order of their insurance costs. Below, are the base model cars (which sometimes may be a manual version) in order of their manufacturer's suggested retail price (MSRP). This list does not take into account any potential rebates or incentives from dealerships or manufacturers.
The 10 cheapest new cars in Canada
Chevrolet Spark LS – $10,195

Nissan Micra S – $10,488

Mitsubishi Mirage – $10,998

Hyundai Accent – $14,599

Nissan Versa Note – $14,698

Kia Rio – $14,895

Honda Fit – $15,590

Toyota Yaris – $16,595

Nissan Sentra – $16, 698

Ford Fiesta – $16,763
*list from motorillustrated.com
Which car to buy for cheap insurance?
Buying a new car lowers the initial costs of maintenance due to the included warranty and it is more fuel efficient. However, when you consider depreciation, a new car costs a lot more than a pre-owned vehicle. If you're looking to save money, buy a car with a few kilometres on it.
What vehicle has the cheapest insurance?
The best selling vehicles in Canada cover a range of types from trucks, SUV's, vans, and of course, cars. When comparing Ontario car insurance quotes, we often find that trucks and minivans tend to be cheaper to insure than a car. With this in mind, let's break down why one vehicle may be cheaper to insure than another. Historical statistics are huge.
The Type Of Car You Drive
Younger drivers statistically take bigger risks and get into more accidents. While it may not be true in your case, most insurers use the historical data when giving you personalized car insurance quotes. A younger driver usually wants a car to suit their lifestyle – budget is important, but so is style (aka cheap and cool). A minivan or SUV is typically driven by a married person with children who may exhibit safer driving behaviours.
If insurance companies are using stats to determine the price for insurance, and the type of car you drive gets into more accidents based on a lifestyle choice, then we can better understand why a cheap car may cost more to insure than a minivan.
A safer car translates into lower insurance premiums. Safety ratings are based on crash protection – how well a car protects its passengers in the event of a crash (think airbags) and crash avoidance – new technology like video systems, collision warnings, and lane assistance. Check out the IIHS top safety picks when deciding which car to buy.
Lower Repair or Replacement Costs
All those new gadgets make a car more expensive to repair in the event of an accident. The higher the cost to repair or replace a car, the more it will be to insure it.
According to the Insurance Bureau of Canada (IBC), a car is stolen every 7 minutes. Car theft is a risk for insurance companies who may have to pay to replace it. Not only will driving a car with a low rate of theft, save you money, you can earn further discounts by adding an anti-theft device.
In summary, read IBC's How Cars Measure Up guide to help you in your research.
Cheapest cars to insure for 18-year-olds
In Ontario, 18 is the youngest you drive a car without an experienced driver accompanying you. Other factors affecting the price you pay for insurance are gender, your daily commute, annual kilometres driven and where you live. Since we're talking about the cheapest new cars for young drivers, we decided to use a control that best aligns with the demographic.
We used an 18-year-old male driver whose daily commute to work or school is 10km each way, they drive about 10,000km per year and live in Ottawa. The car insurance quoted comes with standard options like comprehensive, collision, and $1 million in liability.
The top 10 cheapest cars to insure in Ontario
How to get cheap car insurance for a first-time driver
As the table shows, a Chevrolet Spark LS is the cheapest car to insure of the most affordable options. $301 a month is expensive, but there are ways to reduce your monthly insurance premiums.
#1 – Buy a used car
I looked up used 2015 Chevrolet Spark and immediately saved $2,000 on the purchase price and saved $240 a year on insurance.
#2 – Consider reducing your car insurance coverage
Instead of taking the standard policy including comprehensive, collision, and other valuable endorsements, you can opt for the minimum coverage. I checked the 2015 Chevy Spark with the minimum insurance and was able to knock off another $85 per month on insurance (or $1,020 per year). However, be mindful of what you're giving up and how much it could cost you should you be in an accident.
#3 – Think about adding yourself to your parents' policy
You're not asking for free insurance coverage, you're asking for a share of the discount. You'd still be the primary driver and full owner of the car, but your parents may receive a multi car discount from their insurer. If you're fortunate enough, you can ask them to pass along the savings created by having multiple cars on one policy.
#4 – Increase your deductible
The deductible is how much you have to pay after an accident before the insurance company will pay the rest. If you increase your deductible, say from $500 to $1000, it can reduce your insurance premium.
#5 – Modify your car …for safety
Don't add expensive car modifications, but do consider adding winter tires and an anti theft device. If you add these safety measures, your insurance provider will often give you a discount.
#6 – Ask about discounts
If you're attending a school, or you're a member of a union, depending on the insurance company, they'll offer discounts to help make insurance more affordable. Student car insurance is designed for drivers who are under the age of 25.
#7 – Pay annually, not monthly
If you can afford it, sometimes some insurers will offer a price reduction if you pay your entire years worth of car insurance up front.
#8 – Consider Telematics
Telematics is an app or device installed in the engine that tracks the distance you drive. Some apps or devices track driving behaviours like how you brake or make a turn. The idea is that encourages safe driving. It often results in cheaper car insurance, too.
#9 – Shop around and compare
In this case, we compared Ottawa car insurance quotes among a variety of insurers. Price is important, but so is the type of coverage you need. Make sure you're getting the best value.
What is the cheapest car to insure in Ontario?
If you're wondering how much car you can afford you first need to understand the total cost of owning a car. Here are the basic rules.
The cost of your car payment is significant, but the higher the down payment, the cheaper your monthly costs. The rule of thumb when buying a car is your down payment should be at least 20% of the purchase price and the loan should be limited to 4 years or less.
You also need to consider fuel efficiency. We did the math for you based on 45% highway, 55% city driving, current gas prices and using our above example of 10,000 annual kilometres.
A good rule on maintenance is $100 per month to cover regular checks like any lube, oil, and filters, but because these are new cars with warranty, you can pay for the routine maintenance as it arises. For this reason, we did not include them in our calculations. However, it might be a good idea to put $50 a month aside in a savings account to have for unexpected expenses.
Another big factor is the provincial sales tax. To keep with our example, we'll use Ontario's 13%. We used an interest rate of 2.99%, but this could fluctuate based on your credit score and different dealerships and their specials.
With all the data in hand, we know the cheapest car to insure in Ontario is
The Chevrolet Spark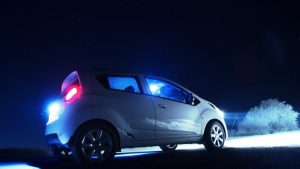 The Chevy Spark comes in at $557 monthly expenses following all our above rules.
The most expensive car to insure is the Nissan Sentra with a total cost of $742.
After 5 years of safe driving, your costs drop significantly because, in this example, after 25, you're no longer considered by many insurance companies as a higher risk driver and, best of all, your auto loan is paid off.
I did a quick check and the insurance price dropped to $160 after 5 safe years of driving. With your auto loan of $209.82 per month now paid off, your costs of driving the car are $206/month for gas and insurance. However, it's possible you'll need some regular maintenance now – so add in the $100/month. I guess the problem with finding out the cheapest cars to insure, is in the process, you also find out car ownership can be expensive.
How much is that transit pass again?
Calculation results are approximations and for information purposes only. Interest is accrued daily and charged as per the payment frequency. Rates used for calculations are not considered rate guarantees or offers. Calculations assume that the interest rate will remain constant over the entire amortization/repayment period, but actual interest rates may vary over the amortization period. All loans are subject to standard credit approval. The calculations assume all payments are made when due.
ALSO READ