Tyler Wade
The best pickup truck for you depends on your needs. Whether you're a contractor just starting out, or just love the aesthetic of driving a truck, it's critical to do your research before buying. At Ratehub.ca, we pride ourselves on helping you choose better. While our focus is on personal finance products like mortgages, credit cards, investments, and insurance, it's also fun to compare products that affect our everyday finances like buying a great pickup truck.
For those reasons, we put together the best trucks in Canada buying guide. We take the best pickup trucks and then break it down by cost categories including base price, fuel efficiency, and car insurance.
A quick note: Typically, all trucks have a base model and then you can upgrade the cab size (seating capacity) and box, or bed, size. You can also increase the load and towing capacity. Previously the F150 was a half ton capacity, F250 was ¾ ton, and F350 was a one ton capacity. It's not true anymore, but it clarifies the idea. At this time, In the interest of brevity and clarity, we compared the base model of pickup trucks.
We're not comparing F-150 vs. F-250, we're comparing Ford F-series vs. Ram Pickup. We're comparing the best pickup trucks – and you can build, modify, and customize your chosen brand of truck from there.

*according to goodcarbadcar.net
Now, if you're looking for the Honda Ridgeline, Jeep Gladiator, or Nissan Titan – know that they just missed cracking the top ten pickup trucks. At this time, the year-to-date (YTD) in sales are down across the board, except for the Ram pickup. I would chalk this up to a slow down in overall truck sales in 2019 vs. 2018.
Anyway, based on this list of the best selling trucks in 2019 for Canada, we finally get to dig deeper.
We're going to compare each truck based on financial implications. Of course, we'll also give you the honourable mentions just so you're not missing out on any trucks.
First, let's start by rearranging this best sellers list on price. Indeed, to keep our test fair, we're going to look at the base model price. As you might have already guessed, the Toyota Tacoma is smaller than the Toyota Tundra, and so obviously that truck is cheaper.
However, because this is a buying guide, reviewing base model costs against your budget will prove invaluable in your decision. Asking yourself, "How much car can I afford?" is vital to understand. You can always choose to upgrade and add some custom options depending on how much you can spend. Buying used, especially if you're on a tight budget, but also because you save so much on deprecation, is a smart financial move.
But, we're not looking at the used market. These are new trucks. Once you know the truck you want, you can start shopping for a used version to compare the prices.

Chevy trucks are winning in the price battle taking 2 of the top 5 spots for the cheapest trucks to buy. Now, according to Edmunds, a car will lose 60% of its value 5 years after driving off the lot. I did a quick check on Autotrader.ca to look at depreciation and truck affordability.
But, for trucks – either based on the resurgence of the construction industry, or the added tech and upgraded finishes inside – there is low supply on the used market. Even so, if you're looking for trucks that hold their value best, know that Toyota Tacoma and Toyota Tundra consistently come in the top 3 spots, across multiple websites on a quick check.
The best selling trucks, however, also make the list of best value trucks. For instance, the ever popular Ford F-series trucks are typically in the middle of the pack. Nevertheless, understand that trucks hold value very well, and so maybe less of a concern.
Also, remember, these are base cost and manufacturer's suggested retail price. It doesn't include any dealer discounts or incentives. Moreover, it doesn't include features like all-wheel drive (AWD), or all-leather interiors. Likewise, I didn't look at advanced safety features like lane departure warnings or rear backup cameras. So, it's not all you could possibly get with any of the trucks.
Above all, the purpose of comparing them at baseline is important because it helps us focus on price. Without a doubt, if we remove all the available and potential upgrades, if your rough budget is $30,000, well, you just crossed about half of these vehicles off the list.
NOTE: When I was building these lists, I did think, "Hey, where's the Honda's and Mazda's?" The Mazda CX-5 SUV won a few categories for the best SUVs in Canada. As for Mazda they got out of the North American truck market. Honda's Ridgeline truck doesn't make the list of the top selling trucks, and at a base price of $44,000 it would come in at the least affordable of the trucks.
Gas costs
Another significant cost factor when you're looking to buy a truck is the cost of gas . But, which one of the best selling trucks in Canada is friendliest at the pump?
Ford, late in 2019, announced the F-150 would finally be electrified…eventually. Here is the prototype video of the truck towing 1,000,000 pounds. In other words, 500 tons of towing capacity. It's incredible.
*gas cost per year assumes 20,000km of driving and $1.30/L for gas
If you add 4WD, extended cabs, or anything else requiring more power and more weight, your gas costs will go up about $200.
Now, if your number one priority is fuel economy, there are better options, but hey didn't make the best sellers list. According to Natural Resources Canada, the best small truck for fuel efficiency is a tie between the diesel versions of the Chevrolet Colorado and GMC Canyon. The best pickup truck for fuel efficiency (in a standard size) is the diesel F-150. We're assuming you're buying a regular gas truck, so we didn't look at diesel.
However, those 3 trucks finish atop the best selling trucks in Canada and also take the most fuel efficient. Yes, (at least until we see the electric trucks hit the market). The Toyota trucks hold their value, but they're some of the most expensive to buy and to fuel, so keep that in mind when you're buying. Equally important is the cost to run and maintain a truck.
Specifically, one expense often overlooked, is the cost of car insurance. Because we're making a smart informed financial decision, the cost of insurance must factor in.
Cost of truck insurance
Despite trucks typically being the most stolen vehicles in Canada, which drive up premiums, they remain relatively cheap to insure. Is it the lack of technology or the the fact that most construction workers won't make a claim for a minor ding? It's an ongoing expense, however, so It's still worth it to compare car insurance quotes online.
So, let's look at insurance and how it may impact your buying decision. Insurance varies by location (Toronto car insurance is more expensive than Oakville car insurance, for instance), demographics like age and gender, and of course, the vehicle itself. We're going to focus on the trucks and eliminate the noise. For that, we need to create a control, and figure out which of the best pickup trucks in Canada is cheapest to insure.
Our control, in this example, is a 30-year-old male, with a clean driving record, living in the suburbs just outside of Ottawa. We're going to pick a standard auto insurance quote that includes comprehensive, collision, and $1 million in third-party liability. She's comparing Ontario car insurance trying to find the best price so these are the best insurance rates from some of the best insurance providers.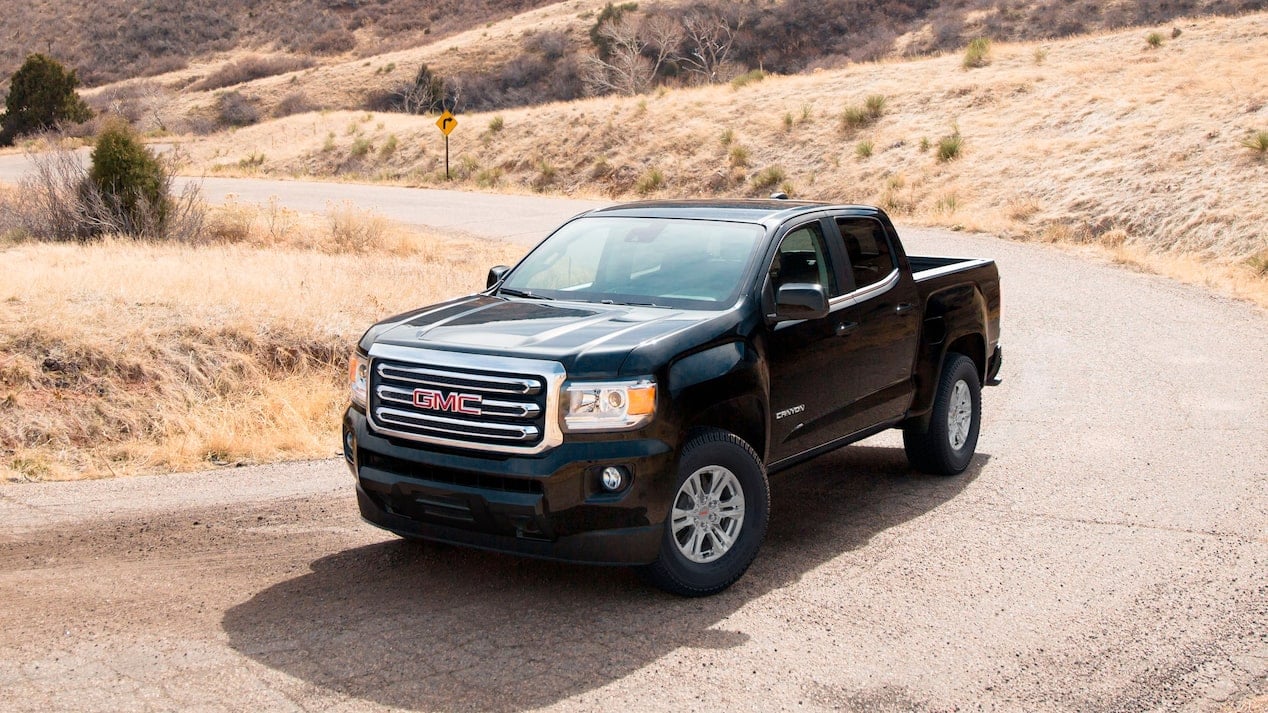 We must admit it's hard to compare trucks because there are so many options within each model. We've done our best to keep it at base models, no added features, to get as close a comparison as we can. The 20200 Ford Ranger XL (base model) doesn't have a 2WD version. 
The difference between the cheapest truck to insure and the most expensive is $53 per month or $636 per year. So, yes, it's imperative to compare car insurance quotes and to shop around. There are many ways to save on car insurance, and the number 1 way is to be a safe and cautious driver. So, take extra caution with trucks. 
Another factor you might consider in your purchase is the safety of the truck. A truck with more sensors, more cameras and other safety technology should reduce your chances of getting into an accident.  Fewer accidents mean fewer claims and fewer claims means you get cheaper insurance. So, let's take a gander at the best selling trucks with the highest safety ratings. 
The Insurance Institute for Highway Safety (IIHS) uses two factors when it comes to safety. 
Crashworthiness
How well a truck will protect its driver and passengers in a crash. 
Crash avoidance and mitigation 
Technology that could help prevent a collision. 
Let's look at the IIHS safety ratings to help us determine the best pickup truck in Canada. With this list, it's black or white. IIHS can claim many trucks are safe, but for our purposes, if they didn't get a top safety pick, they did not make our list.

The safest trucks in Canada 2019
Top safety pick – best small pickup truck – Toyota Tacoma
Top safety pick – best large pickup – RAM 1500
Hopefully, all these lists will help you choose better when shopping for the best pickup truck in Canada to suit your needs. 
If not, we decided to add one more list. For those skimming the content, and trying to make sense of it all, I thought I'd add one more factor to help narrow your decision.
The methodology
Let's look at all these lists – the cheapest to buy, the most fuel-efficient, the cheapest to insure, and one of the highest safety picks and decide which of the best selling trucks in Canada is ultimately the best pickup truck to buy. There are no lemons to worry about. 
They're all top selling trucks, you can buy whichever model you want to suit your needs. Whether it's budget, safety, or insurance that will make your decision, the lists are above.  But, let's take all the trucks and all the lists to see the ultimate winner. 
I created a point system – 10 points for a #1 position, 9 points for a #2, all the way down to 1 point for a 10th place finish. A bonus point was given to the safest trucks. Below, we combine the points to reveal the winner for best pickup truck in Canada.
Our winner, based on our methodology is the Chevy Silverado, otherwise known as the 4th best selling truck in 2019. So, do the Ford F-series trucks sell 3 times as many trucks because they're cheap on gas? Maybe Ford knows it and it's why they're launching an electric version – to stay ahead of the pack if we as a society become less reliant on gas. The Tundra lost in this, but it's a large size pickup and not exactly fair in this test. I'm aware the point system we are using is a little skewed. We're looking at the cost of a truck (a $20,000-$40,000 factor) versus insurance and gas (a $50-$100 factor), so it's not entirely fair. But, the idea is you can choose better for yourself. Whether you want the best selling truck, or the best value truck, is up to you. Remember, they are still the top ten trucks in Canada. It'd be hard to call any of them the wrong choice. Go out and test drive which ones are your favourites and let us know what you like best.Also, let us know how we can improve this system – what else should we analyze to help you choose better? It was a comment left on our Best SUVs post asking for the same thing to be done to compare trucks, so we did it.
ALSO READ: