---
Here at Ratehub, we aggregate current mortgage rates from banks to brokers. We serve the consumer by finding the best rates on the market and making it easily accessible to them. Axiom Mortgage is one of our partners, and they always supply competitive rates in addition to quality service and knowledge.
Today, we'll attach a face to the company name. His name is Nelson and he represents Axiom Mortgage in Sherwood Park, Alberta – Let's get to know him a little better… 
Name: Nelson Sousa 
Brokerage: Axiom Mortgage Solutions 
Meet Our Mortgage Specialist
What did you do before you were in the mortgage business? Any odd jobs?
Prior to my professional life, during my school years, I worked away at a retail-clothing store at the mall. Once I matured, I went into construction and from that I grew to actually owning and operating my own construction company. Most people don't see the connection from construction to mortgage financing and for the most part I don't really know how it happened either, but one day the opportunity presented itself and it clicked! Even to this day, I still work with quite a few builders that I worked for in construction, but today, it's in regards to finance.
Fill in the blank. 'If I weren't in the mortgage business, I'd be      .' 
If I weren't in the mortgage business, I'd be a pro golfer. I know, pretty unheard of, a finance guy liking golf right? I'm not very good at it, so I guess I will keep my day job brokering mortgages, but as it turns out I have grown to really love golf since I started 5 years ago, although my swing could use a little work.
What got you interested in the mortgage business and how long have you been in it?
Well, I have always been a fan of math, I am kind of a nerd that way. It was my best and favorite subject in school and I loved the challenge of finding the solution to any problem. For the most part, that's what drew me to the mortgage industry; each file is some sort of a big math equation. That coupled with my incessant need to help make people's dreams come true has had made me find my niche in this industry now for the last 4 years.
Why do you think you've been able to achieve success?
Personally, I believe my superior customer service has led to my success. That is the defining quality that sets excellent mortgage brokers apart from the average ones. Rates, terms, conditions are all important factors, but in choosing a mortgage broker, it is important to pick someone who will be there to help with the little things leading up to the mortgage, as well as provide the after-care long after the mortgage is complete. This is the basis of my business and I strive to continually improve upon the extra levels of service I can incorporate.
What's your mortgage motto? 
My motto is Passion, Pride, Purpose! I am passionate about what I do for a living and the service I provide to my consumers. I am proud of my organization and whom we are affiliated with. My purpose is to make this industry meaningful by setting the benchmark for which all customer service is measured, in conjunction with the industry's best rates, terms and mortgage products!
Your Success Story
What's been your biggest mortgage success story?
That is a tough one. I try not to measure success solely by amounts of money saved, as there is so much more to it. It's the everyday victories that keep me coming back day-after-day. Recent wins for me include a client I was able to approve 100% financing for a couple trying to buy their first home after various banks had turned them down. In another circumstance, I helped a gentleman facing the brink of bankruptcy turn his finances around by a debt consolidation. Lastly, after being in touch with a few clients in our annual mortgage reviews, I was able to provide thousands of dollars in annual savings by facilitating early renewals from their outdated and overpriced variable rate mortgages. All of these success stories are equally weighted for me, as everyone's financial situation was left for the better.
What's your personal mortgage product? If you are living with a partner, how did you decide? Was it a battle?
My personal mortgage product is a variable rate mortgage. Ultimately, my wife and I decided that during an ideal time, right before the bottom fell out of the market, and it has been working out beautifully since. We have no intention of changing our mortgage because I believe there is a benefit to this product by making your payments at the fixed rate (Thereby paying less interest and paying your mortgage off faster). One option I will consider implementing in the future is the "Mortgage Freedom Plan". This is another niche product I'm able to offer that provides great benefits once the mortgage freedom date is reached quicker and a retirement package can be set up at the same time.
Your business and the brand
Where do you see your business in 5 years?
In 5 years I intend on being exactly where I am today. My goal is not to be the largest broker in Alberta, but I will always strive to be the best. I would love to continue to grow my clientele with people who are excited to work with me. It's extremely important for me to keep my personal relationships strong with each of my clients and growing too large makes that unmanageable. As I mentioned before, my service is my passion and intend on keeping that an integral part of my business.
How do you market your business and brand?
Up until recently, I used to shell out thousands in advertising. However, I've been very fortunate to build my business not only with an amazing group of clients, but also an excellent group of professional referral sources. At this point I rely minimally on advertising because my relationships provide repeat/referral clients on a regular basis. These individuals come from people that I have established a relationship with already, so they are very excited to work with me.
What's your favourite thing about RateHub?  
What I love about RatHub is that it gives me the opportunity to meet new people daily. Although the conversation starts out focused on rates – there is so much more to the equation. RateHub helps me provide a high level of education to these clients through the tools available on their website. An educated choice is always a better one!
Fun Details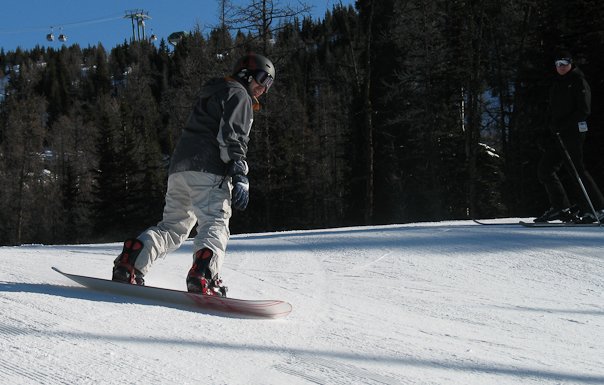 When you take a break from helping clients, where can we find you?
I can typically be found at the lake relaxing with the family during the summer or golfing. I also like to keep busy on the slopes during the winter. I'll get that snowboarding thing mastered someday!
Who's your ideal mortgage client?  
My ideal mortgage client is predominantly first time homebuyers because I love to be the educator. There is so much information to understand when you're buying your first home and unfortunately it isn't a subject taught in school. Most people come to me overwhelmed by the entire process. I pride myself in properly educating them to make the best choices for their situation and then providing the tools necessary to make that a reality.
We thank Nelson for his time and insight. You can find him at:
Website: www.mortgagesbynelson.com
Facebook: http://www.facebook.com/pages/Mortgages-By-Nelson/130001207070646
---