Montreal's Trend Toward Green Spaces
As a new resident of Montreal four years ago, it didn't take me long to fall in love with the city. It's a forward-moving metropolis with a multitude of projects taking place simultaneously as it improves.
If you find yourself complaining about the crawling traffic on the many streets currently spotted with orange construction cones, just try to remember the construction and cones represent growth, progress, and a trend toward more green spaces.
Some projects are as minor as the widening of a sidewalk. Others, by contrast, are ambitious and bold. Allow me to present some examples.
Want a better mortgage rate?
Compare the best mortgage rates available
Projet Bonaventure
Built in 1966, the Bonaventure Expressway extends east from downtown Montreal to the Lachine Canal. Following along the CN Railroad Viaduct, it acts as a dividing line between the neighbourhoods of Griffintown and Cité Multimedia. It definitely had its usefulness back in the day when it was built to link approach roads to Expo 67 with the Champlain Bridge. It's time for something new.
Enter the vision of the modern urban boulevard that will be known in the future as Robert-Bourassa Boulevard. In December 2014, Montreal mayor Denis Coderre announced plans to transform the expressway into an urban boulevard comprised of nine ground level lanes with pedestrian corridors and green spaces. "Everyone is saying there is a lack of green space," the mayor said. "Now you have some."
"Some" green space will total 20,000 square metres, to be more precise, and will be at the centre of the project separating the north and southbound roadways. There will be four lanes going north from the South Shore between the Lachine Canal and Notre Dame Street and five lanes going south. There will be a series of parks (the aforementioned green spaces) that will be in the middle of this people-friendly boulevard. There be thousands of square metres of lush grassy areas adorned with flowers and outfitted with benches for seating as well as wide pedestrian walkways lined with trees.
When all is said and done, I believe the project will meet its goal of creating a welcoming and purposeful entry to the downtown area.  No doubt, the new urban boulevard will enhance the experience for Montrealers and visitors alike. The project is scheduled to be completed in 2017, in time for Montreal's 375th anniversary.
Griffintown: Where going green equals going family-friendly
Recent development in the Griffintown area has produced what some may refer to as a glut of condos. This may be okay for attracting some young professionals, but it seems there's a consensus that greenery is also very important to attract a diversity of people, including those with families.
There are roughly 8,000 dwellings available but there are only 400 families with children. According to Coderre, it's the promotion buildings and not green spaces that has brought about this imbalance. "We pushed for buildings," he said, "but we forgot to push for green spaces."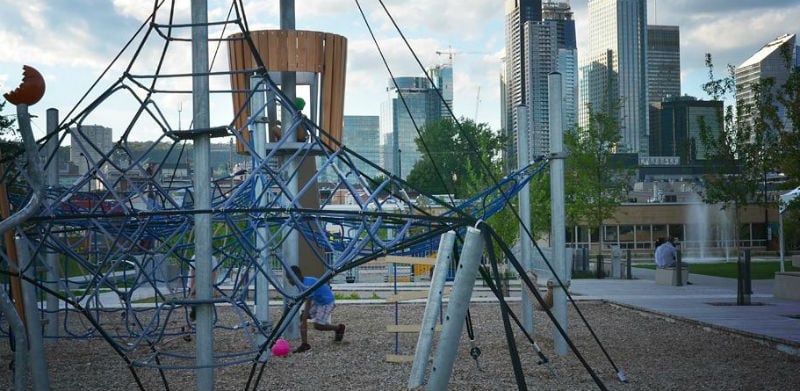 The City of Montreal has been active as of late in an attempt to rectify the issue. The Parc du Bassin-à-Gravier is a great example of this. Bordering the Lachine Canal, the park is nicely equipped on the south side with a green space for 24,000 indigenous plants, a water-retention basin for managing storm water runoff and preventing flooding and downstream erosion.
On the north side, there is a jungle gym for children. The playground is uniquely constructed with a mix of metals, rope, and wood reminiscent of a nautical theme. Some have described it as even sculptural or artistic, and nicely enhanced by the backdrop of Montreal's skyline. The family attraction doesn't stop there. The park is also equipped with a splash pad for refreshing family fun.
While the city tries to draw families into the downtown area with attempts to add more green space, the hope is that the saying, "if you build it, they will come" rings true.
So far, so good. This fall, the City of Montreal plans to construct a second Griffintown Park at the corner of Peel and Ottawa streets. And some private developers have also paid attention to the public desire for more green spaces. A few are incorporating green spaces in their projects across the city.
Rose Betit is a Montreal-based writer.
Compare today's top mortgage rates
Looking for a great mortgage rate? Check out the lowest mortgage rates available