---
Many Canadians encounter credit issues when life hurdles get in the way; whether it's an illness, a job loss, or just a lack of credit. It can take some time to get back on the right track, which can mean having to delay purchasing a home for many. Waiting may not work for some though, who – other than bruised credit – may have all their ducks aligned to take the homeownership plunge.
The good news is there are some options available to help those; the bad news is they don't always come cheap. Here's a quick breakdown of how you can check your credit score and, if you need to, get a bad credit mortgage.
1. Check Your Credit Score
In Canada, your credit score is a number between 300 and 900 that is assigned to you by a credit bureau (Canada's two major credit bureaus are Equifax and TransUnion) and is used to tell lenders how you have dealt with available credit in the past. There are a few ways you can check your credit score.
Traditionally, Canadians had to pay either Equifax or TransUnion for a report and their credit score, or you had to sit down with a mortgage broker and get them to check it for free.
More recently, however, some new players in the mortgage space have started offering free credit score services. Mogo Mortgage, for example, offers a free score and monthly monitoring. So too does Borrowell. Both fintech startups also allow you to check your credit score, any time, for free.
If you've paid all of your bills on time, had no major bankruptcies and generally don't have more debt than you can reasonably afford to pay back, you should have a credit score above 680 – anything less and you'll want to keep reading.
Want a better mortgage rate?
Compare the best mortgage rates available
2. Find a Bad Credit Mortgage Lender
If you have a credit score in the 600-700 range or above, you should be able to get a mortgage loan from one of the big banks, commonly referred to as "A lenders". If, on the other hand, you have a credit score below 600, most of Canada's big banks will not approve you for a mortgage loan. Instead, you'll have to look for a "B lender" or "subprime lender"; these financial institutions, including trust companies, work almost exclusively with people that do not have ideal credit scores. And if you've gone through a bankruptcy or consumer proposal recently (within the last two years), you may even need to work with a private mortgage lender. If you're working with a mortgage broker, they should be able to put you in touch with a lender they know will work with you.
Use our mortgage payment calculator to see how a higher interest rate could affect your monthly payments.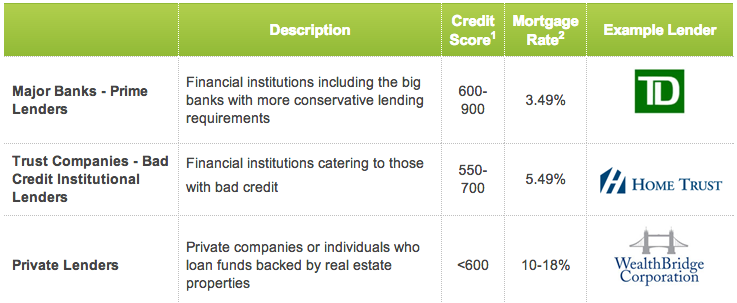 3. Save a Larger Down Payment
Lenders look at a number of things when considering your mortgage application, including your credit score, income, and debt levels. If you have good credit, you can get a mortgage loan from most lenders with only a 5% down payment, because you're seen as a low risk. If you have bad credit, the lender is taking on a higher risk by loaning you money, so most will want a much larger down payment – often 20-25%. The bonus is that a larger down payment may give you a little more leverage when it comes to negotiating a mortgage rate because you are less risky than someone who has very little equity in their home.
4. Be Prepared to Pay Extra Fees
On top of having to save a larger down payment, you'll also need to have some more cash set aside for extra fees. First, lenders can charge up to 1% of the mortgage loan value for processing a bad credit application. As well, because banks typically don't compensate brokers for bringing them clients with credit issues, your broker may also charge you an additional 1%. Two per cent on a $469,500 home – the national average according to the Canadian Real Estate Association – is $9,390. Add that to a 20% down payment ($469,500 x 0.20 = $93,900) and you'd need to have $103,290 cash available before you could make the purchase.
5. Kiss the Best Mortgage Rates Goodbye
As you saw in the chart above, your credit score has a direct impact on the lender you can work with, as well as the mortgage rate you can get. If you have good credit, you can work with the big banks and access the best mortgage rates. If you have less than stellar credit, you'll have to work a "B lender" or private lender and, in turn, be subject to higher interest rates. Remember, your lender looks at your credit score and report to determine how risky it would be to lend money to you. If you want to be able to access a lower mortgage rate at your time of renewal, make all of your monthly mortgage payments on time and do other things to boost your credit score, including using a credit card responsibly and/or paying off any other debts you may have.
The bottom line
While there are options for those with impaired credit to get a mortgage, they aren't always the most fiscally responsible. Having issues with credit can be a symptom of a larger issue with money management. If this sounds like you, you may want to consider delaying your home purchase while allowing your credit score to improve and developing more financially savvy habits.
In the meantime, make sure you're not looking for a home that's priced beyond your means. Use our mortgage affordability calculator to figure out how much you can comfortable afford to spend on a home.
This post was written by freelancer Kyle Prevost for Ratehub.ca.
Also read:

Flickr: ajalfaro
---