How the WestJet Rewards Program Works
Founded in 1996, WestJet is the second-largest airline in Canada and has been growing quite a bit over the years. Beyond North America, WestJet now flies to Europe and have announced that they will be flying to Asia come 2019. In addition, they have a low cost carrier in Swoop which started flying in 2018.
Their customer service has always been highly regarded, but one little known fact is that their loyalty rewards program – WestJet Rewards – is one of the best airline loyalty programs in the world. What makes it so great is that you earn WestJet Dollars with every travel expense booked through WestJet's website so it's essentially a cash-back program.
Find your perfect credit card in under 60 seconds - No SIN required
Tell us a bit about yourself

Answer some questions so we can personalize our recommendations - this won't impact your credit score

Check your eligibility

We confirm your eligibility with our partner, TransUnion. This will be a 'soft credit check' which you can see but lenders cannot

Find your perfect matches

We show you the cards you're most likely to want and most likely to get
let's get started
How to Earn WestJet Dollars
Enrolling into WestJet Rewards is free and you can earn points immediately on flights that you have currently not taken. Unfortunately, you won't be able to earn any WestJet Dollars on flights you have taken so you'll want to sign up right away.
If you want to increase the rate at which you earn WestJet dollars, then you should apply for one of the WestJet credit cards that are partnered with RBC.
With the standard WestJet RBC MasterCard, you earn 1% back in WestJet Dollars on all purchases and 1.5% back in WestJet Dollars when you book WestJet flights or vacation packages. This card has a $39 annual fee, but comes with a sign-up bonus of 50 WestJet Dollars after you make your first transaction.
The premium WestJet RBC World Elite MasterCard helps you earn even more WestJet Dollars. With it, you'll earn 1.5% back in WestJet Dollars on all purchases and 2% back when you book WestJet flights or vacation packages. This card has a $119 annual fee, but comes with a sign-up bonus of 250 WestJet Dollars + a $99 companion flight each year.
If you want to earn WestJet Dollars for every $1 you spend, here are more details on the WestJet RBC World Elite MasterCard:
Sign-up bonus of 250 WestJet Dollars when you make your first purchase with the card
Earn 2% in WestJet dollars for every $1 on WestJet flights or WestJet Vacations packages
Earn 1.5% in WestJet dollars for every $1 spent on the carde
$119 annual fee
Make no mistake, the WestJet RBC World Elite Mastercard is a must have card if you fly WestJet regularly. Besides the maximum WestJet Dollars earning potential, you'll also get your first checked bag free for the primary cardholder and up to 8 additional guests on the same reservation. An annual round-trip companion voucher from $99 (plus taxes, fees and charges) and a comprehensive travel insurance package is also included.
WestJet Rewards Tiers
Like many other airline loyalty programs, WestJet Rewards is tiered so those who fly often with WestJet end up in the higher tiers. However, WestJet Rewards tiers aren't based on miles and segments. Instead, your tier is based on how much you spend and it's surprisingly easy to move up to the higher tiers. Silver status is automatically granted when you spend $3,000 on WestJet travel while Gold happens when you hit $6,000 in spending.
As you can image, the higher your tier, the more benefits you get. Here are the different WestJet Rewards tiers: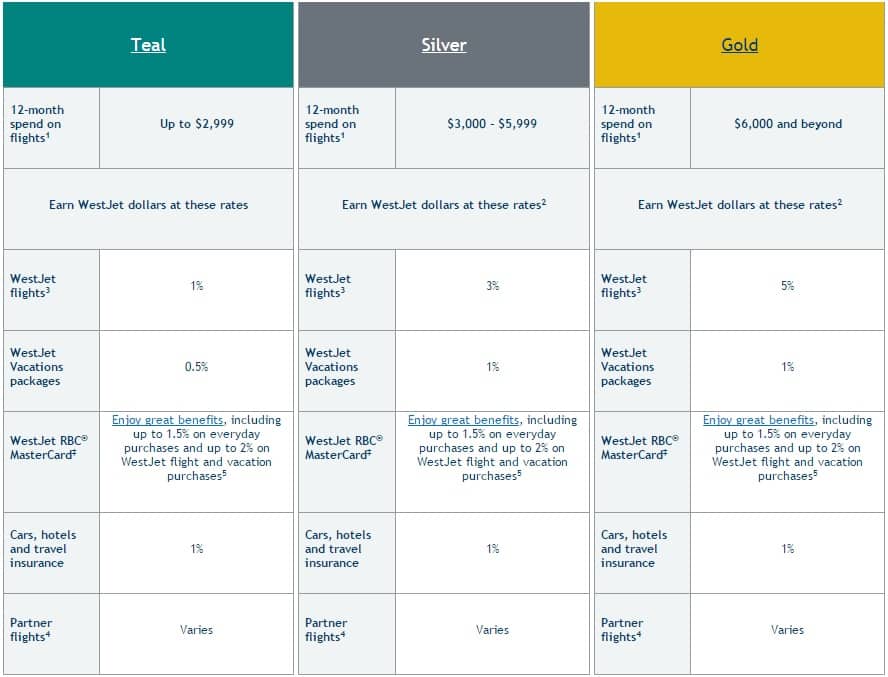 You can use your WestJet credit card + WestJet ID to maximize your return. For example, if your WestJet RBC World Elite MasterCard already helped you earn 2% back in WestJet Dollars for booking a flight through the WestJet website, you'd earn an additional 1-5% back in WestJet Dollars based on your tier. Teal, Silver, and Gold tiers earn you an additional 1%, 3%, and 5% in WestJet dollars which works out to 3%, 5%, and 7% respectively when booking flights through the WestJet website.
Earn WestJet Dollars with Delta Airlines
WestJet and Delta Airlines are partnered to give WestJet Rewards members another opportunity to earn even more WestJet Dollars. If you need to travel with Delta, simply book through their site and remember to enter your WestJet ID. The number of WestJet Dollars you earn is based on the distance flown, class of service and fare classification. (And again, don't forget to pay with your WestJet credit card to earn even more WestJet Dollars!)
How to Redeem WestJet Dollars
WestJet makes redemption easy. Every 1 WestJet Dollar is treated as 1 Canadian dollar and can be used to book flights and vacation packages with WestJet. There are no redemption tiers or region categories. The only two restrictions are that (1) you must redeem a minimum of $25 WestJet Dollars and (2) WestJet Dollars cannot be used to pay for taxes, fees and other charges (you must pay for those yourself).
The Value of WestJet Dollars
Since 1 WestJet Dollar = 1 Canadian dollar, it's easy to calculate your return when redeeming them. For example, if you have 371 WestJet Dollars, you can wipe out $371 off the base fare of a WestJet flight or vacation package. Even though you'll need to pay whatever amount is leftover + the taxes/fares/charges, that's still a perfect conversion rate from WestJet Dollars to Canadian dollars. No calculations necessary.
WestJet Rewards credit card alternatives
If you don't fly WestJet, but still want to earn travel rewards, there are some other options available to you. One of the best travel credit cards in Canada is the Scotiabank Gold American Express card, which offers one of Canada's highest earn rates, giving you four Scotia Rewards points for every dollar spent on gas, groceries, entertainment, and restaurants — that's 4% back in rewards — and one point per dollar on all other purchases. Scotia Rewards can be redeemed for travel (flights, hotels, car rentals, cruises, vacation packages), gift cards, and merchandise from retailers such as Apple and Best Buy.
Annual fee: $99
Earn up to 40,000 bonus Scene+ points in your first year (that's up to $400 towards travel). Plus, no annual fee in the first year, including on supplementary cards and get a 0.00% introductory interest rate on balance transfers for the first 6 months. Offer ends Jan 1, 2022.
Earn 4 Scotia Rewards points per dollar on gas, groceries, entertainment, and restaurants; 1 point per dollar on everything else
This card's travel rewards program is truly flexible: points can be used to cover all taxes, fees, and surcharges. There are no blackout dates, and you can travel on any carrier. You can book your trip yourself or use Scotia's full-service travel agency, and have the option of paying for your trip with points upfront or charging the cost to your card and redeeming points to cover it later. The card includes access to VIP airport lounges worldwide with a Priority Pass membership (renewed annually), complimentary concierge services, extensive travel insurance, and access to American Express Invites.