---
In recent years, CIBC has slowly moved away from the Aeroplan rewards program and has instead placed a greater emphasis on improving its own rewards program. Under the Aventura rewards program, you can earn points with every $1 you spend, and redeem them for flights, cruises, vacation packages or general merchandise. If you want a travel rewards credit card that lets you choose from every airline, every flight, every seat, and has points that don't expire, keep reading.
How to Earn CIBC Aventura Points
CIBC offers three credit cards that let you earn Aventura rewards points. The CIBC Aventura Visa Infinite Card ($120 annual fee) lets you earn 1 Aventura point per $1 spent, and 1.5 points per $1 spent on gas, groceries and drug store purchases, and comes with a 15,000-point sign-up bonus. The CIBC Aventura Visa Infinite also comes with great travel insurance benefits as well as access to the Visa Infinite program.
How to Redeem CIBC Aventura Points
To redeem your CIBC Aventura points for travel, login to your CIBC rewards account and go to the travel section. You can search for flights by entering your departing airport, arrival airport and travel dates. Because you're not restricted to any airlines, or specific flights or seats, you'll find a number of options to choose from. Flights will have a required point amount and then additional taxes that have to be paid on top of the required points.
CIBC Aventura uses five flight zones that have fixed points requirements. For example, "Long-haul: Canada/United States" requires 25,000 – 35,000 points. But CIBC also institutes a maximum ticket price for each fixed point level. For a Long-haul Canada/United States flight, 35,000 points can only cover up to $800. If a flight costs $900, the remaining $100 would cost an additional 10,000 points (charged at a rate of $1 = 100 points).
To redeem points for a flight, you need to have at least 80% of the required points. If you only have 80-99% of the required points, you can actually purchase additional points at a rate of $0.03/point to make up the difference. In addition, taxes are not included in the fixed point levels, and a 35,000-point level flight could have close to $200 in additional taxes. These taxes can be paid for by credit card, or by redeeming more points at a rate of $1 = 100 points (not commonly suggested, as it decreases the value of each point).
The Value of CIBC Aventura Points
How much is 1 CIBC Aventura point worth? Our research revealed that, on average, 1 Aventura point is worth $0.0116. However, there is a large discrepancy in the value of your points when redeeming for flights in different regions. For example, on average, you receive $0.0092/point when redeeming for a flight from Toronto to Montreal, compared to $0.0135/point for a flight from Toronto to Vancouver. So the value you receive will truly depend on what you redeem your points for.
If you'd like to sign-up for one of the best credit cards in Canada, take a look at the CIBC Aventura Visa Infinite card.
CIBC Aventura Visa Infinite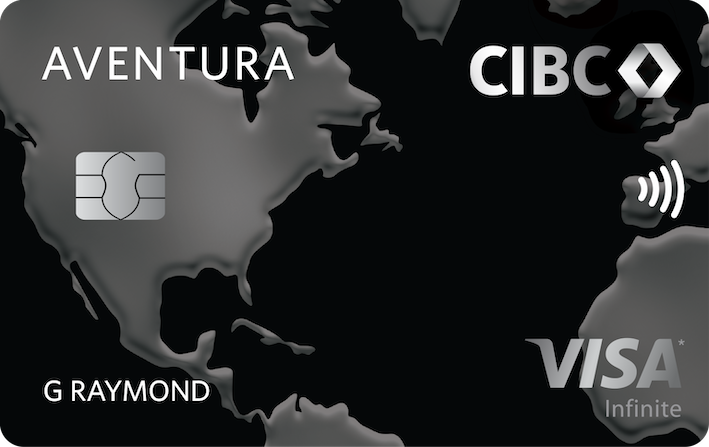 Annual fee: $120
Earn 15,000 Aventura points with your first purchase
Earn 1 Aventura point for every $1 spent using your card
Earn 2 Aventura points on travel purchased through the CIBC Rewards Centre
---