---
Our review of the CIBC Aventura Visa Infinite has been edited as of November 1, 2018 to reflect the most up to date welcome offer available to new cardholders.
---
CIBC has beefed-up the benefits on one of its most popular travel credit cards – the Aventura Visa Infinite Card – rolling out new perks and a lucrative welcome offer that will help you fast track your travel plans and save on annual fees as well as seriously upgrade your airport experience.
Already one of the best travel credit cards in terms of flexibility – with points that can redeemed for flights on any airline with no blackout dates or seat restrictions – the Aventura Visa Infinite now includes free memberships to Priority Pass airport lounges and the NEXUS program as well as mobile device insurance.
Despite changes to its benefits however, the card offers the same rewards earn rate. You'll get 2 Aventura points for every dollar spent on travel (provided the purchase is made through the CIBC Aventura Rewards Centre), 1.5 points per dollar on gas, pharmacy and grocery purchases and 1 point per dollar on all other purchases.
Read below for a more in-depth review of the card, its welcome bonus and features.
CIBC Aventura Visa Infinite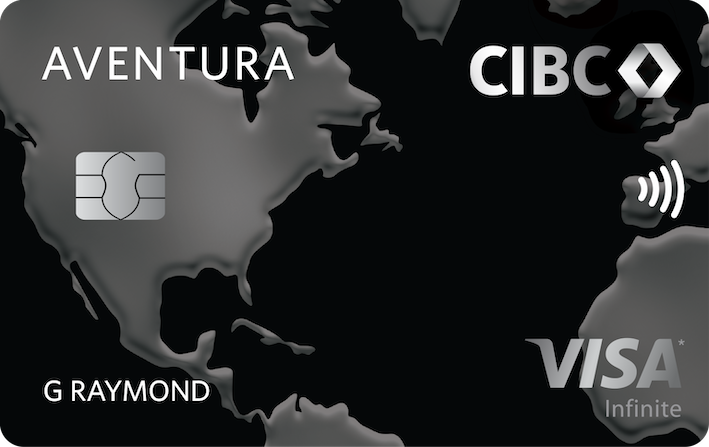 Annual fee: $120 (waived in the first year)
Earn 15,000 Aventura points with your first purchase and another 5,000 points after spending $1,000 in your first 4 months
Get a $100 flight rebate when you book your tickets with an Aventura Travel Assistant
Earn 2 points per dollar on travel, 1.5 points on gas, groceries and pharmacies, and 1 point per $1 on all other purchases
Free Priority Pass membership and full rebate on NEXUS
Emergency travel and mobile device insurance
A stacked welcome offer
CIBC is currently offering a 15,000 point welcome bonus to new Aventura account holders after their first purchase as well as an additional 5,000 points when at least $1,000 is spent on the card in the first four months. According to CIBC, these points add up to deliver up to $400 in value.
In addition to a points bonus, you'll also get a $100 credit on the first travel ticket purchase you make with an Aventura Travel Assistant, provided its booked prior to February 28, 2019.
To top it all off, the card's annual fee of $120 is waived for the first year for new CIBC account holders who sign up by February 28, 2019.
New NEXUS and Priority Pass lounge perks
As of October 15, 2018, CIBC Aventura Visa Infinite card holders (old and new alike) are entitled to two new travel perks that offer a serious upgrade to the airport experience.
First, CIBC is offering a full rebate on NEXUS membership applications. If you frequently travel south of the border, you're likely familiar with the benefits of being a NEXUS member – namely the ability to skip line ups at border crossing between the US and Canada. While the cost of being a NEXUS member normally amounts to $50 every five years, with the CIBC Aventura, you (the primary card holder) receive a rebate on your initial NEXUS application and subsequent membership renewals every four years.
Second, you'll get a free Priority Pass airport lounge membership with four free passes per year. Priority Pass memberships, which run over $100 annually, offer access to over 1,000 international airport lounges that commonly feature perks such as free wi-fi, complimentary showers, comfortable, stretch-out seating secluded from the rest of the airport and more.
Premium travel insurance benefits
Similar to many of the best rewards credit cards in Canada, the CIBC Aventura Visa Infinite features a roster of travel insurance benefits.
The card offers emergency travel medical insurance up to $5 million for 16 consecutive days, trip cancellation and bag loss insurance, rental car coverage (collision and loss) up to $65,000 and more.
However, one insurance perk that separates the CIBC Aventura Visa Infinite from most other travel credit cards is the fact it offers mobile device insurance. A particularly useful benefit given the exponentially increasing cost of smartphones, CIBC's mobile device insurance policy covers up to $1,000 on lost or accidently damaged smartphones that were either partially or fully purchased through a CIBC Aventura card from the smartphone maker or a wireless provider.
Redeeming Aventura Points
In terms of how the CIBC Aventura program works for points redemptions, card holders must use the online CIBC Rewards Centre or contact an Aventura Travel Assistant over the phone at 1 888 232-5656. The latter option offers a full-fledged travel agency experience at no extra cost, with access to assistants who can help book every step of your journey from flights to car rentals and hotel stays.
As highlighted at the beginning of this review, points are not subject to airline, date or seat restrictions. Plus, the points you earn on your Aventura card can also be used to cover the cost of flight taxes and fees and never expire.
Unfortunately, however, points cannot be applied to credit card statements retroactively. Additionally, the value of Aventura points is not consistent and vary depending on where you choose to fly, which means you may get lower value out of your points for flying to some destinations versus others.
Aside from travel rewards, card holders do have the freedom to redeem their Aventura points for everything from hotels and gifts cards to car rentals and merchandise. Although, like most other loyalty programs, you'll get a lower value from your points when redeeming them for non-travel related purchases.
---
Cibc Aventura Visa Infinite – Quick Review
The Pros
Aventura points can be redeemed for travel on hundreds of airlines (no blackout date or seat restrictions)
The card's $120 annual fee is waived for new cardholders for the first year
Get 15,000 welcome points after your first purchase on the card
Earn an additional 5,000 bonus points when you spend $1,000 within your first 4 months and get a $100 flight rebate when you book your tickets with an Aventura Travel Assistant
Free Priority Pass airport lounge membership with four free passes per year (allows for access to over 1,000 airport lounges worldwide)
Full rebate on NEXUS membership applications and renewals
Premium travel and rental car collision/theft insurance
$1,000 in mobile device insurance
The Cons
Aventura points must be redeemed on the CIBC rewards website
Aventura point values are not consistent and fluctuate based on your flight destination – so, working out the exact dollar value of your points isn't straightforward. At Ratehub, we've calculated that the overall average value of 1 Aventura point is $0.0116.
There's no ability to transfer Aventura points to other loyalty programs
High redemption minimum – to redeem points for a flight, you need to have at least 80% of the required points
---
The bottom line
Overall, the CIBC Aventura Visa Infinite's new premium features in combination with its stacked welcome bonus has upped the ante when it comes to travel credit cards in Canada. If you're on the hunt for a well-rounded travel card chock full of benefits, this card should be high on your consideration list.
---