---
Though merely a handful of online banking options are available, Alterna Bank is one of Canada's best digital banks.
Alterna Bank offers all of the products major financial institutions do, without the fees and restrictions—with exceptional interest rates. It offers savings and investment accounts that cost no money to use, either.
This Alterna Bank review provides information about the bank, and an in-depth analysis of the financial institution and various financial products offered, including:
Chequing Account
High-Interest Savings Account (HISA)
Guaranteed Investment Certificates (GICs)
Tax-Free Savings Account (TFSA)
Registered Retirement Savings Account (RRSP)
What is Alterna Bank?
Alterna Bank is a digital bank. It is owned by Alterna Savings, Ontario's first credit union and Canada's second, opening its doors in 1908.
Today, Alterna Savings is in Canada's top ten most popular credit unions. Alterna Bank is Alterna Savings' digital banking subsidiary. 
Alterna Bank offers all of the usual banking products, as well as loans, mutual funds, and mortgages, to name a few.
Last year, Alterna Bank claimed several victories at the Ratehub.ca Personal Finance Awards.
Is Alterna Bank Safe?
Absolutely. Alterna Bank is considered a Schedule 1 bank, meaning deposits and savings are insured by the Canada Deposit Insurance Corporation (CDIC), also known as CDIC Insurance. Investments and deposits with Alterna Bank are insured up to $100,000 per account. 
Alterna Bank Review
Alterna Bank is an excellent bank, but probably best for Canadians who rarely require in-person assistance at a branch, as no designated branches for Alterna Bank exist. Customers may, however, access Alterna Savings branches, though small commissions may be charged.
Some of Alterna Bank's general features include:
No Fee Account Options
 Chequing, saving and investing accounts come at no cost to its customers.
Online Banking and Mobile Application Available
Alterna Bank offers online banking and mobile banking options. Cardholders can do daily banking tasks online, or use the mobile app to do transfer funds, pay bills, or deposit cheques using mobile cheque deposit.
Joint Account Options Available
Account joining options are available for people who want to combine account savings.
Account linking available
Alterna offers "Me-to-Me Transfers" which allows customers to link bank accounts from other institutions.
You can find more information about Alterna Bank's individual saving and investing accounts below.
Alterna Bank No Fee eChequing Account
Alterna Bank's chequing account might be one of the most popular products offered by the online bank. The chequing account is entirely free to use and comes with unlimited features, a truly flexible account.
The Alterna Bank No Fee eChequing Account includes:
No minimum balance requirements

Unlimited debit and digital transactions 

Free daily transactions

Unlimited Interac e-Transfers

Annual interest rate of 0.05%

Overdraft protection is available for $2.50 a month. 

Access to the EXCHANGE Network
You might be wondering how to withdraw money from an online bank. Fret not: though a bank that operates solely online, customers can use the EXCHANGE Network to withdraw money using an Alterna debit card.
The EXCHANGE Network a Canadian ATM network including many banks and credit unions that allow its customers to access automated teller machines at no additional cost.
Alterna High-Interest eSavings Account
Alterna Bank High-Interest eSavings Account offers high-interest at 2.30%, which is well above Canada's interest rate, meaning your money's value remains in-tact every year.
Unique to other HISAs available in Canada, Alterna Bank's High-Interest Savings Account includes:
Unlimited transfers and Interac e-transfers

Unlimited debit transactions

No minimum balance requirements. 
Using a high-interest savings account requires no minimum deposit requirement, meaning you can open a bank account online right now!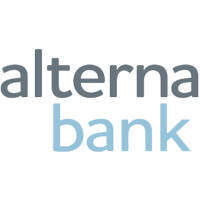 Alterna Bank
High Interest eSavings Account
2.25%
No monthly fees

RRSP and TFSA options available

Deposits are CDIC Insured
Alterna Bank Guaranteed Investment Certificates
Alterna Bank GICs earn excellent interest rates that range between 2.05% to 2.50% on deposits on terms ranging between one to five years in length.
Alterna Bank GIC interest rates and term deposit lengths are listed below:
| | |
| --- | --- |
| GIC Term | GIC Rate |
| 1 Year | 2.05% |
| 2 Year | 2.50% |
| 3 Year | 2.20% |
| 4 Year | 2.30% |
| 5 Year | 2.55% |
Purchasing GICs requires a minimum deposit of $500. Interest on investments can grow tax-free by placing your GICs in a Retirement Savings Plan (RSP) or place them in a Tax-Free Savings Account (TFSA).
Alterna Bank Tax-Free Savings Account
Alterna Bank's Tax-Free Savings Account comes with an interest rate of 2.35%; a rate well above Canada's current inflation rate.
This TFSA is not all that different from many tax-free savings accounts. It does come with no fees for use or operation. 
Interest Rate: 2.35%

No minimum deposit requirement.

No limit on withdrawals or deposits.
With an excellent interest rate, a TFSA is a suitable option for anyone who values an account with no limitations or restrictions—with the exception of your yearly TFSA contribution limit.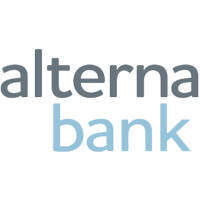 Alterna Bank
TFSA eSavings Account
2.25%
No monthly fees. No minimum balance. CDIC Insured.
Alterna RRSP eSavings Account
The RRSPs eSavings Account offers an interest rate of 2.35% on deposits. There are no minimum balance or contribution requirements or minimum contribution limits either.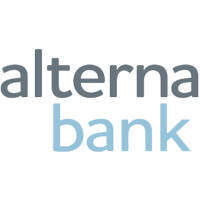 Alterna Bank
RRSP eSavings Account
2.25%
No monthly fees

RRSP and TFSA options available

Deposits are CDIC Insured
---
Also, read:
---