Financial Literacy Month, held every November, is about helping Canadians become savvier with money. This past weekend, the fifth annual Canadian Personal Finance Conference brought together both established and up-and-coming authors, bloggers, entrepreneurs, and experts to muse on financial literacy, housing and real estate, and investing.
Here are four things we learned from some of the conference's speakers:
Keep your eyes on the housing market
Kicking off the weekend with a Friday night fireside chat at Ratehub.ca's office, The Globe and Mail's personal finance columnist Rob Carrick candidly discussed and took audience questions on everything from different challenges faced by boomers vs. millennials in investing, saving, and retirement to Canada's red-hot housing market. When it comes to the idea of homeownership as a foundation for wealth, Carrick is blunt: "It's not an investment, it's a place to live." When the market falls, he says, invest in real estate for sure—but now isn't the time. "Nobody should be investing in housing in November 2016," he advises.
Carrick, who regularly discusses millennial finance in his columns, also acknowledges that income has diverged with tuition costs and house prices. However, there's a bright spot for the future of investing: Carrick gives two thumbs up to robo-advisors for the next generation with lower incomes. "Robo-advisors are a godsend to millennials."
The future is mobile and global  
Michael Katchen, founder and CEO of robo-advisor WealthSimple, says mobile will define the financial technology industry over the next few years. Fintech is flourishing rapidly, and Katchen's company aims to get people investing by breaking the social taboo of talking about money and filling the sweet spot between full-service brokerages with high fees and self-directed discount brokers that don't give advice or guidance.
Katchen acknowledges that it's hard to make the average person care—companies need to be relatable, relevant, and simple. As for what finech's future will look like, Katchen says to look to emerging markets in Africa and Asia as companies such as Ant Financial and BIMA become "amazingly disruptive" in cutting costs and improving the quality of financial services such as investing, banking, online payments, and insurance.
Yes, you can master tax math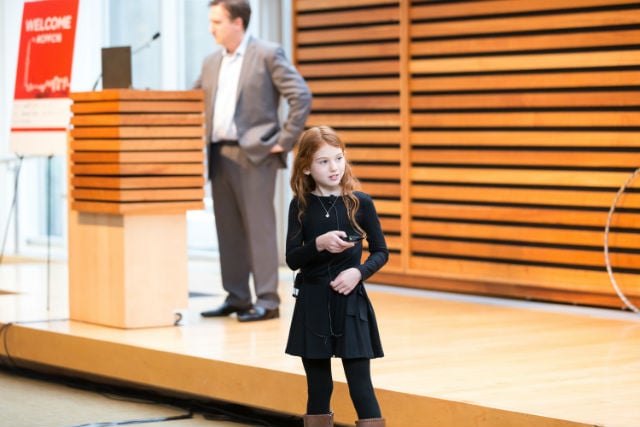 Carlie Weinreb may only be nine years old, but the self-styled tax expert wowed the audience by doing math calculations live on stage—while hula hooping. With her accountant dad Lorne dutifully running her slideshow, Weinreb schooled a room full of adults on the tax benefits of a TFSA versus an RRSP based on present and future income.
Weinreb, who started doing math at two and now lectures to university students and professionals on Canada's income tax system, shared her three "secret rules": if your future income will be more than today's, get a TFSA. If your future income will be less than half of today's, get an RRSP. If you don't know, she says, "ask Carlie."
Personal finance is behavioural
In his keynote speech, personal finance expert Preet Banerjee injected some much-needed humour into tackling the tough question of why humans are hard-wired to make bad decisions about money. The answer? We're both clueless and irrational when it comes to personal finance, which is all about choices and trade-offs. However, Banerjee shared some tips on how, with a little perspective and an attitude adjustment, we can guide ourselves toward better financial behaviours:
Stop overthinking it and automate your finances, Banerjee says. "Personal finance is 90% psychology and 8% math." The other 2% just shows how irrelevant math is.
On debt: "Debt used to be a four-letter word. Now, it's just a word," Banerjee says, and that love affair needs to end. Consider this: according to Banerjee, getting deep into debt is more stressful than a cheating spouse or the death of a pet.
On credit cards: "You don't borrow money from a bank, you borrow money from yourself." Banerjee says to think of borrowing money today as negotiating a pay cut with your future self. In that same vein, think of reducing debt as a way of negotiating a pay increase with your future self.
On investing: Your stock portfolio "is like a bar of soap: the more you touch it, the smaller it gets." The stock market will always go up and down, but investing is a long game.
Also read: