Why You Should Consider a Digital-only Savings Account
Sponsored by: 
When you want to stash some money away, a high-interest savings account is usually the best option because it offers better interest rates as well as greater flexibility and access to funds. Digital banks often have competitive rates because they don't have a huge branch network and those savings are often passed on to consumers in the form of a higher interest rate.
Canadians love online banks, too. According to a 2016 Canadian Bankers Association survey, 68% of Canadians did most of their banking digitally in the last year. The survey also found:
45% of Canadians have increased their use of online banking;
63% have used an email money transfer for sending or receiving money through online or mobile banking; and
42% use an online bank as their primary method to pay bills.
If you're looking for a savings account, you might want to consider opening an online-only account at EQ Bank. The EQ Bank Savings Plus Account is a high-interest savings account that doesn't have a monthly fee and there's no minimum balance required.
Rates
As of July 14, 2017, EQ Bank's interest rate is 2.3%. Here's how the rate compares to other financial institutions' best high-interest savings accounts on a balance of $5,000 or more on Ratehub.ca (also as of July 14):
*2.15% until Aug. 31, 2017 and 1.3% thereafter
**currently 1.9% for new clients for the first 182 days and 0.8% thereafter; rate for current clients is 0.8%
As the chart above shows, EQ Bank's interest rate of 2.3% is currently the best rate on the market. If your balance is $10 or $10,000, you'll still earn an annual interest rate of 2.3%. Interest is calculated daily on the total closing balance and paid monthly.
Fees and features
The EQ Bank Savings Plus Account has no monthly fee or hidden charges. The great thing about this account is that it's more than just a savings account. It allows you to make an unlimited number of bill payments, electronic funds transfers, and mobile cheque deposits. You'll also get five free Interac e-Transfers every month.
If you know someone who also has an EQ Bank Savings Plus Account, you can send free EQ to EQ Transfers. You don't even need email confirmations or additional verification codes. And EQ Bank has a Savings Goals feature. You can add a new account and enter the details of your savings goal (for example, buying a home). To help you meet your goals, you can set up recurring transfers to the account.
CDIC insured
Digital banks are a safe, smart, and secure option for your money. EQ Bank is a trade name of Equitable Bank, a federally regulated deposit-taking institution. Equitable Bank is a member of the Canada Deposit Insurance Corporation (CDIC). All EQ Bank deposits are eligible for deposit insurance up to a maximum of $100,000.
Mobile options
Most online banks also have a mobile-friendly site or app. You can set up an account with EQ Bank on your mobile phone or other devices in about five minutes. The bank also allows you to manage your account on its iOS or Android app.
EQ Bank Savings Plus Account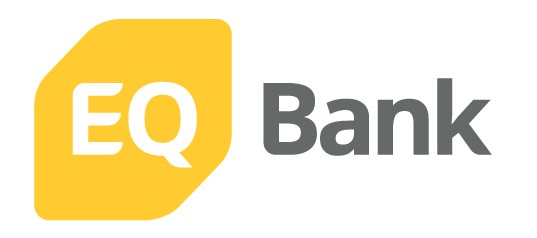 2.30% interest rate
No monthly fees
Unlimited day-to-day transactions
5 free Interac® e-Transfers per month
The bottom line
The interest rate on the EQ Bank Savings Plus Account was recently increased to 2.3%, currently making it the best rate on the market. This, along with the features mentioned above, makes this account the top choice for a high-interest savings account in Canada.
Also read: