Top 10 Money Saving Apps for your Smartphone
For more suggestions, read our updated blog post on the best-money saving apps in Canada
Purchasing a Smartphone can leave a dent in your monthly budget. But, consider it an investment. Coupled with new apps that are being developed, your Smartphone may actually help you plan and budget for savings goals in future. The term "App" is short for application, which is a software tool that can be downloaded from the internet right onto your handheld device.
Here at Ratehub.ca we like saving money, so we did some research to find the top 10 money-saving apps.
1.       Mint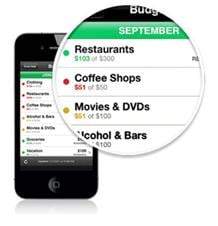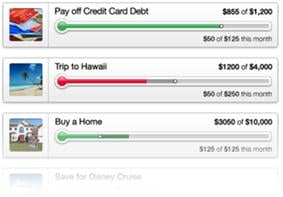 This app claims to be the "can`t-live-without-it" tool to keep track of your personal finances. It has been listed on TIME Magazine`s "50 Best iPhone Apps of 2011" and been named "Best Finance App" at the 1st Annual App Awards. Apart from having impressive accolades, this app genuinely does seem to be the package deal.
The app is a budgeting tool that allows you to access your updated account information and budgets, rendering it easier to make those crucial "where should I eat tonight?" decisions. Is it hot dogs or lobster?
An added advantage is that you can enter deposits or transactions when they occur and see immediately your available funds and credit balances. For those of you who like to visualize your finances, Mint provides graphs that make it easier to spot trends.
Mint allows you to track your investments, monitor your goals, find savings and receive reminder alerts. Also, the app is password protected.  This app covers all the bases.
Available for: iPhone, Android
Cost: Free
2.    Coupone Sherpa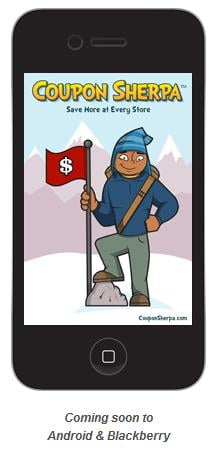 This is a great app for coupon-clipping junkies. The Coupon Sherpa is "the most trusted authority for coupons online".
The app makes locating and using coupons convenient and accessible. You can search over 5,000 available coupons by store name, category or location. You can also email coupons to friends and family.
Although some stores are finicky and might not accept coupons from a phone, Coupon Sherpa has an easy print feature so that you can have a hard copy as well.
With Coupon Sherpa, you can flag businesses as favorites, so if you shop at certain places often, those specific coupons make themselves available to you immediately. It's nice when people and apps – remember what you like.
Available for: iPhone
Cost: Free

3.   GroceryIQ
Everybody needs to shop for groceries. So, what better idea than an app that helps you shop, by making sure you stick to your budget. It's essentially a shopping list but with features that take the grocery shopping experience to a new level.  Help avoid unnecessary impulse buys with this app.
Time-saving features include:
The barcode scanner: Simply scan the barcodes of products that that you want to add to your list.
List sharing: Sync shared lists between family members or with roommates.
This app also allows you to organize your grocery list per aisle and record your favorite products for future shopping reference.
Available for: All iOS devices (iPhone, iPod, iPad), Android
Cost: Free
4.    Gas Buddy
The Gas Buddy app provides drivers with an easy tool to locate the nearest and cheapest gas. Sounds simple, but considering the rising cost of gas, this could translate into significant savings. It offers directions, distance and estimated time to reach every location allowing you to make the most convenient trip.
In some cities gas prices can vary by as much as 15-20%, so it is an app worth investing in. Another snazzy feature is that you can set your vehicle's tank size, your consumption (miles per gallon) and the fuel type.
The data is user generated so the app is especially useful in large cities. In cities with more users, you'll realize that the price information is frequently updated. As more people make use of this app, the money savings potential increases proportionally.
Available for: iPhone, Blackberry, Android, Windows phone
Cost: $2.99
5.    Pocketmoney

Pocketmoney offers a comprehensive way to manage your finances. However, its strength lies in the fact that it's developed for those who are new to finance apps. The first time you use it, a pop-up appears with each new screen describing what this screen is for and how to use it.  It's not the most powerful money-saving tool out there, but it's still a good buy especially if you're new to Smartphone apps.
Features include category reports that help with taxes, photo receipts, displays of current, future and cleared balances and an unlimited number of accounts and transactions.
Available for: iPhone
Cost: $4.99
6.    Pageonce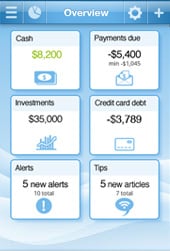 This personal finance tool is yet another great example of how you can use an app to keep your accounts updated. A calendar view informs you of all your upcoming bills and alerts prevent you from making any late payments – great for your credit score. Payments, investments, credit cards and cash- all in one convenient location.
Available for: iPhone, iPad, Blackberry, Android, Windows phone
Cost: Free
7.    BillMinder
This is a useful way to stay on top of your bills from the convenience of your iPhone. The app allows you to set up push reminders that alert you before your bill due dates, making sure that you never miss a bill payment.
You can also set up recurring bill reminders – for cell phone bills, internet bills, mortgage payments or student loans. Several similar apps don't have this feature.
BillMinder also allows you to export your bills to Microsoft Excel or Numbers, back up your data and export to your email.
Available for: iPhone, iPad
Cost: $1.99
8.    Grocery Gadget Shopping List

This app is another grocery aid for smart shoppers. In addition to allowing users to manage their shopping lists, it integrates frugal options such as coupons and price comparisons.  The app also allows users to upload and share lists. While you shop, Grocery Gadget remembers the order in which you check off the items on your list then re-organizes the next time you shop for optimal time savings.
Available for: iPhone, Blackberry
Cost: $4.99 and a free Lite version
9.       iXpenseIt
This app allows you to record expenses on the move and makes it easier to keep track of your spending habits.
It's got a battery-style representation of your current budget which is visually appealing and you can create customized reports to locate where all your cash is going. A nifty feature is using the iPhone's camera to store receipts.
Available for: iPhone
Cost: $4.99 and a free Lite version is available
10.   Free App List
Ok, so this last one technically isn't in the same category as the others, but it's an app to all the free apps out there! What a great way to save some cash.
Available for: iPhone
Cost: Free (It had better be!)
Finding the best mortgage rate isn't the only way to save money. If you've got a Smartphone then it's definitely worth your while checking out these terrific money-saving apps.
Sources
https://www.mint.com/how-it-works/anywhere/iphone/
http://blog.gasbuddy.com/posts/GasBuddy-s-own-iPhone-app-now-available/1715-429439-461.aspx