Photo courtsey of Dan Moyle
To buy, or not to buy – that seems to be the big question among my circle of friends these days, as we settle into our careers, relationships and lives.
Between soaring house prices and all-time low mortgage rates, many are feeling the pressure to purchase a home before rates increase and it becomes even more expensive to buy.  On the other hand, many are also enjoying the flexible lifestyle that comes along with renting.  And then there's those — myself included — who are feeling discouraged, lamenting they'll "never, ever" be able to afford to own a home within a city like Toronto.
While renting may not be an ideal situation for some — you have less control over your home and you can't renovate at will — it can be a great solution for those who aren't financially or emotionally ready for home ownership.
When I turned to my social network of twenty-and-thirty-somethings, to find out who rents and who owns (and why), I found there was a mix of situations and opinions.
"We're pushed to buy a house as a rite of passage, or something that must be done for one to be successful, but the reality is that owning is not the right choice for everyone. That being said, I would buy now if I could [afford the down payment]. Prices will only increase here in Calgary, and it would be great to get into the market now." —Katie Murray, Calgary

"The question is are you looking for roots and stability or flexibility?  Home ownership comes with worries and responsibilities, and in some ways [acts as] an anchor.  Are you ready for that or do you want to be able to move around the world or across the province for the right job or situation?" —James O'Brien, Hamilton
As O'Brien points out, buying is not necessarily right for everyone – especially for those who are just starting out and might not be ready to commit to an area, job or hometown so early on.
"Renting is better for young professionals. The earlier part of one's career life cycle often requires flexibility of location for a few years. Renting provides this flexibility in a way that owning simply cannot." —Dave Bungay, Toronto
However, for others, the lure of low interest rates, first-time home buyer tax credits and the idea of putting your money into something tangible outweighs the lifestyle flexibility renting seems to offer.
 "I bought after 4+ years of renting, mostly because I got sick of paying poor building management and having zero say in what goes on." —Darryl Clarke, Toronto
"At the moment, I both rent and own.  I rent [in Kingston] because I haven't sold my house [in Welland] so I can't buy a new one. I'd rather own because I don't want to make someone else rich. I think owning is really smart if you can make the right investment." —Ashley Sparkman, Kingston
"Interest rates are too low not to consider buying. The question you need to ask yourself is, would I rather pay into my own mortgage and gain equity over the long-run, or pay into someone else's and get nothing out of it?" —Victor Genova, Toronto
Besides low interest rates, it's important to consider the housing market in your area: right now, Toronto's market is hot and prices are climbing. According to a report by the Toronto Real Estate Board, housing prices in the city have increased more than 8.5 per cent compared to this time last year.  Though you can get a great mortgage rate now, you might not be getting the best deal on a home, especially if the market cools and prices drop in the next couple years, as experts are predicting.
A few years ago, I was debating between renting an apartment or buying an affordable home in Northern Ontario and was constantly drawing pro vs. con lists.   In the end, I rented.  I decided I wasn't financially or emotionally ready to be a homeowner, and my career was not yet at a point where I felt I could "settle down" and be locked into both a property and mortgage.
For me, the upfront cost of purchasing a home was a large deciding factor in my decision, even though the short-term month-to-month cost of owning in that area was similar to, if not cheaper than, renting.
This isn't always the case, however, as property costs and the associated upkeep and fees vary by area and can get quite expensive—especially in a major metropolis like Toronto—when you take the extra costs of home ownership like utilities, upkeep, condo maintenance fees and property taxes into consideration.
Consider these two similar properties in the Yonge and Eglinton area: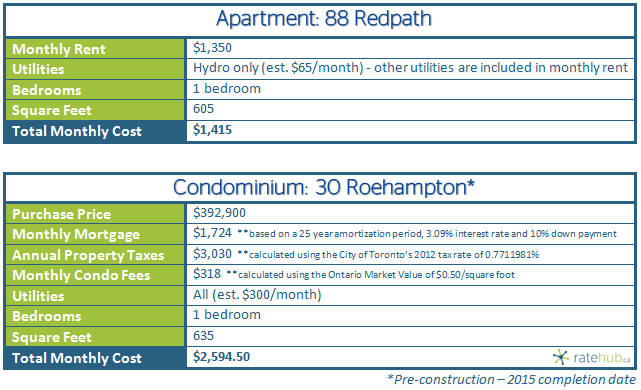 When you input this data into the GetSmarterAboutMoney.ca Rent vs. Buy calculator, it's estimated that after four years it makes more sense financially to buy than to rent, meaning if you're planning to stay put in an area for longer than that, buying is the smart financial option.  However, this is assuming you have the cash to purchase a home since you'll need to front a down payment and the closing costs (which are typically 1.5 to 3 per cent of the purchase price) – a fact not always made clear by bank calculators, which often only calculate your monthly carrying costs.
Image courtesy of Get Smarter About Money

                             See the full year-by-year breakdown of this calculation here.
The investment value in the summary chart on the top left takes into account the yearly estimated appreciation of your home.  This calculation also takes into account an annual 2 per cent rent increase (the increase cap in Ontario is currently 2.5 per cent per year).  The money invested is a look at what you put into the property – including your down payment and remaining mortgage principal.  The total expenses indicate the true cost of ownership, and include the interest on your mortgage and operating costs (insurance, property taxes, etc.).  However, neither number takes the monthly cost of utilities (or lack thereof, with a mostly-inclusive rental option) into account.
Of course, the calculator also can't adjust for market or lifestyle issues: such as the return on investment (ROI) you might get in a hot area.
Whether to rent or buy can also be a very location-specific debate.  When I lived in Northern Ontario, the rental market in my city was so competitive that apartments were gone within a few hours of being listed.  The housing market, on the other hand, had a number of very affordable properties available (I once saw a listing for a fixer-upper of a house at $60,000).  In a city like Toronto, where land is at a premium, you'd be hard-pressed to find a house for sale under $400,000.
However, from an ROI standpoint owning seems like an attractive option: you're paying into something tangible you own, as opposed to paying into someone else's mortgage, and there's a good chance you'll see a return if you purchase wisely.  But when I add up the costs associated with owning on top of the monthly mortgage (utilities, maintenance, property taxes, insurance, etc.), it gets expensive, and fast.
On the flip side, if you can afford to buy and choose not to you could invest your money elsewhere.
"I don't envy most of my home-owning friends at this point. Although they've made an investment in their futures by purchasing, it seems that some of them have had to compromise their quality of life in order to make mortgage payments and cover other house-related costs. I've actually heard the term "house poor" used to describe young professionals who own a house but can't afford to do much else because so much of their income is tied up in their mortgage and other home expenses."—Jennifer Macko, Toronto
So, my answer to this age-old debate is simple: there is no "right" answer.  The decision to rent or buy is a highly personal one.  Only you can know when the time is right to move from "renter" to "homeowner".
Do you rent or do you own your home? And are you happy with your situation, or do you wish it was different? We'd love to hear from you!