The Real Impact of This Year's Stress Test and Rising Rates
You've heard it before: It's harder to qualify for a mortgage this year than it has been in years past. That's not news. However, we at Ratehub.ca crunched some numbers to determine just how impactful the current rising rate environment and the most recent mortgage rule changes have been on potential homeowners. Which is good news for those wondering "how much house can I afford?"
First, though, a backgrounder.
In January of this year, a new mortgage stress test went into effect. It requires all mortgage holders in Canada to qualify at a higher mortgage rate than the one they are offered by their lender. Specifically, they are now required to qualify at the higher of either the Bank of Canada conventional five-year fixed rate (which, at press time, is 5.34%) or two percentage points higher than their contracted rate.
So, that means a homebuyer who qualifies for today's best five-year mortgage rate of 3.19% would still hypothetically be required to afford a rate of 5.34%. For many, this means having to purchase a more affordable home than they could have purchased just a year ago.
Compare today's top mortgage rates
Looking for a great mortgage rate? Check out the lowest mortgage rates available
This stress test, coupled with rising mortgage rates, means many buyers will qualify to purchase fewer homes than they would have in the past.
What is the impact, in real terms?
That depends where you live.
As mentioned, we took a look at five major Canadian markets – Vancouver, Calgary, Toronto, Ottawa, and Montreal — to see just how much recent regulations and rising rates have impacted qualification.
For our purposes, we assumed a homebuyer using a 20% down payment who earns the median household income in each respective city. We used current Realtor.ca listings to how many homes homebuyers who fit these criteria qualify to purchase today (at the qualification requirement of the Bank of Canada Canada's conventional rate of 5.34%) versus how many homes these buyers would have been able to qualify to purchase if last year's rules still applied (i.e. with no stress test, at last year's best mortgage rate of 2.79%).
And the contrast is stark.
In those five major markets combined, our hypothetical buyers qualify to purchase 35,309 fewer homes.
Of course, buyers have been impacted differently in each city, due to home prices and median incomes.
For instance, buyers in Toronto and Vancouver now qualify to purchase 20% and 8% of homes currently listed respectively. Comparatively, those same buyers would have qualified to purchase 43% and 20% of homes using last year's rates and rules.
Buyers in Calgary, meanwhile, currently qualify to purchase 77% of currently listed homes (compared to 89% using last year's mortgage rates and rules).
Finally, Montreal homebuyers qualify to purchase 78% of listings today (compared to 87%) and Ottawa buyers qualify for 90% compared to 95%.
The bottom line
Clearly, the mortgage industry has undergone some major changes over the past 12+ months. Qualification has certainly become harder, which is forcing some buyers to delay their purchase, save up a larger down payment, or look to markets just outside major city centres. To choose out your best course of action, speak to a mortgage broker or your lender to see what you can afford.
Have a look at the infographic below to see how buyers have been impacted in the five major markets.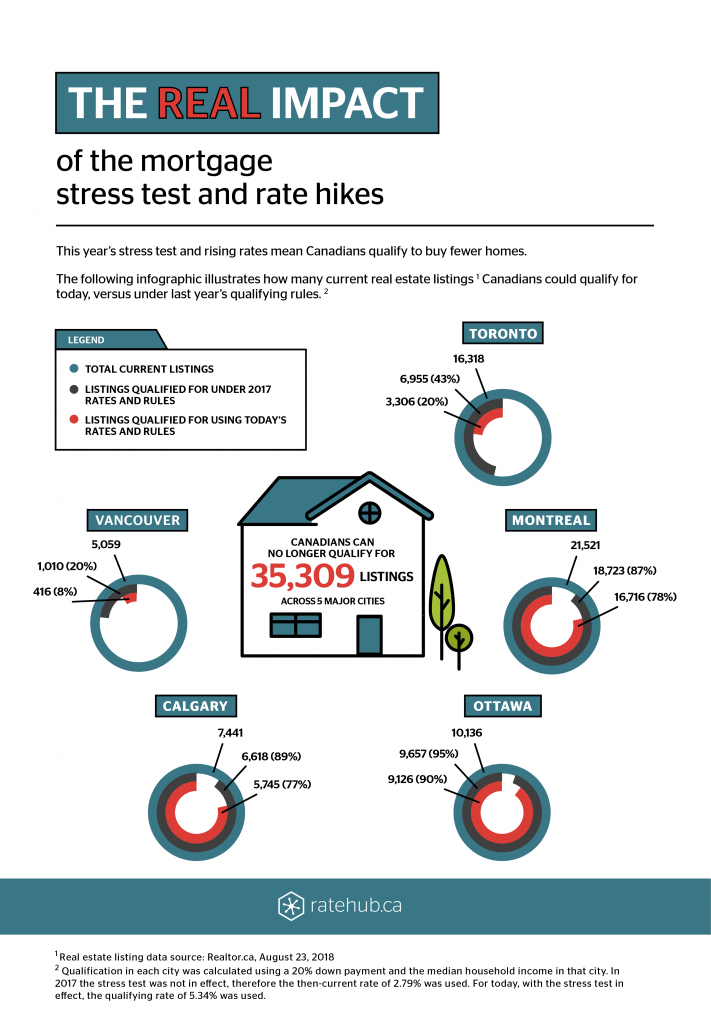 Also read: