---
For the latest card recommendations, read our up-to-date blog post on the best credit card combinations in Canada.
---
If you travel frequently, whether it's for work or just for fun, you probably already know that certain credit cards in Canada will help you earn travel rewards – you may even have one of them in your wallet right now. What you may not yet be aware of, however, is how the perfect combination of two credit cards can help you earn even more rewards.
Using both a flight rewards credit card and a hotel rewards credit card can help you earn enough points to significantly decrease the two largest expenses of any trip. Some hotel rewards credit cards even let you transfer points to flight rewards programs. We did a comparison of all the travel rewards credit cards on our site, and found the best combination of credit cards for any frequent traveler. Take a look:
Flight Rewards Credit Card(s)
Aeroplan is one of the most popular flight rewards programs in Canada. You can join for free, then use your Aeroplan membership card anywhere that accepts it to earn miles. If you like the Aeroplan program, you could be earning even more miles by using an Aeroplan credit card to make some of your purchases. We recommend either the American Express AeroplanPlus Gold Card or TD Aeroplan Visa Infinite. These cards come with incredible sign-up bonuses of up to 25,000 Aeroplan Miles, and let you earn 1-1.5 miles per dollar spent on the card.
Hotel Rewards Credit Card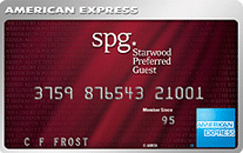 When it comes to hotel rewards, it's hard to beat the Starwood Preferred Guest (SPG) program. With over 1,000 hotels and a wide range of quality, the SPG program suits many travellers. If you stay at Starwood member hotels often, you can earn 2 Starpoints for every $1 spent on the hotel room by using the free SPG membership card. The SPG program also offers incredible value for your points. On average, when redeeming points for a hotel room, each point is worth $0.0223. In comparison, the standard value of 1 point for many other travel rewards programs is only $0.01. Another bonus: With the option to use cash and points, the SPG program allows you to redeem for hotel room stays even when you don't have the full point amount.
If you like staying at Starwood member hotels, you can accumulate points quicker by getting a credit card that earns you Starpoints on everyday purchases. The Starwood Preferred Guest Credit Card from American Express lets you to earn 1 Starpoint for every $1 spent on the card. Although the earning rate is a modest 1:1, the high return you receive when redeeming your points makes it worthwhile to get the card. (And, for a limited time, it comes with a 20,000-point sign-up bonus!)
The Perfect Combination
The reason these two cards work so well as a combination is that you can transfer Starpoints to Aeroplan Miles at a 1:1 rate. In addition, if you transfer 20,000 Starpoints to Aeroplan Miles, you will receive 5,000 bonus miles (in total you would then have 25,000 Aeroplan miles). So, if you are a little short on miles for a flight but have more Starpoints than you need, you can transfer miles over at a good rate.
Using these two programs together allows you to redeem Aeroplan Miles to fly to a destination, Starpoints to receive free nights at a hotel and transfer points between the two when necessary. The combination also works well because it leaves you with both a Visa and an American Express card in your wallet, which is good if you're shopping somewhere that only accepts one or the other.
Image: Sheraton Waikiki (an SPG Hotel)
Also Read: