---
When it comes to tools that help you save or invest your money, what could be more natural than a mobile app or website? Not too long ago there weren't many options to budget or manage your money online, but with the fusion of mobile apps and fintech, saving money via apps and websites has gone beyond simple budgeting tools to encompass the full range of financial tools from subscription management and coupons to investing on the fly.
Here are the best money-saving apps in Canada – listed in alphabetic order. If you aren't using at least a few of these, you're doing your money a disservice.
Summary (+)

The best money-saving apps in Canada
---
Butter Rewards
Best for: Managing and saving money on subscriptions
Quick Facts:
Manage and track all your subscriptions together in one place
Earn cash rewards on your subscription spending
Free to use
Subscriptions make life easier by automatically sending you what you need without worrying about remembering to reorder. But sometimes subscriptions are too easy, and you end up with more services or products than you need. We've all forgotten about that Amazon prime membership only to have a surprise $80 charged to our credit cards.
Butter Rewards lets you manage your subscriptions in one place and keep track of your renewal dates so you can stop renewals on outdated subscriptions and prepare for others to renew. You'll also be rewarded for being organized, because Butter Rewards will offer you deals on new products and services, and lets you earn cash back rewards of 1% on all your subscription spending.

---
Checkout51
Best for: Saving money on household shopping
Quick Facts:
Buy groceries, earn cash back
Available through the App Store and Google Play Store
Cashback is deposited when you accumulate $20 in rewards
Completely free
Checkout51 is downloadable as a free app in the App Store and through the Google Play Store. Create your account, and every Thursday you'll receive an email detailing the latest money-saving offers, and you can save these offers on your shopping list for later.
When you make a purchase, keep your receipt. When you're ready to redeem your savings, snap a picture of your receipt and upload it using the Checkout51 app's built-in camera. Once the app confirms your savings, you'll accumulate cash back. When you hit the $20 cash back payout threshold, your money will be deposited into your account!

---
Dollarbird
Best for: Calendar lovers who want to make sure they never miss a payment
Quick Facts:
Calendar based personal financial management
Schedule your payments and future recurring transactions in a collaborative calendar
Both free and pro options
Have you ever wished for a financial management app that lets you collaborate with your family, business team, or partner through a shared calendar? Have you wanted a fiscal calendar that makes sure you stay on budget and never miss a payment? That's what Dollarbird does. This dynamic app available on both the App Store and via Google Play lets you record your transactions collaboratively with friends or family and plan for future purchases.
You can try out the free version of the app which gives you access to a single calendar or upgrade to the pro version for just $3.33 per month, giving you access to 20 calendars and three team members. There is also a business option.

---
Ebates
Best for: Cash back rebates for online purchases
Quick Facts:
Shop at your favourite stores and earn cash back rebates
Choose from over 750 stores
Free
Ebates is one of those websites that sounds too good to be true. Here's how it works: sign up for an account with Ebates and start shopping at one of their 750 partner stores. You'll need to select a store from their website, and when you make your purchase, Ebates will track your cash back and deposit it within a few days.
Ebates can provide you with cashback because they receive a commission from referring you to retailers, and they share a portion of that commission with you. Ebates is completely free to use and can help you quickly earn cash back on your everyday spending.
---
Flipp
Best for: Weekly deals and coupons
Quick Facts:
Lets you browse 100's of coupons in one intuitive app
Will alert you of the best deals based on your area and shopping list
Provides product information and reviews to ensure you're informed before you buy
Flipp is the internet equivalent of cutting coupons.
This app lets you take advantage of the best weekly deals from groceries and big box retailers by curating hundreds of coupons. You can intuitively browse coupons and special offers by products or by specific retailers. Plus, if you build your shopping list on Flipp, the app will flag deals near you that match your shopping list to make saving even easier. With a tap, you can also read through product details and reviews to ensure you're not only getting a great deal but the best product. Lastly, the app will also notify you whenever a great deal is nearby or is set to expire so you never miss out on potential savings.
---
Gas Buddy
Best for: Finding the cheapest gas prices
Quick Facts:
Updated in real-time
Find the best gas prices anywhere in Canada or the USA
Save big on fuel every year
Gas buddy is a website and mobile app that specializes in helping Canadians find the cheapest gas prices, anywhere in the country. From your phone or computer, you can search for the lowest gas prices by postal code, plan a trip according to the most economical fuel options, or review historical data to plan your fuel purchases.
Users can save hundreds on gas per year and reporting your local gas prices rewards you with points to enter draws to win $100 gas gift cards.

---
Groupon
Best for: Deals and coupons for restaurants, fitness, and travel
Quick Facts:
Significantly discounted deals on services, restaurants, travel, and products
Search by location, goods, or getaways in 15 countries
Sign up for notifications on sales based on your preselected interests
A veteran on the money saving website scene, Groupon, was established in 2008 and made a name for itself by providing Canadians with heavily discounted services, getaways, and products. Create an account and select your preferences, and then receive emails when new deals that match your criteria are published. Alternatively, you can browse getaways, restaurants, and experiences in over 15 different countries, making Groupon the perfect compliment to a vacation or trip.

---
Mint
Best for: Tracking your spending and net worth
Quick Facts:
Connect your debit and credit cards
Create budgets and track your spending
Track and budget for bills
Mint is a free budgeting app and a powerful financial tool for new and seasoned budgeters. Connecting your debit and credit cards to Mint allows you to create a budget, track your spending, monitor your net worth, and pay off your debt. Your information is secured with bank-level encryption, and Mint is powered by the makers of Turbotax, one of the most trusted financial companies in Canada.
Manage your money from your phone or your computer and let the automatic transaction categorizer track your budgets easily and quickly. You'll receive notifications when you are close to going over budget, making it easy to manage your money responsibly.

---
Mylo
Best for: Rounding up daily purchases and investing the spare change
Quick Facts:
Canadian app available on Apple and Android devices
$1 per month fee or $3 per month for a Mylo Advantage account
Purchases are rounded up, and the difference invested in low-cost ETF funds
Mylo is an app that lets you round up your daily purchases on your debit and credit cards and invest the difference in low-cost exchange-traded funds (ETFs). Mylo uses bank-level encryption and is backed by investors, including Desjardins Capital. Your money is invested by the experienced portfolio manager Tactex Asset Management, which manages over $120 million in assets.
Mylo's goal is to help you reach your financial goals sooner by investing your spare change. You can customize how aggressively you round up your purchases, and choose where to invest the money, whether in long-term savings or short term goals.
If you opt for the Mylo Advantage account, you'll have access to additional perks like special monthly discounts from your favourite stores and the option to invest your money in registered accounts including TFSAs and RRSPs.

---
Wellspent
Best for: Reflecting on emotional spending
Quick Facts:
Simple to use spending tracking
Automatic prompts help you analyze how you feel about your spending
Use tags to organize your spending based on how it fits into your life, cut out spending that doesn't make your experiences better
Wellspent is a spending tracking app whose purpose is to help you make more deliberate choices with your money. This app enables you to reflect on how you feel about your spending choices, so you can eliminate spending that doesn't make your life better. By reflecting on your associations with each purchase, Wellspent helps you bring a new awareness to your spending habits.
Wellspent is available on iOS and will soon be coming to Android. Wellspent is backed by RBC Ventures Inc., which uses bank-level security to encrypt your data securely.

---
You Need a Budget (YNAB)
Best for: Budgeting and overall wealth management
Quick Facts:
Costs $7 per month
Connect all your bank accounts in one place
Set and track budgets and personal goals
Live, daily workshops to level up your money knowledge
You Need a Budget (YNAB) was established in 2004 and is an oldie but a goodie in the money-saving apps and websites field. This software program is available for Windows, Mac, iOS, and Android, and costs $7 per month, or $84 per year. YNAB is a budgeting software that allows you to sync your bank accounts in one place, set and track savings goals, and learn everything you need to know about budgeting, paying down debt, and saving via their free workshops and classes.
YNAB allows you to share your account with a partner, making handling combined finances a breeze. Easy to generate graphs and charts help you monitor your progress towards your goals. Finally, your data is safe with YNAB, because they encrypt their user data, and store your details at accredited facilities.

---
Supercharge your money-saving apps and websites with rewards credit cards
These money-saving, investment and wealth-management apps and websites can save you hundreds of dollars on everyday and one-off purchases, but if you want to supercharge your spending, you should make your purchases using a rewards credit card. For example, you can save up to 80% on a Groupon getaway, but if you charge that purchase to one of the best travel credit cards in Canada, you'll earn points that you can use for future travel.
If travel isn't your thing, you can still reap the rewards of your spending. For example, the Gas Buddy website can help you save money on fuel, but if you make your gasoline purchases using one of the best cash back credit cards, like the Scotia Momentum Visa Infinite.
Scotia Momentum Visa Infinite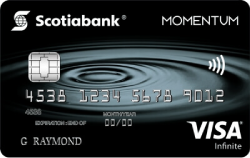 Annual fee: $99 (waived for first year)
Earn 4% cash back on gas and groceries, 2% cash back on drug store purchases and recurring bill payments, and 1% cash back on all other purchases
Receive VISA Infinite benefits
Using the best money-saving apps in Canada is a great way to save money and avoid unnecessary purchases, but for the purchases you do make, ensure you are reaping the rewards by making them with a rewards credit card, and then pay the balance off at the end of every month to avoid interest charges.
Also Read
---