Bank of Canada signals no rate hikes anytime soon – Financial Post
On Wednesday morning, the Bank of Canada combined its usual interest rate announcement with the Monetary Policy Report, for the first time. The verdict: in a nutshell, interest rates aren't going anywhere. And while consumers should be happy to hear that Mark Carney is keeping the overnight lending rate at 1.00 per cent – because increasing it would trickle down from the banks to their borrowing rates – the reason why is because Canada's economy is continuing to under-perform.
When determining monetary policy, the Bank of Canada looks at a number of things, including: foreign and domestic economic performance, levels of household debt, and the national inflation rate. While consumer debt appears to be stabilizing, inflation remains weak at near recession levels and the global outlook has slowed. Carney predicts the economy will pickup later this year, with a full rebound by mid-2014. Until then, don't expect a sudden interest rate hike anytime soon.
No housing bubble, no housing trouble – MoneySense
If you've been waiting for the rumoured housing crash the media keeps talking about, stop. Despite being told we are on the edge of a cliff, ready to free fall, Canada's housing market is not as bad as people would have you believe – in fact, it's starting to cool. James McKellar, academic director of the Real Property Program at York University, says this loud and clear. "First of all, there never was a housing bubble. So it hasn't burst, because it never existed." So where are the rumours coming from?
When the national debt-to-income ratio started to climb, reaching numbers seen in the U.S. before its housing crash, the media started to panic. But with the new mortgage rules put in place in July 2012, those concerns should be minimized as household debt begins to stabilize. This doesn't mean Canada's real estate market is not changing – and both buyers and sellers will need to adapt, if they want to thrive. But even in highly competitive markets, like Toronto and Vancouver, buyers and sellers interest are starting to align; this signals the return of a balanced market, which is not a bad thing in a place where homes cost 4.3 to 7.1 times the average family income.
CANADIAN MORTGAGE RATES
Where are they this week?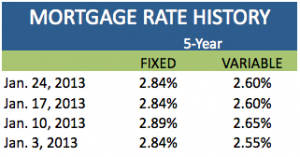 A history of weekly 5-year fixed mortgage rates and 5-year variable mortgage rates.
Canadian Mortgage Rates Since 2012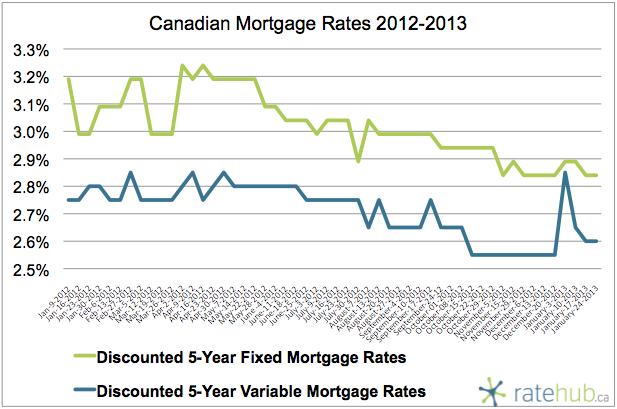 The average discounted mortgage rates in Canada in 2013: