Path to homeownership tougher for younger Canadians than was for Boomers – Financial Post
A new poll from TD Canada Trust suggests that young, first-time buyers in Canada are faced with more challenges than Baby Boomers did at the same age. With higher housing prices comes larger down payments and an increased monthly mortgage payment not seen by Boomers in past decades. While saving for a down payment is a growing concern for more than half of all Canadian Millennials, perhaps the two most unique concerns for Gen Y-ers are: 1) student debt and 2) the fear of not having the earning power needed to make the switch from renting to buying. Just under half of Gen Y-ers polled said they were worried about their earning power, compared to only 13 per cent of Boomers who were questioned about having the same concern when they were buying their first homes.
Even in a real estate slump, Canadians lured into bidding wars – Financial Post
In a recent survey done by Bank of Montreal (BMO), it's been found that as many as 28 per cent of homebuyers are willing to enter bidding wars, in order to try and purchase their dream home. Perhaps even more shocking is the fact that 37 per cent of first-time buyers are willing to go over budget for the right property. And the biggest problem for hopeful buyers is the auction-style process that leaves the bidders blind to what other bidders are offering. For example, a home could be listed at $450,000 and one bidder could offer $475,000 without realizing that another bidder could be offering only $425,000. "[Buyers] can be very anxious. You know when you see a sale on in the mall at Christmas, everybody wants it and they come and say after 'why did I buy this'," said Laura Parsons, a mortgage expert at BMO.
While winning bidders may be getting in over their heads, the multiple offer game is actually creating an inflationary environment that the real estate market may need. The latest stats from the Canadian Real Estate Association (CREA) showed average home prices are up 2.2 per cent from a year ago, however, March 2013 sales were down 15.3 per cent and yet active listings continue to climb in a number of cities.
Shopping for a mortgage? Arm yourself with research and negotiate – The Globe and Mail
With spring in the air, real estate is on everyone's mind – as such, it's also been a hot topic in the news. This week, a number of sources revealed that first-time buyers are shopping around for the best mortgage rates online and using mortgage calculators to determine how much they can truly afford. "In today's environment, with so many things on the Internet, social media in general, there's no reason why people shouldn't be doing a lot more research," said Jim Murphy, President and CEO of the Canadian Association of Accredited Mortgage Professionals (CAAMP). One thing many buyers don't understand is that they have the ability to negotiate a better mortgage rate with their lender. While a good mortgage broker can take on the headache of doing this for their clients, buyers have all of the information they need to take on the banks themselves.
CANADIAN MORTGAGE RATES TODAY
A look at current mortgage rates and 5-year mortgage rate history.
A history of weekly 5-year fixed mortgage rates and 5-year variable mortgage rates.
Canadian Mortgage Rates Since 2012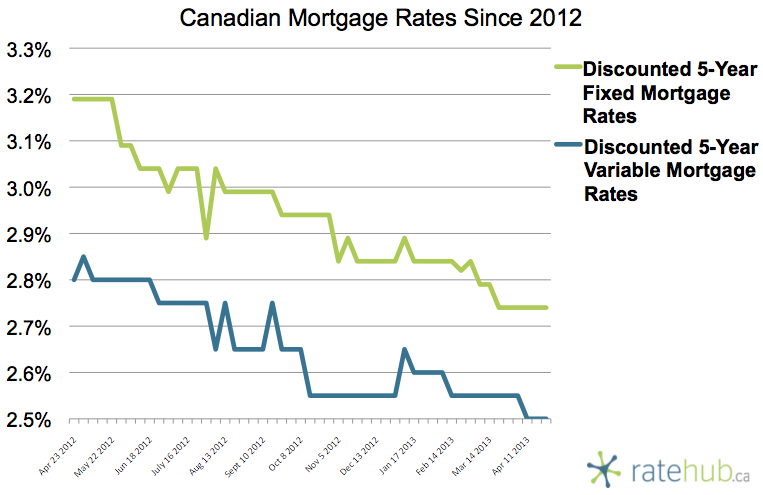 The average discounted mortgage rates in Canada in 2013: