Smaller cities share pain from new mortgage rules – The Globe and Mail
The new mortgage rules introduced in 2011 and 2012 were intended to slow down housing sales in Canada's hottest markets, particularly Toronto and Vancouver. However, the rules are beginning to have the unintended consequence of affecting the market in Canada's smaller cities, as well. The Halifax-Dartmouth area experienced a drop in sales volume of 36 per cent in March, from a year ago, and the city of Sudbury suffered a 33.5 per cent decline in the same time period. Mortgage rules and regulations are the same countrywide, which can pose a challenge as the real estate market varies quite drastically depending on the province, and even the city. One Winnipeg realtor suggests that mortgage rules customized to fit the local market would be a better solution.
BMO Chief will pursue more 'attention-getting' offers – Businessweek
Bank of Montreal (BMO) CEO William Downe says the bank will continue to use attention-getting offers, even after their highly publicized 5-year 2.99 per cent fixed rate was rebuked – a result of an intervention by Canada's Finance Minister Jim Flaherty. Downe recognizes that this promotion brought traffic into the bank, and believes it was not in conflict with the public policy objectives of the Bank of Canada. Many executives from Canada's top financial institutions believe that the government should not be meddling with mortgage pricing. BMO is hoping to add 1 million new customers per year going forward, in the areas of wealth management, investment banking and consumer lending.
Is Canada's condo boom coming apart at the seams? – The Globe and Mail
Canada has experienced a decade-long housing boom, in large part due to the condominium construction boom. In 2000, condos made up 20 per cent of the total housing starts, whereas at the end of 2012, condos made up over 40 per cent of all housing starts. Today, the Bank of Canada and other market observers are concerned the construction has moved at a rate that is much too rapid. In March of this year, the largest cities in Canada faced a clear oversupply of condo units. In Toronto, Montreal and Ottawa, condo listings were up anywhere from 8 to 25 per cent from March 2012, while condo sales declined 8 to 18 per cent. In Vancouver, listings were on par from a year ago but sales were down 25 per cent.
CANADIAN MORTGAGE RATES TODAY
A look at current mortgage rates and 5-year mortgage rate history.
A history of weekly 5-year fixed mortgage rates and 5-year variable mortgage rates.
Canadian Mortgage Rates Since 2012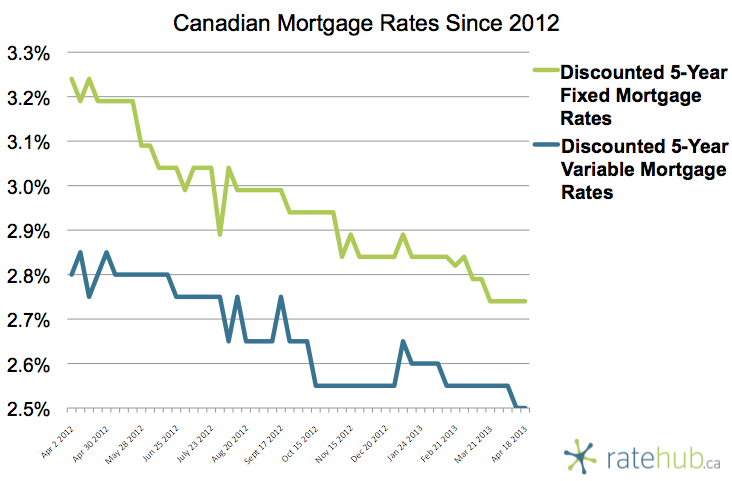 The average discounted mortgage rates in Canada in 2013: