Toronto condo kings retreat to avert property hard landing – Financial Post
In recognizing the rapid project expansion, which has led to Toronto having the most towers under construction in the world, developers are now decreasing the number of new projects they would normally take on. As sales of high-rise units in Toronto continue to drop, and prices edge higher, many condominium developers are suspending, cancelling and selling projects altogether. So far this year, 13 new condo projects have been announced – the lowest since 2009, when only three projects were announced in the same time period. Comparatively, 29 new projects were announced during the same time period last year. To date, construction of the 30-story Lumen building has been postponed, and the 29-story building at 365 Church has been put up for sale.
Are you average? The is what first-time homebuyers look like in Canada – The Globe and Mail
According to a recent poll conducted by the Bank of Montreal (BMO), the average first-time homebuyer in Canada is 29 years old, and expects to put down $48,000 on a $300,000 home. Understandably, these results varied tremendously by region. First-time buyers surveyed in British Columbia and Alberta said they expect to spend the most, at $384,000 and $406,000 respectively, while buyers in Quebec and Atlantic Canada plan to spend just $224,000 and $202,000. To break it down even further, the average first-time buyer in Toronto expects to shell out $347,000, while buyers in Vancouver believe they will need to spend $443,000. An optimistic 39 per cent of respondents said they planned to have their mortgage paid off in less than 25 years.
Why Rob Carrick is mad as hell over home insurance – The Globe and Mail
Unlike the industries of car insurance, mutual funds and big banking, home insurance is an unregulated sector, prone to excessive price increases and coverage cuts. Over the last two years, it has not been uncommon for home insurance rates to jump as high as 19 per cent year-over-year; this is largely due to a string of catastrophic weather, leading to roughly $1-billion in insurance payouts in 2009-2011, compared to $167-million in 2007. Increased consumerism, aging urban infrastructure, and a decrease in the supply of tradespeople have also put pressure on home insurance companies to increase rates and subsequently decrease coverage to save money. Two common solutions to decrease the cost of your home insurance are: to combine insurance plans, such as your car, life and home, and to increase your deductible – the amount you pay when you make a claim.
CANADIAN MORTGAGE RATES TODAY
A look at current mortgage rates and 5-year mortgage rate history.
A history of weekly 5-year fixed mortgage rates and 5-year variable mortgage rates.
Canadian Mortgage Rates Since 2012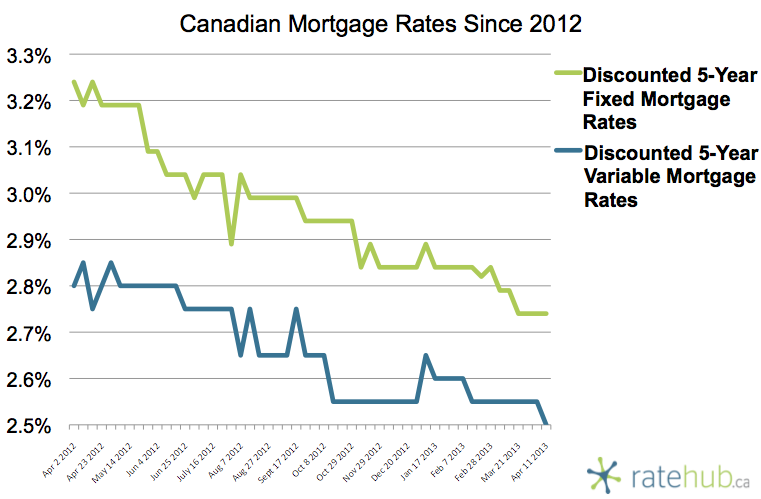 The average discounted mortgage rates in Canada in 2013: