Mortgage Monday Update: May 30, 2011
Interest rates have continued to drop since our last Mortgage Monday Update.  As lending companies and financial institutions fight to keep the market share, interest rates remain competitive, particularly with the Canadian banks.  Four of the "Big Five" (Scotia, BMO, RBC, and TD) have lowered their fixed rates across the board.  The charge was led initially by RBC, although the Bank of Montreal currently has the lowest 5-year fixed rate (of all the banks).  RBC's benchmark posted rate, dropped to 5.49%, however come June 6, that rate will be the new qualifying rate for insured mortgages of under five years [1]. Variable rates remain unchanged.
The rate on the 5-year government bond sank to 2.30% on Friday, a new 6-month low.  As economic forecasts waver globally, particularly in Europe and the U.S., more investors continue to choose Canadian Government Bonds [2]. The increase in demand for five-year bonds has driven yields down.
The Mortgage Qualifying Rate has also dropped to 5.59%.  The Bank of Canada Board of Directors will meet tomorrow before making their announcement, although most are speculating that no changes will be made to short-term rates.
As the pace of home building in Canada begins to cool off, the provinces of Ontario and British Columbia will be mostly unaffected as their markets remain hot.  According to CMHC, the expectation is that posted mortgage rates will remain "flat" over the course of the year, before increasing moderately in 2012.  The Canadian Mortgage and Housing Corporation have forecasted 5-year posted rates to range from 4.1% to 5.6%.  They have also forecasted an increase for 2012, to be in the range of 4.2% to 6.3% [3].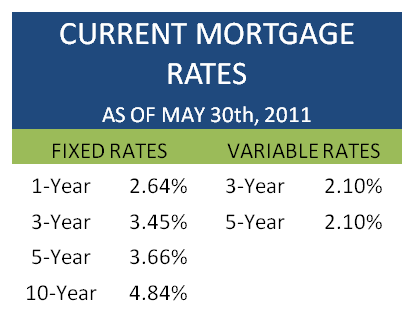 We can examine Ratehub.ca's figures since our last report and note some trends in the market regarding new product popularity.  Variable rate mortgages continue to remain a viable choice for consumers, as the spread between fixed mortgage rates remain favourable.  As fixed interest rates continue to drop, a few consumers have opted for 10-year fixed mortgages*.  However, fixed rate mortgages are the still the preferred choice for the majority of Canadians.
*Note:  This is only a small sample size and does not represent the market as a whole. It does, however, offer some useful insight.
Sources:
[2] Move Smartly:
[3] The Globe and Mail: