Since last week's Monday Mortgage Update, the lowest 5-year fixed rate has dropped to 3.49%. However, for the most part, both fixed and variable mortgage rates in Canada have remained at the same low levels this week.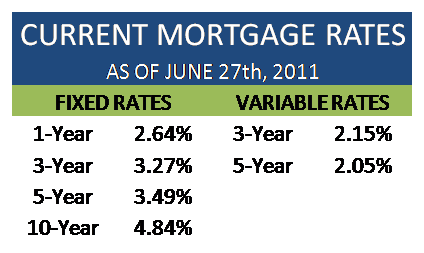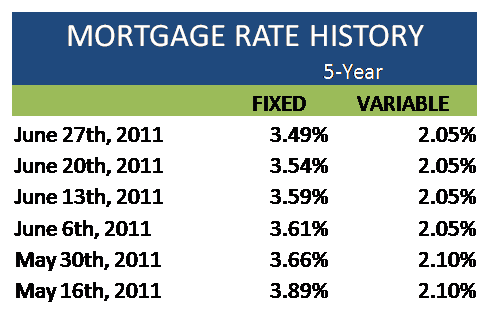 It's been another tough week for the global economy with no signs of improvement just yet. However, the continued drop in 5-year Government of Canada bond yields is good news – for borrowers at least. Five-year Government of Canada bond yields continued their downward trend finishing 13 basis points lower, at 2.03% [1]. So, it is possible that we may see some 5-year fixed rate lowering in the next few days, although lenders may try to hold out for a little while longer. If you're finalizing a mortgage deal in the next two weeks, ask your mortgage advisor about the lender's rate drop policy [1].
This week, the Bank of Canada released their biennial Financial Systems Review [2]. The Chairman Mark Carney emphasized the possibility of a low-interest-rate-fuelled credit bubble in Canada in the future [2]. Mr. Carney's viewpoint is that this risk would be best controlled through higher interest rates which would discourage Canadians from taking on too much debt. However, he acknowledges that the lower interest rates are necessary at a time when the general Canadian economy could still use the stimulus. This outlook is one of many in the current Canadian financial world. For instance, Mr. Flaherty, the federal Finance Minister, is of the opinion that there are sufficient mortgage guidelines through the changes made to the CMHC's lending regulations over the past three years.
According to the June 2011 Bank of Canada report, variable rates seem like they will remain inactive until 2012 [2]. Analysts are coming around to the view that when variable mortgage rates do eventually rise, it won't be at the alarming magnitude and pace that was previously thought.
At the moment, it is probably in your best interests to take advantage of the current low mortgage rates and try to pay down as much of your mortgage as possible. At the same time, take into account that rates could rise and foresee flexibility in your budget.
Monthly historical trend of discounted 5-year fixed mortgage rates and discounted 5-year variable mortgage rates from May 2006 to June 2011.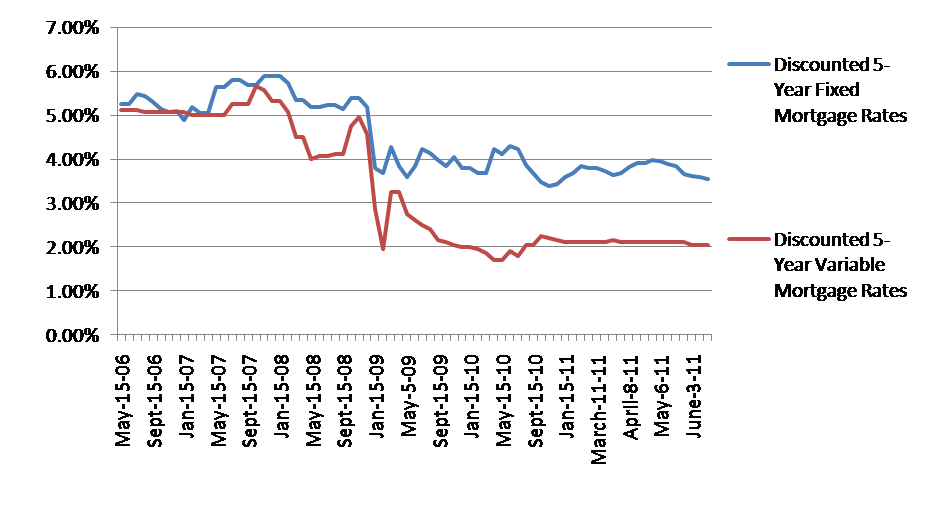 Weekly discounted 5-year fixed mortgage rates and 5-year variable mortgage rates from January 2011 to June 2011.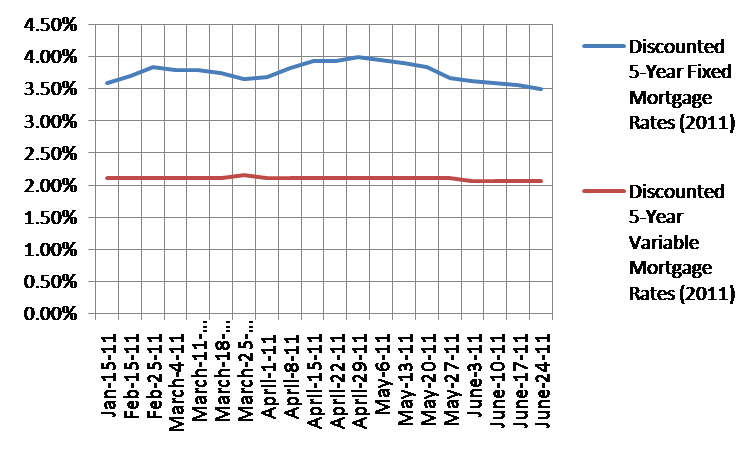 Mortgage product popularity on Ratehub.ca
This week, in a surprising turn from previous weeks, 5-year variable rates  and 5-year fixed mortgage rates were equally popular as they each made up 42% of mortgage products sold on Ratehub.ca. The remaining 16% of products were distributed among 3-year variable, 1-year fixed and 10-year fixed.* It is interesting to note that the spread between fixed and variable rates continues to decrease.
*Note:  These numbers represent only a small sample size and do not represent the market as a whole. It does, however, offer some useful insight.
Sources:
[1]
http://www.movesmartly.com/
[2] http://www.bankofcanada.ca/wp-content/uploads/2011/06/fsr_0611.pdf