Mortgage Monday Update 
In the days leading up to the U.S. decision to raise the debt ceiling on August 2nd, the financial world was fixated on them, while the more worrisome sovereign debt crisis in Europe was overshadowed.  Now that the markets are no longer sidetracked by the U.S. debt ceiling talks, they can focus on the global recovery situation.
Global situation
U.S. GDP numbers indicate that economic growth is slowing at a faster rate than anticipated. This is not good news when you consider that the federal government is running out of reserves and options, especially since they're implementing policies of deficit-cutting through lower spending and reductions in benefits and public services. [1]
On the other side of the Atlantic, an emergency meeting was held on Friday in Europe as a result of investors continuing to drive Italian and Spanish bond yields up. The risk of sovereign default in the Euro zone is no longer contained to the smaller economies of Ireland, Greece and Portugal. The situation is more critical now that Spain and Italy are both in debt due to growth rates falling short of rising debt.[1].
The European Central Bank (ECB) is insisting that both Italy and Spain push to get their fiscal house sorted out before support is provided for their bonds.  Every time they're bailed out, other Euro zone countries become increasingly dissatisfied [1].
Keep in mind that loans and increasing the debt level don't address the underlying problem.  It's akin to painting over a damp patch on your basement wall without first addressing the leaking pipe behind the water damage – not a great idea. Sooner or later, these countries are going to have to tackle the problem at its root.
At home in Canada
Finance Minister Jim Flaherty issued a statement this weekend in response to the stock market fluctuations on Thursday and Friday. This may cause some instability in the Canadian economy; however, he says that Canada is going strong and able to withstand "global headwinds"[2].
Once again, five-year Government of Canada bond yields dropped – this time by 25 basis points as a consequence of uncertainty in the markets. This uncertainty fuelled demand for low-risk investments and lenders have slowly started to shift rates down. However, rates aren't following the pattern that the drop in bond yields indicates [1].
A couple of lenders including Resmor, Macquarie and First National have dropped their mortgage rates slightly. With the healthy competition in the market, it is likely that some of the banks will follow. Interestingly, the bond market is predicting that the next move on variable mortgage rates will be a downward one. The next few weeks will give us a better indication of what is to unfold.
Current mortgage rates
The lowest 5-year fixed mortgage rate is currently 3.49%. Variable mortgage rates can be found for as low as 2.10%.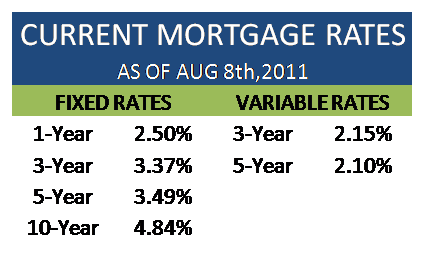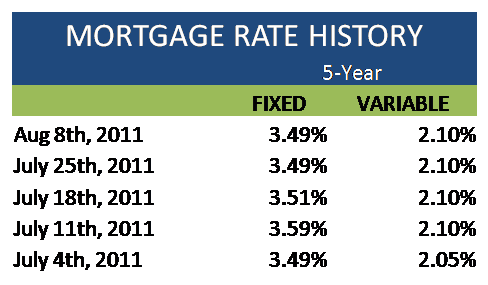 Historical trend of monthly discounted 5-year fixed mortgage rates and discounted 5-year variable mortgage rates from May 2006 to August 2011.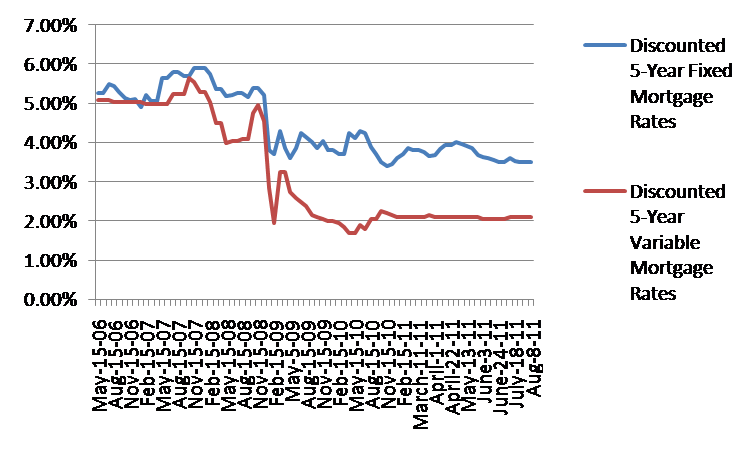 Discounted weekly 5-year fixed mortgage rates and 5-year variable mortgage rates from January 2011 to August 2011.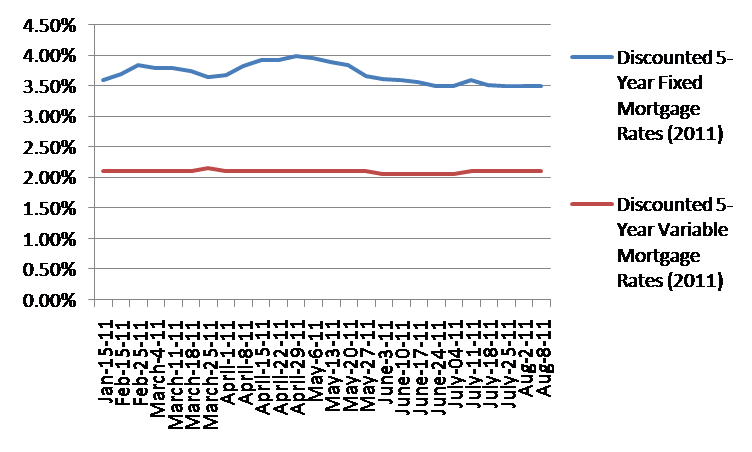 What mortgage products are Canadians buying?
Last week on Ratehub.ca, 5-year variable mortgage rates made up 53% of mortgage products sold. The second most popular product was the 5-year fixed at 19%. With the potential decreasing spread between fixed and variable mortgage rates, it will be interesting to note what impact this has on the popularity of mortgage products in Canada.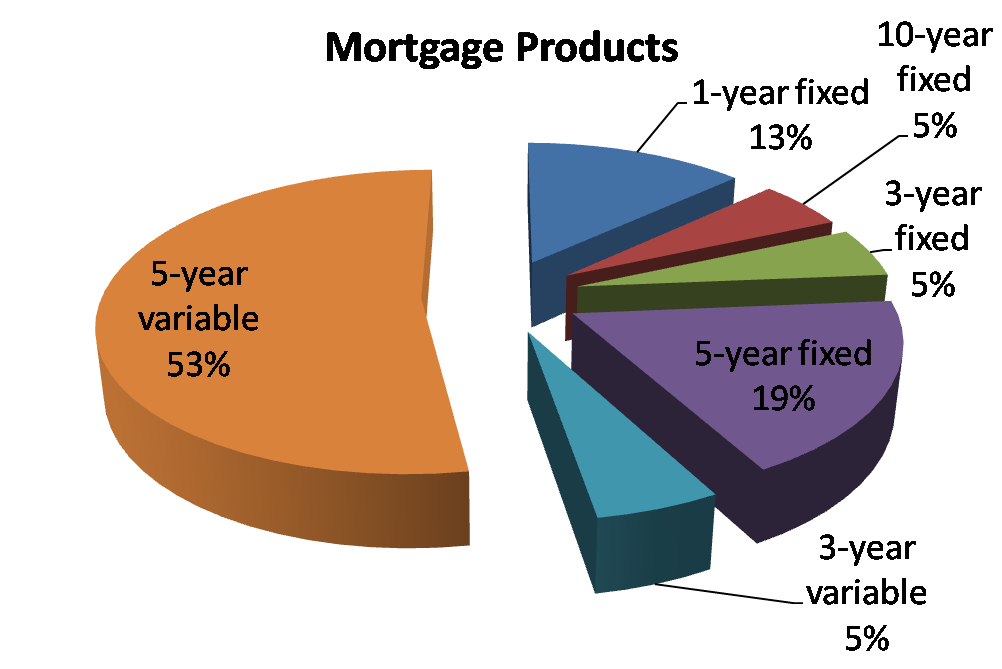 *Note:  This is simply a small sample size and does not represent the entire market. It does, however, offer some useful insight.
[1] http://www.movesmartly.com/
[2] The Canadian Press