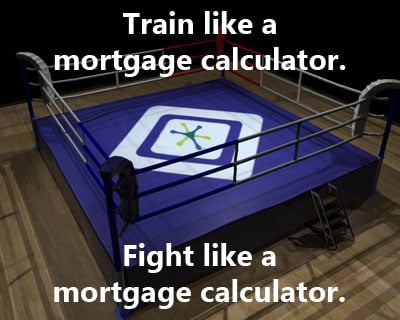 Locating the best source for mortgage calculations on the internet can be challenging. Canadians search for online mortgage calculators everyday in an effort to make sense of the best options available to them.  Here at Ratehub.ca, we'll take a look at each one in a head-to-head battle, tournament style – culminating in a final battle against our very own mortgage payment calculator. 
The Contenders
The Toronto-Dominion Bank (TD) is the sixth largest bank in North America and operates under the name "TD Canada Trust" on home soil.  Their headquarters can be seen in the Toronto skyline in the 53-story TD Canada Trust Tower and the 56-story Toronto-Dominion Tower.  TD Canada, year-over-year, is the largest grower in market share of HELOC mortgages.
The Internationale Nederlanden Groep, or ING Direct, as they are better known, was founded in 1997 and is a new player in the Canadian mortgage game. ING Canada does not function like traditional banks – it has no branches, so everything is done through the phone and internet.
Let's compare both payment mortgage calculators and determine a winner…
The Figures:
Mortgage Amount:  $400,000
Mortgage type:  Closed Fixed 5.39%
Amortization:  25 years
The Criteria:
| | | |
| --- | --- | --- |
| Functionality | TD Mortgage Calculator | ING Mortgage Calculator |
| Evaluate different scenarios | √ | √ |
| Current mortgage rate selection | x | √ |
| Mortgage insurance included | x | x |
| Amortization schedule | √ | √ |
| Land transfer tax included | x | x |
| Provincial profile | x | x |
| First-time home buyer credits | x | x |
| Payment frequency | √ | √ |
| Payment difference savings chart | x | x |
| | | |
| --- | --- | --- |
| Appearance | TD Mortgage Calculator | ING Mortgage Calculator |
| Colour and graphics | √ | √ |
| Easy-to-read | √ | √ |
| Descriptive | √ | √ |
| Terminology | x | x |
Screenshots: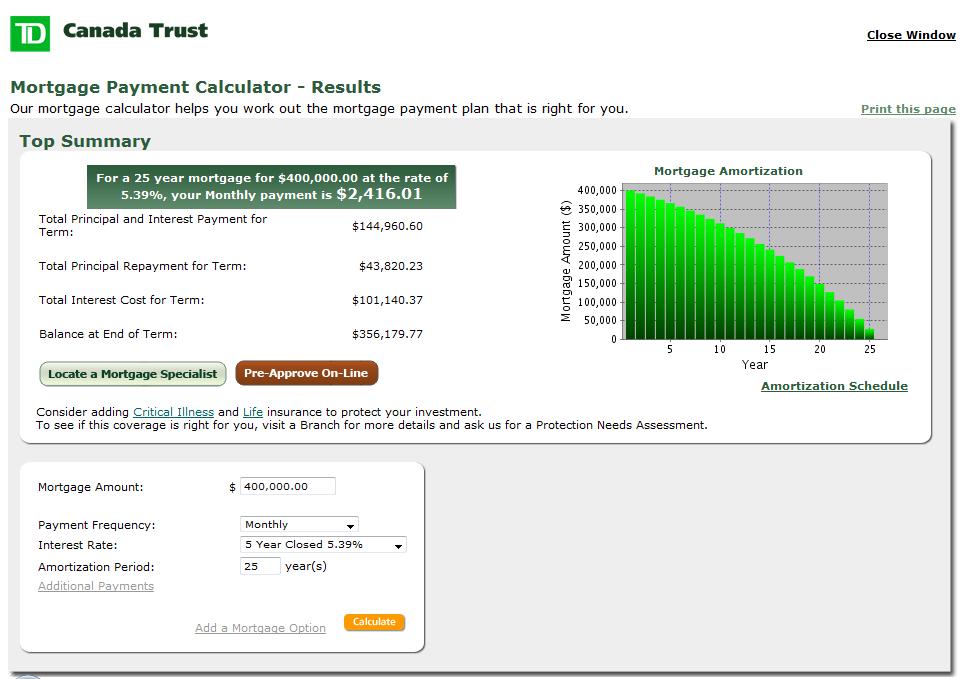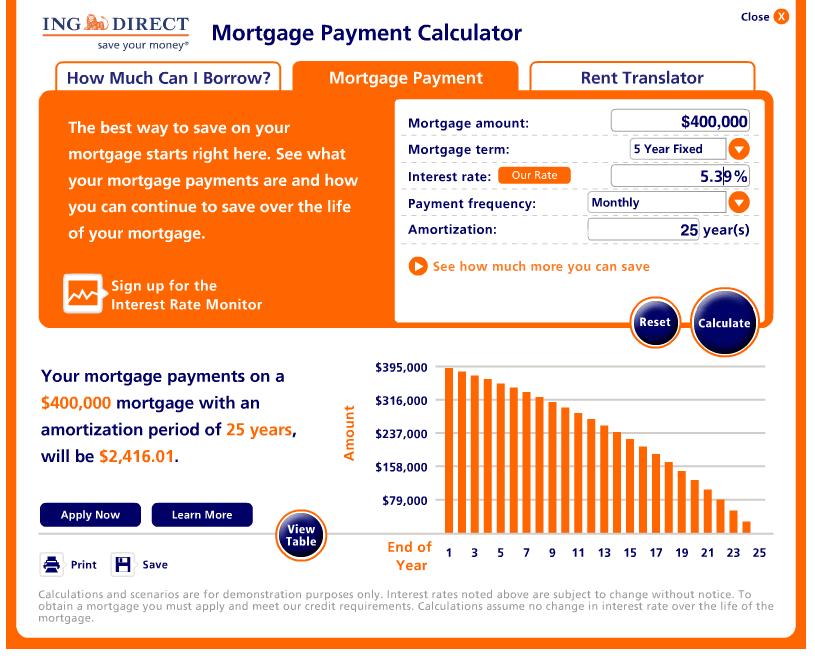 Summary
Locating the TD mortgage payment calculator required two clicks and opened a new window, although the link for their "Monthly Payment Calculator" was written in small font to the right of the page. Navigating to the ING calculator was extremely simple.  It also took two clicks to open a new window, but the site was so user-friendly, we didn't waste anytime scanning the page.  Inputting data into the calculator was easy and straight forward, and the ING mortgage payment calculator offers a handy "Our Rate" button next to the interest input field that automatically populates it with their current rate.  However, the ING calculator loses some points for still allowing 35-year amortization periods.  As of March 18th, the maximum allowable length is 30 years. Tsk, tsk.
Both calculators rounded to the nearest cent and allowed the user to flip between the amortization graph and mortgage breakdown chart.  The TD mortgage calculator lacked a "save" button, versus ING, which not only had a "save" button, but a "copy table" button, which copies the mortgage breakdown chart to your clipboard!
In terms of appearance, both performed their functions effectively, but it was the ING calculator that stood out with its large, easy-to-read buttons.
Overall
The outcome of this battle is surprising.  The younger, leaner, meaner, ING mortgage calculator took out its much older opponent.  TD Canada Trust came into this battle with a much bigger reputation and was pegged as the favourite. But it appears the underdog was hungrier.  The TD mortgage payment calculator was bested in terms of functionality and design.
This battle round goes to the "ING" mortgage calculator!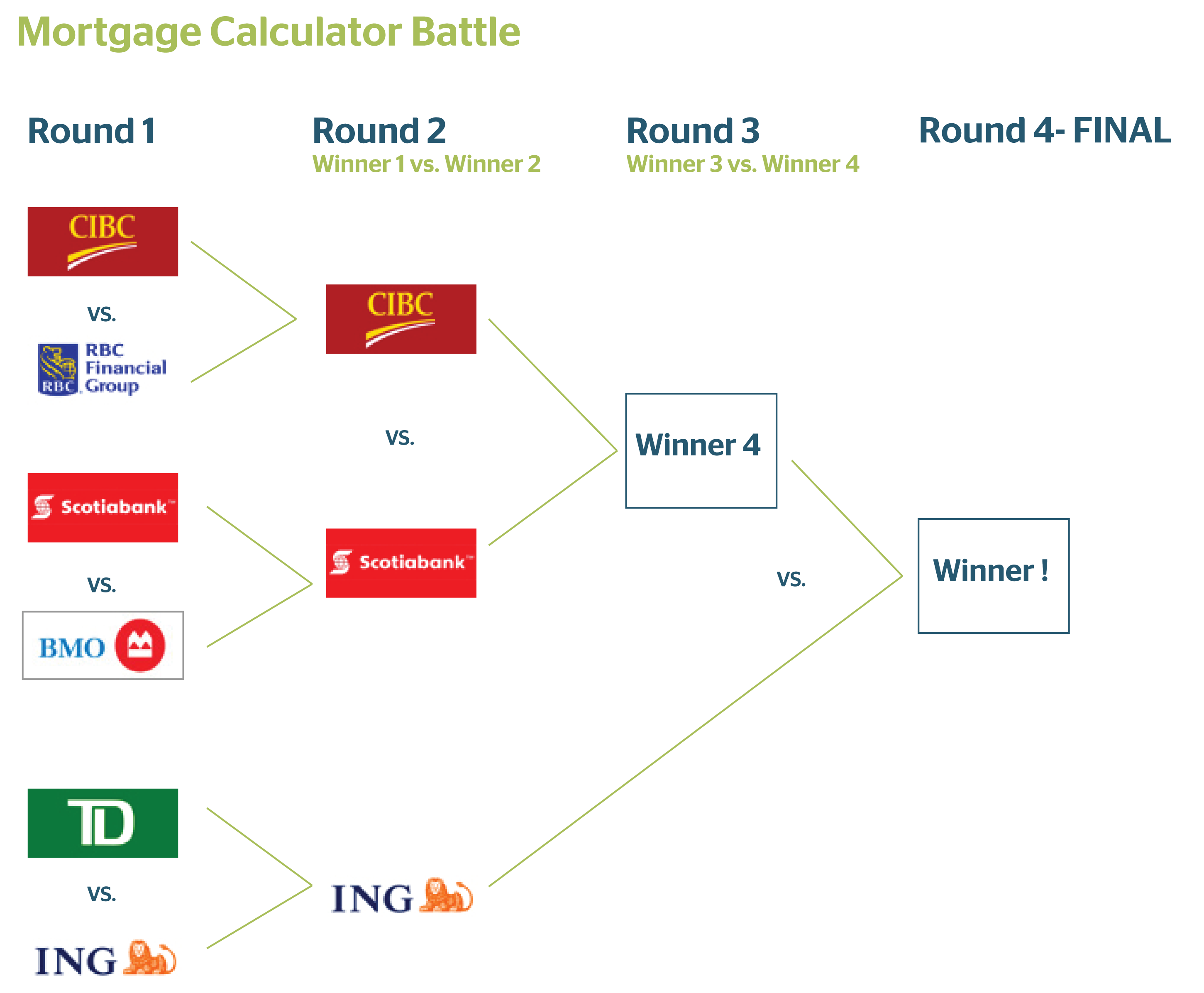 Whether you're looking for ING Direct mortgage rates or TD mortgage rates, you can find all the best bank interest rates here at Ratehub.ca.