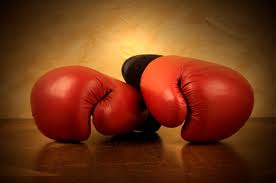 Ladies and gentlemen, hold on to the edge of your seats as we move into the third round of this exciting mortgage calculator battle. The winner of today's battle will be declared our tournament winner! But that won't be the end of the road for this champion. Not yet anyway- the champion will face its final challenger, Ratehub.ca's own mortgage payment calculator!That superfight will determine Canada's best mortgage calculator for 2011!
The Contenders
CIBC has a history as old as Canada itself that spans more than two centuries, with the opening of the Canadian Bank of Commerce in May of 1867 in Toronto. Over the years CIBC has won several awards and gained recognition in a variety of fields. True to our inclusive Canadian spirit, in 2011, CIBC was selected as one of Canada's Best Diversity Employers. ING Direct (or more formally, the Internationale Nederlanden Groep) is a much newer institution, founded in 1997 and is the underdog in the Canadian mortgage market. ING Canada doesn't even refer to themselves as a "bank" as they believe they can provide something better than just traditional banking. There are no physical branches, but these savings translate to their customers. Let's begin Round 3!
The Figures:
Mortgage Amount:  $400,000
Mortgage type:  Closed Fixed 3.99%
Amortization:  25 years
The Criteria:
| Appearance | CIBC Mortgage Calculator | RBC Mortgage Calculator |
| --- | --- | --- |
| Colour and graphics | √ | √ |
| Easy-to-read | √ | √ |
| Descriptive | √ | √ |
| Terminology | x | x |
Summary
ING had a head start with its easily accessible mortgage calculator. The CIBC mortgage calculator, by comparison, was not as intuitive to find. The ING calculator opens up in a new window whereas the CIBC calculator page simply redirects. Depending on your preference, either system could work better for you. We prefer the former.
The CIBC calculator provides you with a clear and useful comparison chart regarding different payment frequencies. With the ING calculator, however, you can select the option to save more through "unmortgage me faster". This function allows you to play around with lump sum payments and frequencies to achieve your goals sooner.
CIBC rounded their numbers to the nearest dollar as opposed to its contender, ING, which rounds to the nearest cent. This is a noteworthy difference and as the saying goes "take care of the pennies and the pounds will take care of themselves." How can you do that with a calculator that doesn't consider the small change?
The ING mortgage calculator loses some ground by still allowing 35-year amortization periods when actually this is only possible on mortgages with down payments of more than 20%. The maximum allowable amortization length on insured mortgages is only 30 years in Canada and has been since March 18th of 2011.
Screenshots: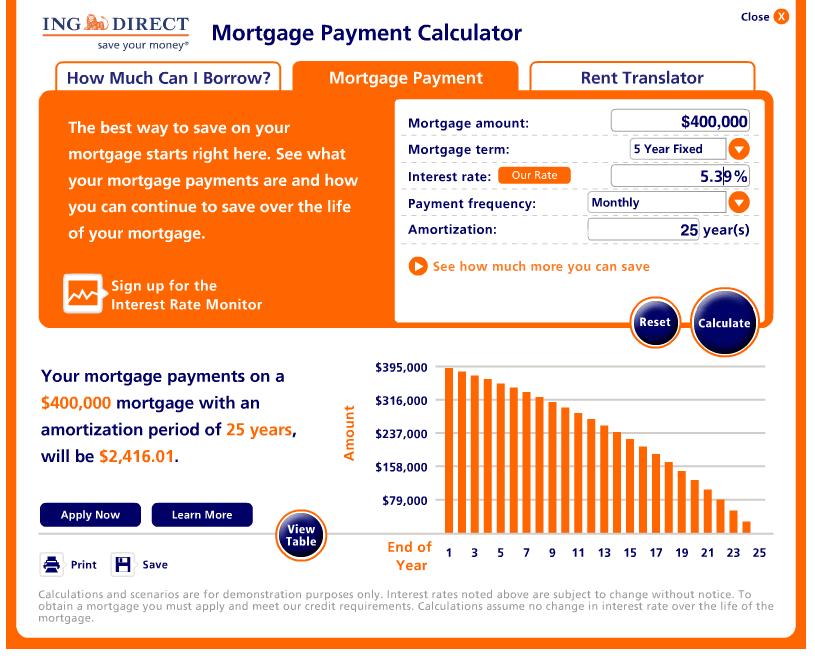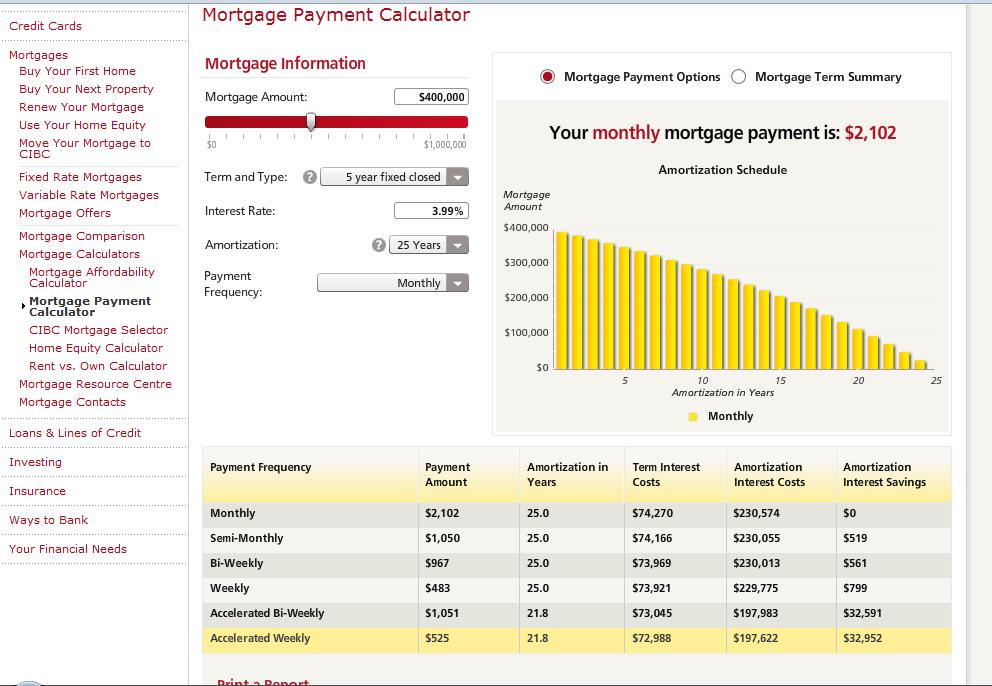 Overall
Both calculators allow the insertion of their current bank interest rates, but also permit the user to enter their own rates as well, which is a very useful feature.
Each calculator offered something unique.  CIBC provided side-by-side comparisons of interest paid and difference in savings. The ING mortgage calculator was extremely user -friendly and provided the option of calculating what your mortgage payments would look like with lump-sum payments.
The opponents for this battle were worthy contenders.  It was another close fight.  But finishing just ahead …
Your champion is the "ING" mortgage calculator!
Whether you're looking for CIBC mortgage rates or ING mortgage rates, you can find all the best bank interest rates here at Ratehub.ca.