Mortgage Rate Recap
Since April 25th, five-year Government of Canada (GoC) bond yields have decreased 37 basis points (or 0.37%). However, this downward trend recently stabilized over the past week and therefore we have seen little movement in 5-year fixed rates over that time. Although the two month downward decent of five-year bond yields have ceased, last Friday's finish of 1.30% is still considered extremely low when compared to what five-year bond yields have been averaging over the last ten years (3.28%). [1]
The new mortgage rules
Jim Flaherty shocked everyone last week when he announced that Ottawa is yet again tightening the rules surrounding mortgage lending in an effort to cool the housing market. This is the fourth time the Canadian government has stepped in to alter the mortgage rules in as many years. Here's a brief summary of the new rules which will take effect July 9th, 2012.
For properties with less than a 20% down payment, the maximum amortization period is now 25 years, down from the 30 years
Refinancing is reduced from 85% loan-to-value (LTV) to 80% for borrowers looking to take money out from their home equity
Properties purchased over a million dollars will no longer be eligible for mortgage insurance
The maximum gross debt service ratio (GDS), which lender's use to determine a borrower's ability to make mortgage payments in relation to income, has been fixed to 39%, while the maximum total debt service caps at 44%
For individuals who receive a mortgage approval before July 9th, they will have until December 31st to close/take possession of their purchased property. So compare today's mortgage rates to get your pre-approval started before the new rules takes effect.
What do some notable economists have to say regarding the new rules? [2]
"We are more convinced of our view that the BoC is on hold until mid-2013 and with fatter tail risk in favour of a longer hold" – Derek Holt and Dov Zigler, economists, Scotia Capital
"It's also important to keep in mind that the amortization change won't impact affordability across the entire market, but rather those that would be taking a 30-year amortization—according to the Canadian Association of Accredited Mortgage Professionals, that made up 40% of mortgages for purchase during 2011/12 (up to May)"- Robert Kavcic, economist, BMO Capital Markets
"The news that Canada would be tightening rules for government-insured mortgages (cutting the max amortization period from 30 years to 25 years), is an attempt to cool the housing market" – Jennifer Lee, senior economist, BMO Capital Markets
"Today's decisions by Minister Flaherty to move to a 25 year maximum amortization, as well as actions taken by OSFI, take direct aim at the issue and they should have a substantial moderating effect on the growth of Canadians' debt levels" – Tim Hockey, chief executive, TD Canada Trust

Where are Canada Mortgage Rates this week?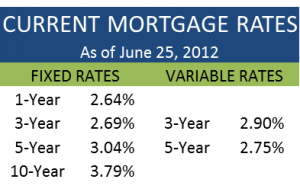 A history of weekly 5-year fixed mortgage rates and 5-year variable mortgage rates
Canadian Mortgage Rates 2012
Note:  This is simply a small sample size and does not represent the entire market. It does, however, offer some useful insight.
——————————————————————————————————————-