We don't often take the time to consider the doors in our homes.  Sure, they can have beautiful aesthetic qualities: a charming French door can create an open, welcoming feel. In contrast, a secure steel door does wonders against intruders.
But let's not romanticize them too much.
Doors are primarily the way we enter and exit buildings and rooms.  But what kind of safety features do they offer? Why do doors open in the direction that they do? And how can the type of door we have affect our home insurance? If renovations are in your future and you're replacing some doors, knowing what to look for and how to ask for it, will pay dividends.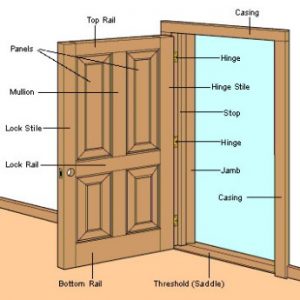 Types of doors: Entry or front doors
Exterior
Exterior doors come in a variety of shapes, sizes, and colours. Whether it's a front or rear door, Exterior doors, provide the entryway into your home. You can customize any of the doors with your favourite hardware from a pull to a lock, and dress them up with decorative glass inserts. They also keep unwanted weather out, protect our homes from possible intruders, and act as an insulator to regulate the temperature in our homes.
Exterior doors can be made from a variety of materials, each of which has particular attributes:
Wood door
A beautiful wood door can give your home excellent curb appeal, and rightly so, being generally the most expensive entry door. The costs don't stop at the initial purchase, either. A wood door requires regular and ongoing maintenance. Yes, new paint or stain every few years will help. Ultimately a wood door, however, heavy as it may be, can still warp, rot, and expand with fluctuating temperatures.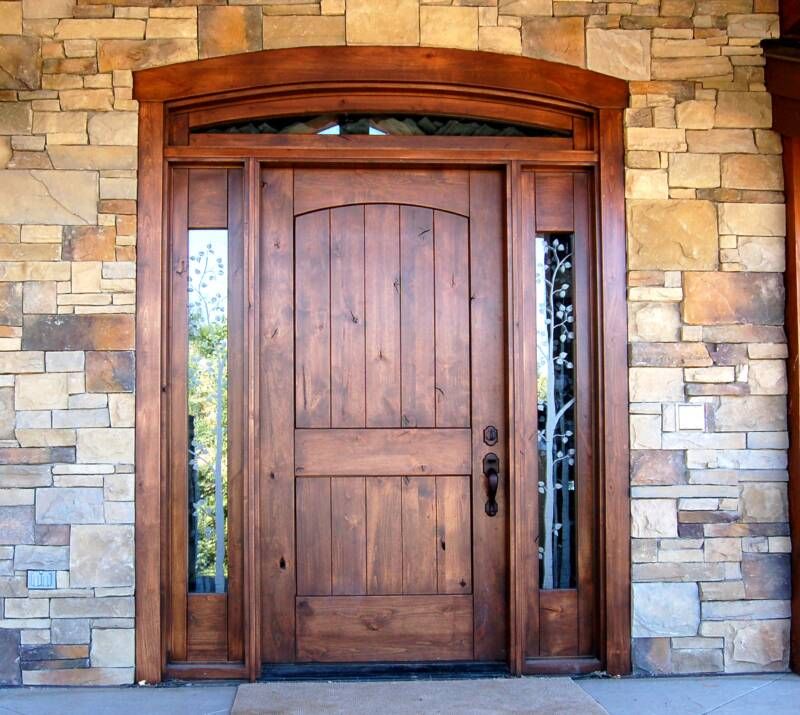 Fibreglass door
Fibreglass doors are incredibly durable and will stand the test of harsh weather conditions since, unlike wood doors, they won't warp. They're also energy efficient with their interior made of foam core insulation. In fact, they are a smart alternative to a wood door because you can also get them in a wood finish. You can, however, customize the look to suit your needs – whether you want a black, red, or yellow door – the point choice is yours. One last bonus, they don't dent or scratch as easily as a steel door.
Steel door
Steel doors are secure, durable, have incredible insulating properties, and do an excellent job of keeping unwanted guests out. They are the most secure front door material, especially if you use thick gauge steel.  They come in any colour you want, even wood grain. An added benefit of a steel door is that they require little maintenance, but are prone to dents and scratches.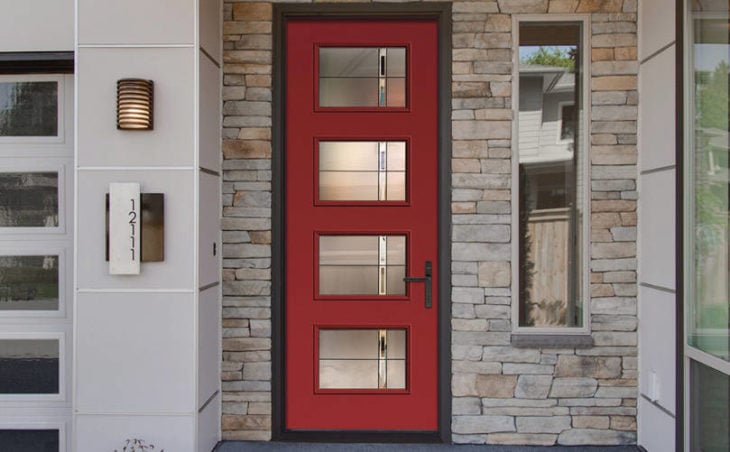 Other types of exterior doors
Sliding patio doors
A standard rear door, a sliding patio door allows for easy access to your backyard patio. It's usually two 30″ wide doors, one sliding, the other fixed, but both are full glass to allow all that glorious light to shine in. Typically, there's also a screen that you can slide closed, leaving the window open to allow for a cool breeze to enter the home and chat with your BBQ guests.
They are made of either vinyl, aluminum, or wood, but the most common, longest-lasting, and durable is vinyl. For security reasons, make sure to have the ability to lock them and opt for the reinforced glass.
French patio doors
The french door is so named because its origins trace back to France where you could open large windows with metal mullions inside them and walk through them like you would a door. You can order them to open in or out, have one side fixed or have them both open. You can order them in steel, wood, or fibreglass and then order your hardware and glass insert options to match your style.
Storm doors
A storm door is often overlooked but can add a layer of safety and insulation to your existing front door. They come in steel, composite, or aluminum. Aluminum doors handle a range of temperature fluctuations well but can twist and bend easier than a steel door. A steel storm door, however, is the most expensive and heaviest option.
During a storm, you can listen and watch from the comfort of your home with your front door open. Often, they can be a nuisance to open two doors to get into your house, so they could act as a deterrent to thieves.
How to maintain exterior doors
No matter what door you choose for your entrance, there is going to be some maintenance involved.
If you've selected a wood door, be sure you stain or paint it to prevent deterioration over the years. A steel or fibreglass door also requires reapplying fresh paint every so often.  If you've chosen a fibreglass door, check for cracks, as these can arise if the door is hit with a strong impact.  If you've selected a steel door, you'll also want to ensure that you inspect it for scratches that can cause rust over time.
You'll also want to inspect the sweep to make sure no drafts get in.  The sweep is the piece that hangs at the bottom of the door and helps prevent drafts from entering. With use, the sweep can wear down, and will probably need to be replaced. Under the door sweep is the threshold, so long as it's clear of debris, as to not rip the sweep, it should be good.
Every 1-3 years, weather stripping may need to be replaced. Weather-stripping prevents drafts from entering from the sides and top of the door and its frame. They are soft, pliable, and with an adhesive backing to stick to the door. It's an easy DIY job to replace.
Be sure to also check the hinges of the door for signs of rust and degradation. Smoother movement of your door can prevent wear-and-tear, and help ensure a longer life. If an entry door starts to sag, the hinges are weakening. Once that happens, your lock, doorstop, and jambs are at risk of needing expensive maintenance. So, lubricate the hinges if you find the door is becoming tougher to open, or it's not closing properly. When doing this, it's worth taking the time to tighten any screws.
The door stop surrounds your door frame, except for the bottom.  It's the piece of wood that your door hits when it's closed. Without it, and your door would swing wildly back and forth, and it'd be challenging to hit the lock correctly. So, if you see the doorstop coming loose, tap in a few extra nails to reinforce it, the same goes for the jamb (the pieces of wood that attach to the framing of the house).
If you choose a door made of wood, steel, or fibreglass, you can expect the door to last the life of the house if properly maintained.  According to the International Association of Certified Home Inspectors, you should anticipate having to replace weather-stripping every 5-8 years.
Should exterior doors open in or out?
See those hinges that support your door and allow it to open? The pin that holds them in place is simple to remove. Tap from the bottom up with a hammer and a screwdriver and the hinge pin comes right out. Removing the hinges, and your entire door is helpful when moving large objects in and out of your home.
But if these hinges were on the outside, an intruder can remove the door from your home.  Having the hinges on the inside, and therefore your door opening inward is an added protection against potential intruders.
It's also kinda nice when you've got your hands full of groceries to lean on the door to get inside, rather than stepping back.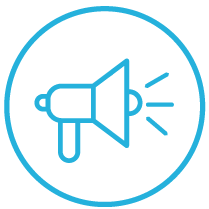 Read our blog,"How to prevent thieves from entering your home"
What other protections do doors offer?
Doors are a crucial element in fire prevention and safety.  A certified fire-rated door that is properly installed can help prevent the spread of smoke and fire. Entries need to be able to be opened with the use of reasonable force and must have unobstructed egress. In the case of an emergency, you don't want to be dealing with moving unnecessary objects to get out of your home.
Get a solid lock on your entryway door. Consumer Reports found that it's the doorjamb itself that is the most vulnerable part of a doorway, regardless of the material the door is made from.  A thief can pull off the door casing with a pry bar and hammer, exposing the door jambs. The door jambs can then be pulled out quickly with the same tools at hand.
To protect the door, install a lock with a one-inch deadbolt that has a reinforced metal box strike (the part the deadbolt slides into).  It's also recommended using three-inch screws to install the lock for additional security. It's much harder for a thief to pry out a door with 3″ screws.
You might also want to consider installing a smart lock on your entrance door. Smart locks allow you to monitor the activity of people who enter and exit your home, lock or unlock the door remotely, and receive notifications of entry attempts. Some also come with cameras that you can monitor from your mobile phone.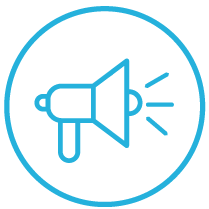 Read our blog,"Can a smart lock help you save on home insurance?"
How doors affect home insurance
Whether you're a renter or a homeowner, a secure door with a great lock is no substitute for home insurance.  You'll want to ensure that, wherever you're living, you have either home or tenant insurance in place.  When with an insurance provider, they'll need details of your home. With doors, they might ask how many entrances there are, what types of security you have, and if you have a deadbolt on all entry doors.
By ensuring that you have correctly secured all your entryways, your insurance provider could reduce your rate.  In the United States, for instance, having a smart lock can reduce your insurance rate by 5%.  It's not yet in effect in Canada. Still, it gives you an idea of how seriously insurance companies take proper home security.
It's worth taking the time to compare home insurance policies to see what savings you may receive after installing or upgrading your doors.  If you already have a policy in place, speak to your insurance provider to find out if they offer any discounts for upgrades to your home security.
The Bottom Line
Whatever your situation, a secure door with a good lock will add not only aesthetic value to your home, but also provide additional protection. A quality door will make you the envy of your neighbours. A secure one will reduce the risk of a home insurance claim, and therefore your home insurance quotes.
ALSO READ