Comment on our Experts' Guide to Home Hunting and WIN AIR MILES!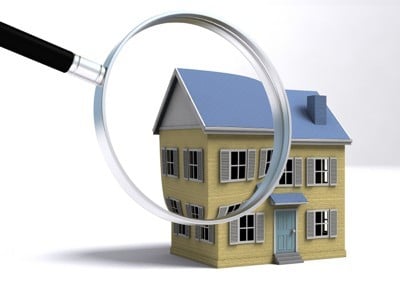 Most experts will agree that you should decide what you want in a home before you start your search. The second thing experts will agree on is that your wants will trade off between three important, and often conflicting, factors: location, style and cost.
For example, you may decide you want a detached family home in an urban neighbourhood for $300,000. However, you may have to settle for two out of three and look to the suburbs for the style of house you require within your price range.
Location, location, location
Of course, you want to ensure you can access amenities that serve your current lifestyle, but trusted Toronto condo realtor and host of Inside Toronto Real Estate Brian Persaud warns "Location is an investment too." Neighbourhoods evolve and you should investigate an area's urban progression as well as zoning by-laws.
The types of things you want to evaluate in your current and future location are:
●      Transportation
●      Work
●      Doctor/dentist
●      Places of worship
●      Shopping
●      Police department
●      Hospital
●      Schools
●      Fire department
●      Recreation
Eugene Mezini, a Toronto realtor, also says Walkscore, an application that rates an address's 'walkability' is something he lists with every property as many of his customers value this.
Size and style of home
Single-family detached, semi-detached, high-rise condo, low-rise condo: how does one choose? Well first, you must decide on the kind of lifestyle you are seeking. With a detached or semi-detached property, you are granted more space and even a yard, but these require additional maintenance. Condominiums eliminate maintenance such as yard work and offer common amenities such as security systems and recreation facilities, but at an additional cost in the form of condo fees. Condos are generally less expensive than freestanding properties upfront, but do come with the additional monthly fees.
After you have determined the type of dwelling, you then need to consider if you want to buy new or resale. New properties allow you to select finishes and layouts and install up-to-date utilities, but, on the other hand, new properties are often located in new, undeveloped areas and will be subject to HST in certain provinces like Ontario. With a resale home, you may get the established neighbourhood and bypass the HST, but you may need to redecorate or even renovate.
Still, reminds Persaud "When you look at resale, ignore the furniture: it leaves with the old owner."
Finally, you should make a list of all the features you seek in your new home, whether it be a new high-rise condo or resale detached family home. Make sure to distinguish between needs and wants, and where you are flexible to make trade-offs. Are you planning on expanding your family? Do you need a large common space for entertaining? Will all your clothes fit in a single wardrobe unit? These are the types of questions you need to ask yourself.
Cost $$$
The last and, admittedly, less fun portion of the home hunting process is the funding. But, you do not have to live in fear of financing. It's actually not that scary with the growing prevalence and functionality of today's mortgage calculators.
Good mortgage calculators evaluate your affordability like a lender would, looking at your household income, your monthly expenses (car payments, credit cards, etc.), as well as the expenses associated with owning a home (property taxes, condo fees, and heating costs).
A couple things you do need to know are the minimum down payment in Canada is 5% and closing costs such as Land Transfer Tax and legal fees can run you up another 1.5-4% on the selling price of your home. Again, good mortgage calculators can estimate these costs for you and it is highly recommended you take advantage of one.
Lastly, 'Dealbreakers'
You will also want to reflect on your 'dealbreakers', or the things you just are not willing to negotiate on. Luckily, a forum discussion on BuzzBuzzHome.com, a Canadian real estate listing site dedicated to  new homes and developments, provided a platform for realtors to discuss some of their clients' most common dealbreakers.
Some of these dealbreakers include:
●      Low ceilings or 'popcorn' ceilings
●      Lack of natural light
●      Poorly-designed layouts, closet space and wasted square footage
●      And not being able to obtain financing! [An obvious but humourous addition]
What are your dealbreakers? We want to know!
Win 100 AIR MILES® reward milesby commenting below!
Get 100 AIR MILES® reward miles by leaving your dealbreaker below. Winner will be chosen by random draw on October 15th, 2011! Check back to see if you've won!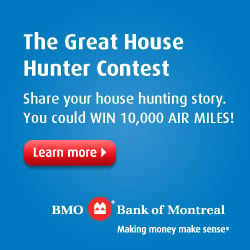 Now, BMO wants to give you the chance to win 10,000 AIR MILES® reward miles!
●      10,000 AIR MILES® reward miles is equivalent to THOUSANDS of $$$ in prizes (not just flights!)
●      Get 100 AIR MILES® reward miles just for entering
●      Details below!
There is no purchase requirement to enter into The Great House Hunter Contest for BMO SmartSteps® for Home owners (the "Contest").  The Contest is open to all legal residents of Canada (excluding Quebec) who (at the time of entry): (i) have reached the age of majority in their province/territory of residence; and (ii) have an AIR MILES®* Collector Card.  To enter, send an email to [email protected] that contains (among other things) a story that discusses your "house hunting" experience and one (1) optional photograph to accompany your story.  Prizes: Eight (8) Finalist Prizes (1,500 AIR MILES reward miles each); one (1) Grand Prize (10,000 AIR MILES reward miles); and two hundred and fifty (250) Entry Prizes (100 AIR MILES reward miles).   Approximate retail value of the Prizes varies by travel service and date selected – example: from Montreal to New York return air travel for one passenger for October departure is 1,250 reward miles, which is approximately $342.00 CDN.  Odds depend on the number, caliber and timing of eligible entries received.  Skill-testing question required to be correctly answered to win.  Full rules at: www.bmo.com/greathousehuntercontestrulesandregs