Ratehub.ca is website designed for consumers to compare mortgage rates in Canada. Where do our rates come from? They are sourced from every major lending institution, from banks to mortgage brokerages. If you find a rate that piques your interest, we allow you to connect with a mortgage professional to discuss it further. Both broker and Ratehub.ca's services are free to use.
The mortgage brokers we partner with are selected from the best in customer service and industry knowledge. Chris Molder is one of our Ontario mortgage brokers who is able to source some of the best mortgage rates in Ontario.
Name:  Christopher Molder
Brokerage:  The Mortgage Centre
LET'S MEET CHRISTOPHER….
What did you do before you were in the mortgage business? Any odd jobs?
 As a second generation mortgage broker it feels like I've been in the mortgage business forever. During university I held summer jobs with various mortgage lenders. I also worked for a promotional staffing company which gave me awesome experience engaging consumers in unique settings for various clients.
What first got you interested in the mortgage business and how long have you been in it?
I'm the only person I know who grew up wanting to be a mortgage broker. My Dad has been a broker for 35+ years. As a kid I loved visiting his office and pretending to be a broker sitting at his over sized desk.  At an early age I knew I wanted to be an entrepreneur and what better way than to follow in my fathers foot steps.
Why do you think you've been able to achieve success?
Passion. Cheesy, right? It would be naïve to say it is the only ingredient to succeed but we are in a people business and if you aren't coming from a place of integrity and genuine love for what you are doing clients will see right through you. If they don't trust you, they won't refer you and referral is the engine of any mortgage broker's business. What do most mortgage brokers find the most challenging about starting in the business? I have found it easy to find my way around the business because I have always been surrounded by veterans who have imparted a career's worth of knowledge to me. This has saved me from making many costly mistakes. I think it is very challenging for new brokers to have a really good macro understanding of the mortgage business. Not just rates and products but how the business works.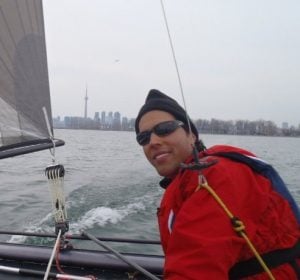 What's your mortgage motto?
When working with clients I like to introduce them to the Golden Rule – "They who sit on the gold, make all the rules",  it helps us get through some of those ridiculous hoops lenders sometimes ask us to jump through.
MORTGAGE HORROR STORIES AND PERFECT CLIENTS…
Have you helped a client escape a horrific situation?
A couple of weeks ago I arranged a private mortgage for a young gentleman flying to Houston, Texas to get married to his cowgirl. The money he thought would be available to pay for his wedding got tied up and we put the deal together in 24 hours. He picked up the money on the way to the airport literally.
Who's your ideal mortgage client?
I love working with first time home buyers. Educating is one of the favourite parts of my job.
HELP US UNDERSTAND YOUR BUSINESS….
Where do you see your business in 5 years?
I like the boutique brokerage model and don't see myself running a large office. I enjoy being front and centre with my clients and don't want to get caught up managing agents. I'm also excited about mortgage investment opportunities. Mortgage investment products are undersold by brokers and I'd like to become a mortgage investment leader.
How do you market your business and brand?
 My father built his business using the "By Referral Only" method and has passed that philosophy on to me so 80% of my business is repeat and referral. I've complimented our base by using the SonOfABroker.com brand where I engage in social media and blog.
What's your favourite thing about Ratehub.ca?
Ratehub.ca puts me in front of a wider audience. The leads generated allow me to concentrate on doing the things that I do best.
How does Ratehub.ca help your business?
 Let's face it – I can't be chef, cook and dish washer. Ratehub.ca puts me in front of hundreds of mortgage consumers everyday that otherwise may not learn about my business.
TIME FOR THE FUN STUFF….
Fill in the blank. 'If I weren't in the mortgage business, I'd be_____________________.'
An industrial designer. I appreciate good design. Or a professional sailor… I love racing high performance sail boats.
When you take a break from helping clients, where can we find you?
In the summer I'm down by Lake Ontario racing sailing boats. In the winter I ski with the North Toronto Ski Club and I'm working on becoming an instructor to teach members how to ski on my weekends.
Give us a fun-fact about yourself.
I play keyboards in various bands and I recorded two albums in the early 2000s with my latin band called Plan C. The highlight of my musical career includes headlining at the Montreal Jazz Festival in 2005.
We would like to thank Christopher for sharing with us, you can find him online:
Website: www.sonofabroker.com
Twitter handle: @sonofabroker