Blogger Contest: Add a Rates Chart, Win This Coffee Brewer!
Ho Ho Ho!Are you a mortgage broker, realtor or personal finance blogger? Do your clients and/or readers care about mortgage rate trends? And would you (or your office) like a new coffee machine for Christmas? If you answered "yes" to these three questions, this contest is for you!
Come up with a "creative insight" using our custom mortgage rate chart builder and win a Keurig® MINI Plus Brewing System plus a 12 K-cups variety pack!
THE CHARTS
Our historical mortgage rate charts are easy to build and can be embedded on any website. You can select one specific piece of data you want to look at (i.e. Prime rate) or compare multiple sets of historical mortgage rates data (i.e. posted vs. discounted 5-year rates). Then add a date range, and even style it, to create your own personalized chart.
Why would I post a historical mortgage rates chart?
We're glad you asked! With a rates chart, you can:
Discover insights on historical mortgage rate trends (hello, contest!)
Enhance the advice you are giving clients/readers with visuals that illustrate your points
Finally, our charts are FREE and easy to share – just copy and paste the code to your website
THE PRIZE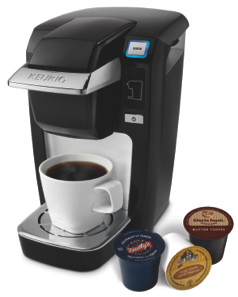 The Keurig® MINI Plus Brewing System brews a perfect cup of coffee, tea, hot cocoa or iced beverage in under two minutes, at the touch of a button. It's perfect for city-living or a home office!
The prize includes:
Personal brewer

Choice of 3 cup sizes (6 oz., 8 oz. and 10 oz.)
Energy Savings Mode (Auto Off after 90 seconds)

12 K-cups variety pack
HOW TO ENTER
To add a chart to your site, click here and follow the instructions. To enter the contest, simply post the URL where the chart (example here) and your "creative insight" can be found:
In the Comments section below, or
On Twitter with the hashtag #mortgagehistorycanada
One winner will be chosen on Friday, January 10th. So, if you don't get that coffee machine you asked for for Christmas, it could still arrive in the mail shortly after!
GOOD LUCK!