I love a good podcast on my commute. Whether I'm on the subway, driving, or walking – listening to a podcast can open my mind to new ideas. It's refreshing listening to experts chat about their niche. It can also be emotional – happy, sad, angry, or joyful. Finally, it's actionable and may cause me to change how I do something.
Apparently, I'm not alone. According to a Canadian podcast study, more than 70% of Canadians started listening in the last 3 years, with 41% beginning in the past year alone.
Working at Ratehub.ca, I started listening to Canadian money podcasts to educate myself on all things personal finance for Canadians.
Here is a list of the best Canadian personal finance podcasts I could find.
<strong>Summary (+)</strong>
The Couch Potato Investor
Dan Bortolotti has over 12k subscribers, over 25,000 downloads of his just over 25 episode series about couch potato investing. He started his blog, canadiancouchpotato.com in 2010 to teach people about passive investing. He's also written for MoneySense, Today's Parent, Chatelaine about all things investing. When he's not busy running a podcast or updating a blog, he's a certified financial advisor with PWL capital. If you're not picking up what I'm throwing down – he's smart, knows money, and you should listen to his podcast.
Why? He's not in it for the money (there are no ads). Quality production is critical to the show's success – think script, in-studio audio, and sharp editing. It's cool to know his audience is purely organic – no promotion from his blog. If 25,000 people have chosen to tune in, why not you?
The podcast features helpful tips from expert advisors – basic or advanced – he's got answers.
https://canadiancouchpotato.com/podcast/

Mo' Money Podcast
Jessica Moorhouse is an accredited financial counsellor, an award-winning blogger, she's the founder of the millennial money meetup, and oh right, a podcaster.
Why listen to her show? She has a deep back catalogue of personal finance shows (200+ and counting). Her husband, an audio producer, produces the show so the quality is there. She hosts guests from around the world and right here in Canada. It's perfect for a millennial audience.
The podcast features guests giving financial tips in a casual manner. If finance bores you, it also explores entrepreneurial topics, start-ups, and even how mindfulness can help with your money.
https://jessicamoorhouse.com/podcast/

Moolala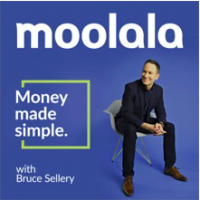 Bruce Sellery is a Canadian Business journalist, an author, a television news anchor, and one of the founders of CTV's Business News Network. He's a professional, as is the production, and if you want to add it to your morning commute, know that his podcast is short, generally under 10 minutes in length. But, also know it's high energy money chat, so while it's easy to digest, make sure to be drinking your morning coffee before listening. It's informative in a quick and energetic way.
Mostly Money
Preet Banerjee has been on CBC's The National, spoken at TEDx, a TV show host, an award-winning blogger, an author, and the list goes on. His latest achievement is starting moneygaps.com – a hybrid advising service that generates leads for financial advisors.
Build Wealth Canada
Kornel Szrejber was in marketing, living the high priced corporate life. For one reason or another, he left for a lower-paying, small business job, leaving behind a big bag of money on the table. He learned all he could about investing and money management. Then he started a side hustle selling online money courses, and by the time he turned 29, his mortgage was paid off. Now, he's a real estate investor, a dad, and shares his knowledge and learnings on his podcast.
https://www.buildwealthcanada.ca/blog/

Maple Money
Personal finance can be a dry topic. Tom Drake, the host, nerds out so much on a particular topic you can't help but keep on listening. I pressed play on his podcast episode about making your mortgage tax-deductible, otherwise known as the smith manoeuvre. At first, I was confused, thought about turning it off, but he made a complicated topic easy to understand with great questions for Robinson Smith, the son of the inventor of the manoeuvre. Before I knew it, the episode was wrapping up, and I was ready to explore the idea of borrowing from my house to invest.
https://maplemoney.com/podcast/

Real Money Talk
Oh, yeah – we're launching a podcast. Here's a quick summary – 3 Ratehub writers, each at different stages, ages, and with their own perspective about money, bring in experts to have a casual and informal conversation. This isn't your dad's financial advisor walking you into a stuffy office full of pressed suits, overused acronyms, and mahogany wall coverings. No, these are your buddies who aren't afraid to ask the embarrassing questions, laugh at money mistakes and have a real talk about all things money. These are lessons from the ground up with practical advice you can take away. We hope you enjoy it. We're always on the lookout for show ideas – wanna pitch something or be on the podcast? Send an email to [email protected].
Listen to Ratehub.ca's all-new Canadian personal finance podcast! You can enjoy the podcast on Apple, Spotify, Stitcher, Google Podcasts, YouTube, or RadioPublic
The bottom line
Podcasts are an excellent way for Ratehub and its staff to connect with you on another level. It gives us a little freedom to explore different ideas. Instead of regurgitating information, you get to hear it directly from the source. Podcasts can be addictive, it can be like downloading "how to kung fu" into your brain, except, in our case, we hope you leave saying, "I know money."