When purchasing a home, there's a list of things you'll want to check. Is it in a good neighbourhood? Does it have enough space for your family? How are the schools in the district? Do you like the appliances, the cabinetry, the design, and layout of the house? 
You'll also consider things like the structure (is it sound?) and the construction materials  (is it a brick or wooden exterior?). One thing you may not think about, though, and often out of sight, is the type of electrical wiring. 
We'll explain why that's just as important a consideration as the rest.
What is aluminum wire?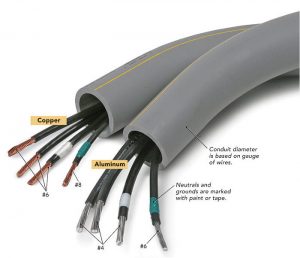 We all know what aluminum is – an affordable, malleable metal that's used across various industries to make things we use every day. It's in our cars, our appliances, our smartphones, our televisions, and in our homes. 
You might be surprised to learn that at one time—for a brief period between the mid-60's and mid-70's—aluminum was a popular cost-saving alternative to copper wiring in housing.
It was soon discovered, however, that not only is aluminum less durable than copper, it can also be a fire hazard if not installed properly.
Because of that risk, you'll have a harder time getting home insurance. In fact, many mortgage lenders may require you to update the electrical as a condition of your mortgage approval. 
And it's important to note that while aluminum wiring might be more prone to fire hazard, it's considered safe if installed properly. 
How to check for aluminum wiring in a house
Before buying a house, you might want to investigate whether or not aluminum wiring was used. 
How do you do this? There are a few things to look for. 
First, you'll have to find some exposed wiring. This can usually be found somewhere in the basement or, if it's a finished basement, look in the attic. Another place you can check is the electrical panels. 
Once you locate wiring, take a look at the outer casing. If the wiring is aluminum, the casing will be stamped with markings. 
If your wiring is aluminum, the casing will display one of the following: 
ALUMINUM

ALUM

AL 

ALUMINUM 

ACM

ALUM ACM

ALACM
Once you locate the wiring and determine it is, in fact, aluminum, you should have it inspected by a professional to determine whether or not it's properly installed. Again, insurers may not provide home insurance unless it's inspected by a certified professional.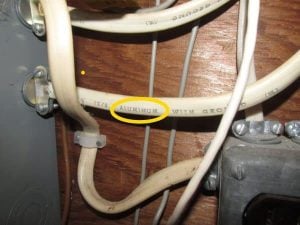 Aluminum safety hazards
Aluminum wiring is more likely to expand and contract as a result of electrical currents coursing through it than its copper alternative. This raises the chances of the wiring coming loose at contact points and causing a spark which, in turn, could cause a fire. 
It's these contact points that cause the real hazard, since oxygen can corrode or rust the metal. 
Before you rip out all the aluminum wiring in your house, though, you should know that if installed properly it's considered safe by the Electrical Safety Authority.
"
The Ontario Electrical Safety Code permits the installation of aluminum wiring. It may still be used today for interior wiring systems in residential homes, as well as other structures such as large commercial and industrial feeders
," the Electrical Safety Authority
says
. "
Aluminum wiring can be used as long as proper connections and terminations are made in accordance with the Code and the manufacturer's instructions
."
Aluminum vs. copper wire
Copper is more durable and its connections are less prone to deterioration, making it better-suited the wiring in homes.
Aluminum wire, on the other hand, is more prone to breakage or fraying. It's also more susceptible to corrosion and oxidation. 
Another thing you'll want to look for is whether both aluminum and copper were used in your house's wiring. Some builders have combined both metals in home wiring systems in the past. 
Doing so, however, raises the risk of fire due to the differences in how the metals react to electrical currents. If your home does contain both types of wiring, it's important to ensure acceptable copper-to-aluminum connectors have been used. 
The cost to upgrade wiring in a house
Some people choose to rewire a house from aluminum to copper.
If your home does contain aluminum wiring, you can pay to have it upgraded. Though it's quite costly, feeling safe in your home is invaluable. 
There are several options for a homeowner interested in such a replacement, according to Finan Home Service, which offers such services. 
The cost to switch aluminum to copper in a home
Replace all receptacles and switches (a rough cost estimate is between $2,000 and $3,000)

Replace all connectors with copalum crimp connectors (estimated to cost between $5,000 and $7,000)

Rewire the entire house with copper wire (estimated to cost between $10,000 and $12,000).
Of course, if replacement is something of interest, it'll pay to shop around and speak to a number of different professionals. It's recommended to get 3 quotes from ESA certified electricians. 
While you don't need to go to the city for permits, the electrician needs to get permits from the ESA. The permit process ensures the wiring is correct because the ESA will come to check on the contractor's work. 
The bottom line
Aluminum wiring is safe if its installation is correct. You should check for aluminum wiring in a house before getting home insurance quotes, though, because your insurance company will be asking and you'll pay more if it's there. 
The average home insurance in Ontario, as an example is $1,200 a year. Let's say your home is worth $500,000, but with aluminum wire there is a chance it could catch fire. Your insurance provider will want to charge much more to cover the risk. After you upgrade your electrical, make sure to provide the certificate of completion to your insurer. If they don't lower the price, compare home insurance online to get a better deal from an insurer that will reward your efforts. 
ALSO READ