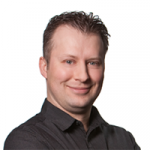 Every year, Canadian Mortgage Professionals (CMP) Magazine publishes its Top Brokers list – only for 2011, a record number of submissions gave the magazine no choice but to increase the list from Top 50 to Top 75. In this blog series, we're interviewing the top mortgage brokers in various parts of the country. Our goal: to learn more about these professionals and their business strategies.
For the second year in a row, Collin Bruce of Dominion Lending Centres – Mortgage Mentors has ranked 5th on CMP's Top Brokers List. He has been in the business for seven years, and today his Alberta mortgage brokerage consists of a small team of 5 staff, 3 of which help Bruce write mortgage loans. Bruce won the CMP Mortgage Broker of the Year Award in 2012 – a title he held proudly. To find out more about Bruce, keep reading.
1. How can you attribute your success to making the Top 5?
I work with some really amazing people and I love what I do, which makes it pretty easy to go to work everyday. When you love what you do, you do well! I think it is also important to have complete transparency with my clients. I take the time to ensure clients know and understand the entire mortgage process. Once my clients know that they are getting the best mortgage for them, they don't go elsewhere.
2. Do you have a niche that you service?
I work with a lot of first-time homebuyers, but really we see a lot of everything: refinances, investment properties, second homes, etc. I also do a lot of advertising which allows to me target different niches, depending on the time of year and economic factors.
3. What first got you interested in the mortgage business? 
Before I started in the mortgage business, I worked at a big five bank. After that, I was buying and renovating houses. The broker that I was working with on my mortgages at the time thought I should give mortgage brokering a try; that was in 2004 and I haven't looked back since!
4. What's your personal mortgage product?
I have a 5-year fixed rate, although today's 10-year fixed rates are pretty tempting!
5. Fill in the blank. 'If I weren't in the mortgage business, I'd be _____.' 
Studying Quantum Physics – trying to figure out how the world works AND mowing grass at a golf course.
To learn more about Collin Bruce, visit his website.