One of the most important decisions when purchasing a home that should be taken into consideration is lifestyle. Understanding the type of lifestyle you want to lead in your new home will help narrow down the type of properties you should be searching for. Condominium buyers typically prefer the benefits of the following lifestyle features:
Located in or near the core of the city
Plenty of amenities (swimming pool, gym, party room, etc.)
Low maintenance (never have to shovel snow, rake leaves, etc.)
24-hour security
The average price for a condo is also much lower than that of a detached or semi-detached home. Plus, you don't need to foot the bill for things such as roofing and window repairs, as well as purchase expensive machinery such as lawn mowers and snow blowers. Perhaps the icing on the cake is that condo owners spare themselves the manual labour needed to maintain the exterior of their property [some owners don't bother with the interior either].
However, condo convenience isn't without its 'cost'. This is better known as maintenance fees or condo fees.

What are they and what do they pay for?
Condos have shared spaces such as the elevators and hallways, and somebody has to clean it and make repairs. Maintenance fees pay the salaries of the people who help preserve the dignity of building as well as security and concierge personnel. More importantly, condo fees help maintain those beloved amenities that everybody uses.
Amenities vary from building to building. They can include swimming pools, bowling alleys, theatre rooms, fitness rooms, spas, or party rooms. Typically, lots of amenities or state of the art amenities require greater operating costs which are passed down to you. Smaller buildings with fewer or basic amenities can also have high condo fees because there are fewer residents to rely on to the fund the amenities.
We talked to Toronto Realtor Mark Savel to get his insights on condo fees.
When are maintenance fees are due?
The maintenance fees are due on a monthly basis, typically at the beginning of the month.
What is the average cost of condo fees?
I can only speak of Toronto and primarily in the core; the average ranges from $0.50-$0.60 per sq ft, with hydro, cable, internet and property taxes not included.
How high can they can go in terms of $$$ per square foot?
The skies the limit!  A condo like 1 King West always has problems selling units because the maintenance fees are so high (at roughly $1.00/ sq ft.)
Why do maintenance fees rise?
For middle-aged or older buildings, there can be a variety of reasons from past lawsuits to the Condo Corporation or large repairs (roof, parking garage, windows). Basically, if ever there is a shortfall that needs to be recouped, the board will result to increasing the condo fees. For newer buildings, the example below is the most common reason for the rise.  
Condo fees are typically lower in younger buildings, is that an advantage for pre-construction units?
With pre-construction, you don't pay maintenance fees until you've taken occupancy.  In short, there are no advantages, in fact there's even less security.  Every pre-con condo I've been involved in has increased their fee after the first year. Mostly the rise in cost is due to developers under-estimating the cost of acquiring and maintaining those amenities.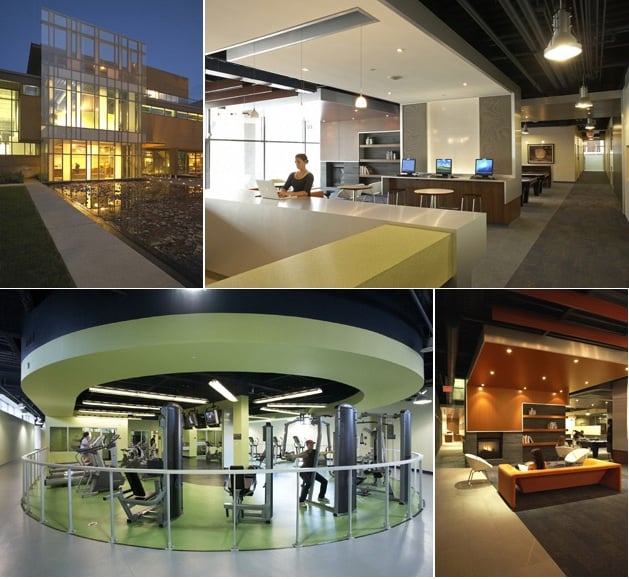 Who do you think has the best 'bang for buck' in terms of condo fee-to-amenities ratio?
The four CityPlace condos in downtown Toronto, that share the 30,000 sq ft."Super Club", get the best bang for their buck in my opinion. The club cost approximately $6 million to create and boasts 25-metre swimming pool, a full-size gymnasium, jogging track, whirlpool, cardio, weight and conditioning rooms, a squash court, bowling lanes, a billiards room, an outdoor tennis court, 20 person movie theatre, an indoor golf simulator, a karaoke room, and an Internet cafe and juice bar. The maintenance for the condos is actually right in the sweet spot of $.50-$60 per sq ft. Having multiple condos share the cost is the only way they keep the fees down so low!
Any additional thoughts you may have?
The truth is, all these fancy amenity spaces hardly ever get used.  I often suggest my clients go for a building with more neighbourhood amenities (bars, restaurants, transit, etc.). The less frills in the building, the less you'll have to pay for maintenance. And the less you pay for maintenance, the better the prospects are for your unit to sell!
The condo 25 The Esplanade is a prime example of a well managed building. It is over 20 years old and yet is one of the best run buildings in the downtown core. The shared hallways have been updated so the look and feel is very modern. The amenities include a concierge, a well equipped gym on the top floor, a hot tub, large party room, a separate billiard room, and shared BBQ's to name a few.  The building does not have parking but units still sell very quickly and selling prices have increased equally well!
Maintenance fees can vary building to building, even if they're by the same developer. It's important to factor condo fees into your monthly carrying costs when shopping for a home. The Ratehub.ca mortgage affordability calculator determines what you can afford while taking condo fees into consideration. So, before the giant bowling alley and golf cage wow you, take a step back to think of how often you would use them. It's important to find out what your condo fees will include and how much to make sure the extra cost is worth it to you in the end.
Mark Savel is Toronto condo realtor who is participates actively on the web. He maintains a blog called SavelAndTheCity where he regularly posts pictures, videos, and blog articles. Follow him on Twitter or 'Like' him on Facebook.