When you start shopping around for a home, one of the first decisions you'll need to make is whether you want to buy something new, or something that's been owned and lived in before (also known as a resale home). The idea of buying a brand new home – one that's never been touched, let alone lived in – sounds ideal for some. But the question on most people's minds is: What can I actually afford to buy?
Once you've been pre-approved for a mortgage, you'll know what budget you're working with. For example, if you've been pre-approved for a $500,000 mortgage, you can start looking at new homes listed for up to that amount. But where exactly are the homes in your price range being built? And what can you get for that price? There's a new online, map-based tool that can help you find out.
Market Snapshot is a free tool that allows users to create market reports for cities and neighbourhoods across Canada, which provide unique insights on what's happening in a particular housing market. Launched on North America's largest listing site of new construction homes, BuzzBuzzHome, the reports use data that has never been so easily accessible – and the best part is that it's free.
Let's say you're interested in buying a new home in Vancouver's Financial District. By doing a quick search for the neighbourhood on BuzzBuzzHome, you can then click on "Market Snapshot" to find out:
The average price per square foot of new condos, townhouses and houses,
The median list price and the median unit size for those new condos, townhouses and houses (shown below), and
The number of units under construction with their estimated completion dates.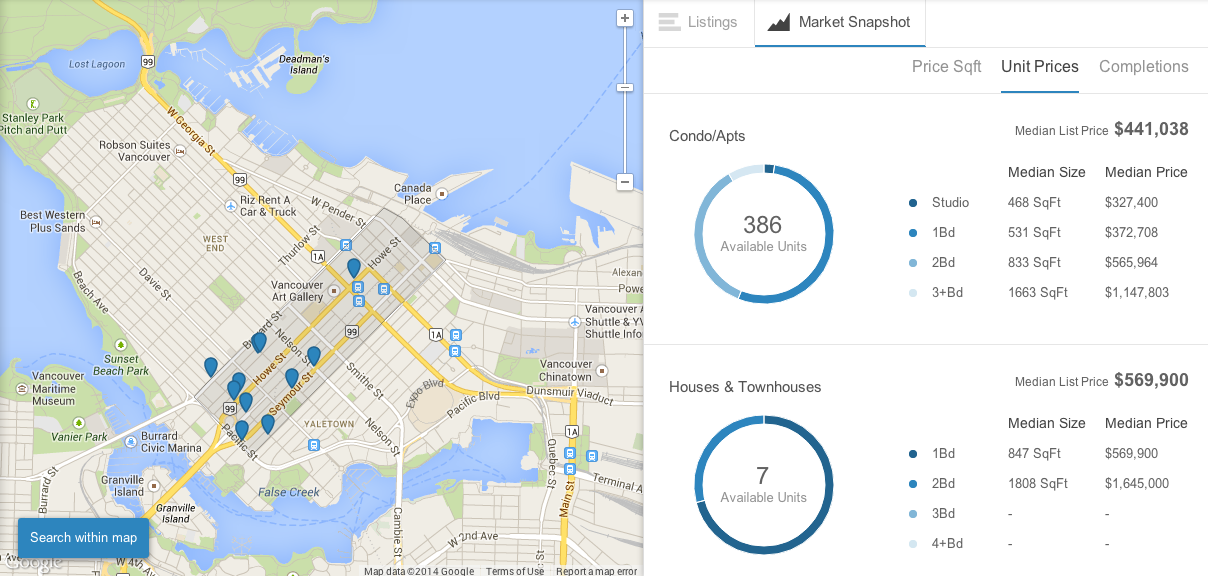 If it looks like you could afford to buy something in this neighbourhood, you can click on "Listings" to find any new construction projects that may interest you. On the other hand, if you're priced out of a particular market, you can also use the search function on BuzzBuzzHome's website to find listings anywhere in the city within a particular price range that include the features you're looking for (number of beds, baths, etc.).
"Market Snapshot gives everyone free access to an unprecedented amount of market data that was previously unavailable to the public," said Matthew Slutsky, Co-Founder of BuzzBuzzHome. "The aim is to mine our database of over 11,000 new construction communities to give homebuyers a better understanding how the type of home they're searching for fits into the market they want to buy in."
Market Snapshot is currently available for every neighbourhood in Vancouver, Calgary, Toronto and Montreal, as well as several other major North American markets outside of Canada.