Toronto Condos to watch this Fall
BuzzBuzzHome is Canada's largest new home database. They list residential developments that anyone can search for and comment on. Prospective buyers can get in contact directly with sellers. We consider them a valuable resource for home buyers in Canada. Our friends over at BuzzBuzzHome have offered to share their knowledge on hot new developments coming to Toronto this fall.They`ll give us the top 11 condos to watch out for. BuzzBuzz, the floor is yours…

After a summer apart, it's good to be buzzing again on Ratehub.ca. We've been keeping up with all the preconstruction condominiums launching in our fair city this Fall and have assembled this handy guide for all of you interested condo buyers out there.
A full list of new developments launching in Toronto can be found in our forum (there are more than thirty currently slated), but we thought you might appreciate a little cheat sheet to get you on the right track to finding an A+ condo.
But let's not bother buzzing around the bush, we'll cut straight to the chase! After all, BuzzBuzzHome didn`t become the authority on new condos by wasting time.
At the corner of Bathurst and Bloor, B.streets Condos location couldn't get much better. The 195 units condo and townhouse project is perfectly situated for residents to take advantage of Bloor Street shopping, dining and nightlife. The diverse neighbourhood is home to many students, but also the more sophisticated young professional and intellectual crowd.
Moving along King East toward the Don Valley, we come upon River City Phase 2. Details are scarce at the moment, but we'll be following this project closely and will jump on them once they emerge. We can tell you that it will be the second of five buildings constructed for this new condo and townhome community development.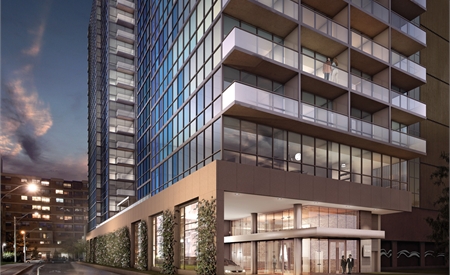 Only steps away from Queen and University will be 210 Simcoe. With units starting from $200,000, 210 Simcoe will offer some good deals for those looking for a downtown lifestyle without paying those downtown prices.
Continuing our cruise outward from the downtown core, we hit LOVE Condos, a new project we love for a few reasons. First off, it's got an innovative advertising campaign that integrates playful illustrations and storytelling into it. And second of all, near Kennedy Road and Sheppard Avenue East, LOVE will be a hop, skip and a jump from a bunch of great local parks. Suites at LOVE start from $189,900.
For those looking for a place to lay their hats outside of the city limits, Rain Condominiums is bringing a new level of class to Oakville with two towers rising above Kerr Street and Speers Road. There will be 532 units in the project with sizes ranging from 346 to 1030 square feet.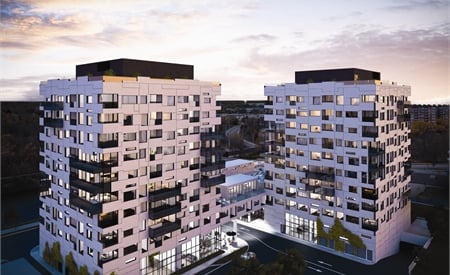 Another "Big in Oakville" development is OpArt, a high concept boutique condominium designed by award winning architect Stephen Teeple. Channelling a 1960s vibe, the two unique towers will each rise 10 storeys above Shepherd Road near Kerr Street and Speers.
If you`ve set your sights outside Toronto, there's also Expo Condos at Highway 7 and Creditstone Road in Vaughan. Promising to be the biggest mixed-use residential-commercial development Vaughan has ever seen, the project is currently in its registration phase but still has a completion date set for 2013. Those folks in Vaughan work fast!
If West Toronto is more your cup of tea, Lago Condos, a new Etobicoke waterfront development is currently in its registration phase. The 49 storey tower will rest on a 3 storey podium and will feature awesome views of Lake Ontario and the downtown Toronto skyline.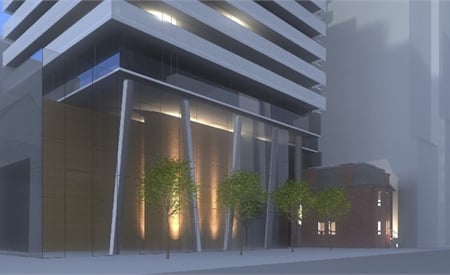 21 Grenville Street is a new condo just West of Yonge near College. Not a lot of details have emerged about this development, but we do know that architectsAlliance will be handling the design and it will be 52 storeys. A tony rendering of the entrance to the condo has also been released.
Another hot development that`s still shrouded in mystery is The Bond Condos, which will rise 37 storeys above 290 Adelaide Street. Much like the MI6 secret agent that the project probably isn`t named for, The Bond`s mysterious presence is very alluring.
Cruising north in the city now, we find 3018 Yonge Condos in Lawrence Park. It's a great spot for folks who want to be somewhat removed from the hustle and bustle of downtown, but still want to hustle and bustle only a short subway ride or drive away. Suites here start in the low $300,000s and will be designed be the widely renowned interior design firm, Munge Leung.
Other developments on the horizon that are being kept relatively hush-hush at the moment include 990 Bay Street, the current location of Bistro 990. The land, including the restaurant and the adjoining parking lot, was recently purchased by Cresford. Cresford is also behind another HOT project at 42 Charles Street East. We`re still the dark as to the details of this one too, but mark our words, these two developments are hotter than a Toronto heat wave.
And that concludes our countdown of the 11 developments to watch this Fall! But before you depart, we`d like to impart some BuzzBuzz wisdom upon you…
While you should be doing some thorough research during your condo hunt — BuzzBuzz can help you in this department — there's no reason why condo buying can't be a lot of fun. There's really something for everyone in this vibrant and constantly expanding city of ours so as long as you do your homework, you're sure to find the condo that suits your needs to a tee!