---
Tim Hortons has unveiled its all new loyalty program, "Tims Rewards", offering coffee drinkers a whole new way to double dip rewards (no pun intended).
Launched Canada-wide on Wednesday, Tims Rewards doesn't require customers to rack up points on every dollar spent. Instead, Tims Rewards opts for simplicity, allowing customers to get an assortment of free drinks or baked goods based on how frequently they visit their local Tim Hortons.
Here's how Tims Rewards works
After every seventh purchase you make at a Tim Hortons, you can get either one of the following for free: a brewed coffee or tea (of any size), or your pick from a selection of baked goods.
There are some caveats to the program. For one, purchases need to be at least $0.50 in value. Purchases made within a 30-minute span of each other are not counted as one of the seven required to get a free drink or baked good. Lastly, drink redemptions are restricted to brewed coffee or tea, while popular baked items like Timbits and bagels are excluded as one of the foods that you can get for free.
You can keep track of how many purchases you've made and how far off you are from a free drink or baked good through the Tim Hortons app. You can also carry around a physical Tims Rewards card instead if you prefer not installing another app on your smartphone.
Tim Hortons' decision to ditch points in favour of a straight-forward per-visit rewards system is a sign the program aims to win over customers in search of simplicity. It also suggests that Tims Rewards is designed to compete with McDonalds' McCafe Rewards (which has its own buy 7 get 1 free loyalty program) over the loyalty programs of premium coffee franchises from the likes of Starbucks or Second Cup that run on more complicated points or "Stars".
While Tim Hortons is one of the country's largest coffee and fast food chains, with over 4,000 restaurants in Canada that serve more than 2 billion cups of coffee annually, the chain has faced some recent struggles.
In 2018, Tim Hortons dropped from 4th to 50th in an annual survey conducted by research firm Leger ranking brands on customer reputation. Restaurant Brands International Inc., Tim Hortons' parent company, has also experienced some uneven performance on the Toronto Stock Exchange with instances of shares slipping double digits last year.
The goal of Tims Rewards is to turn this trend around.
Tims Rewards vs. McCafe vs Starbucks vs. Second Cup
Click here to download the full infographic.
McCafe Rewards
McDonalds' McCafe Rewards program follows a similar "buy 7, get 1 free" model as Tims Rewards, but with some slight differences.
On every cup of McCafe coffee that you purchase is a peelable sticker. Once you collect a total of seven stickers, you'll be entitled to a free coffee. You can also earn stickers digitally through the McCafe app. In fact, you can get free coffees twice as fast by collecting physical stickers and scanning your app at the same time for every coffee purchase.
Compared to Tims Rewards, McCafe Rewards does pose some limitations. For one, you must buy a coffee in order to earn a McCafe Rewards sticker while Tims Rewards only requires you to spend $0.50 per visit on any food or drink item. Moreover, McCafe Rewards redemption options are limited to coffee while Tims Rewards lets you have your pick of free coffee, tea or a baked good (excluding Timbits and bagels).
Starbucks Rewards
Starbucks Rewards operates on a points system that runs on two tiers – Green status and Gold status.
With Green status, you'll get a handful of perks including discounts on your birthday and the ability to earn "Stars." For every dollar you spend at Starbucks, you'll get 2 Stars. You'll enter Gold status once you earn a total of 300 Stars, which opens the door to a number of new benefits.
As a Gold status member, you'll still earn the same 2 Stars per dollar, but now you'll have the ability to redeem Stars for free food or drinks. You'll need 125 Stars in order to get something for free, which is steep, but the benefit here is that you can redeem Stars for almost anything including expensive premium lattes. Gold status also entitles you to free coffees on your birthday as well as access to special offers.
It goes without saying that Starbucks Rewards doesn't offer the most bang for your buck when compared to some other coffee loyalty programs in Canada like Tims Rewards, but it's a great option for those who enjoy Starbucks and premium coffee drinks.
Note: Starbucks announced it will soon be increasing its redemption minimum from 125 Stars to 150 Stars.
Second Cup Rewards
Similar to Starbucks Rewards, Second Cup Rewards also runs on a conventional points system as opposed to the straight forward "buy 7, get 1 free" model adopted by Tims Rewards.
You'll earn 10 points for every dollar you spend at a Second Cup and you'll need 500 points to redeem for a free drink or food item. Redemption options are flexible, and you can use your points to get almost any beverage or food of your choosing.
Double dipping rewards with a credit card
At Ratehub.ca, we believe earning rewards on your everyday coffee spending doesn't have to start and end with your favourite coffee chain's loyalty program.
By using one of the best credit cards in Canada, you can rack up points or cash back on every dollar you spend on coffee in addition to whatever free coffees your local cafe's loyalty program offers.
Here's how: Let's say you're a regular Tim Hortons coffee drinker and buy one coffee a day. Through Tims Rewards, you would get one free coffee a week (valued at $1.71). Over the course of a year, that adds up to $88 in free coffee. Plus, if you paid for your coffees using the American Express Cobalt Card – one of the best credit cards for dining that offer 5 points per dollar at cafes – you could earn up to an additional $26 in credit card points over the same period. By using Tims Rewards and the Cobalt Card together, you would earn a combined $114 in rewards – all on coffee purchases you would be making anyway.
*The above example is based on an estimate using the American Express Cobalt Card and medium Tim Hortons brewed coffees (priced at $1.71 each).
American Express Cobalt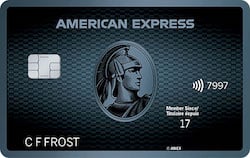 Earn 5 points per dollar on restaurants, coffee shops, bars, grocery stores, and food delivery
Earn 2 points per dollar on gas, taxis, public transportation and travel (air, water, rail, or road transport, plus hotels)
Welcome Offer: 2,500 points every month you spend $500 in your 1st year (total value of $300)
Earn 1 point per dollar on all other purchases
Annual fee: $120 (charged at $10 monthly)
---