The following is a guest post by BuzzBuzzHome, the most complete listing of new construction homes. Aside from cataloguing all new construction in Canada (and now the US), the BuzzHomies maintain a blog, publishing all the real estate news that's fit to print.
As the Stampede's centennial approaches, all eyes are on Calgary. But it's just not the cowboy boots and rodeos that are drawing our attention to the city this summer. Calgary's real estate market is heating up in a big way and we wanted to help shed some light on everything that's going on in Cowtown.
While there are a ton of great projects in the city, we managed to whittle our long list down to five outstanding developments. Check them out below!
With a name like Evolution, we had a feeling this project was going to be forward thinking. Nestled in Calgary's East Village, this development offers awesome access to downtown amenities. But, what we like most about Evolution is the range of suites. From townhouses and mid-rise homes to tower condo units and penthouses, residents have an awesome array of different homes to choose from.
Drake by Grosvenor
A short walk to downtown and 17th Avenue, we love this development's multigenerational appeal. The 17 storey high-rise is at the heart of one Calgary's most vibrant areas and its sleek design, efficient floorplans and affordable prices make it appeal to everyone from Gen Yers to Boomers.
Luna makes our top five based on its amenities alone. The impressive list includes: a spa and lounge, cardio and weight room, yoga studio, his/her changing rooms with showers, segregated steam rooms, and a lounge with wet bar, foosball and pool tables. Talk about having leisure and relaxation right outside your doorstep.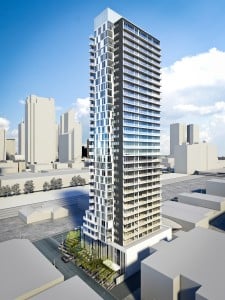 6th and Tenth by Lamb Development
6th and Tenth won us over with its considered design by Core Architects. The project incorporates retail into the main level and features a 5-star restaurant and a concourse-style forecourt park comprised of water pools. It's also got unique and sexy design, with each floor having a different pattern. Super neat, right?
The Guardian by Hon Towers Ltd.
While it will hold the sought-after title of "tallest residential building in Calgary", this development offers more than just impressive height! Situated in Victoria Park — a super walkable area that's close to main roadways and transit — The Guardian is steps from diverse food destinations. But what really stands out for us is the proximity to nature. Close to the Bow and Elbow River, the Inglewood Bird Sanctuary, and Sam Livingston Fish Hatchery, this project offers the perfect combination of urban and pastoral living. The bird watcher in all of us can't help but swoon!
The Canadian Mortgage and Housing Corporation (CMHC) has stated in its latest Calgary report that," Demand will remain steady as [condo] units continue to attract first-time home buyers, investors, and those looking to downsize". Now may be an opportune time to get into the condo market with mortgage rates in Calgary hovering at historic lows.
For more new development news, follow BuzzBuzzHome on Twitter and give them a like on Facebook.