Welcome to the second portion of Ratehub.ca's 2011 Year in Review. This time, we'll examine highs and lows of the Canadian housing market in 2011. Although finding "lows" may prove to be difficult as 2011 was marked with high after high, as record prices and sales ran rampant throughout the year.
Housing Purchase Power Parity
Earlier in the year, Ratehub.ca put its analytical cap on and came up with the RH Index – a version of the purchase power parity index which was applied to the Canadian housing industry in order to determine which city markets were under and over-valued. After evaluating each major city, we pooled the data together and came to the conclusion that – Calgary is the best place to buy a house in terms of bang for your buck.
Canadian Housing Starts
According to CMHC, housing starts increased strongly in the second and third quarter of 2011 before declining in the fourth quarter. CMHC forecasts overall housing starts to gradually decrease during 2012. However, British Columbia, Alberta, and Manitoba are actually expected to increase.
Canadian Home Sales
*chart taken from CREA
Looking at the chart above, Canadian home sales exceeded the 10-year average in five of the twelve months during 2011. Notably in March when the new, stricter Canadian mortgage rules took effect. Overall though, sale figures remained broadly in line with the 10-year average, at roughly 0.7% greater. According to the Toronto Real Estate Board (TREB), the Greater Toronto Area experienced the second-best year on record with 89,000 sales, up 4% from 2010.
Canadian Home Prices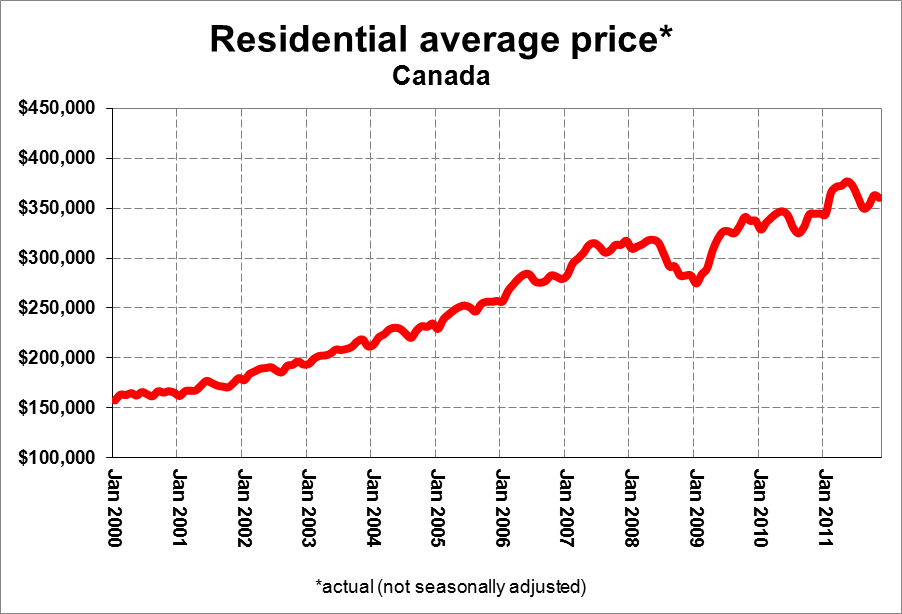 *chart taken from CREA
Although Canadian home sales remained fairly on pace with the 10-year average, Canadian home prices rose to new heights. It seemed every month media articles were bearing the words "record" and "breaking" in regards to the rising home prices, most prominently in Vancouver and Toronto. According to CMHC, the average Canadian resale home price finished 2011 at $363,900, for a year-over-year increase of 7.3%.
The most expensive home listing ever in Canada went on MLS in 2011, for a price tag of $39.9M. The property is located in West Vancouver [no surprise here], although the home is yet to be built. The massive property sits on 5.44 acres of land that allows up 3 buildings to be built. The main house is 21,000 square feet with a 16-car garage! The land transfer tax would be equivalent to $796,000.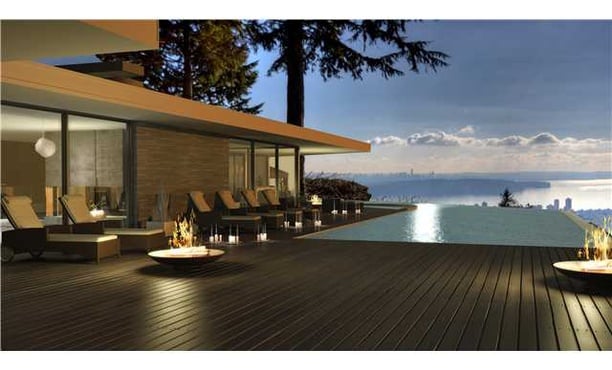 High rise building construction in Canada was taken to new heights, literally and figuratively. This was more evident in Toronto, where construction cranes became as much a part of the skyline as the towers they were building. Currently, Toronto is outpacing New York City and Mexico City, by a large margin, in high rise building construction.
The record for the most expensive condo ever sold in Canada also occurred in 2011. The penthouse atop the Four Seasons Private Residences fetched for $28M. At 9,038 square feet, that meant the property sold for a never-before-seen $3000 per square foot in Canada.
In 2011, the rich got richer which helped spur the Occupy Movement as they staged protests around the world. The percentage of million dollar homes sold in Vancouver, Toronto, and Calgary hit record numbers last year, most notably in Vancouver, where 20% of the all residential home sales, sold above the $1M dollar mark.
Outlook for 2012:
What does the future hold? Will Canada maintain these soaring home prices in 2012 or is a correction on the horizon? Will condo supply outweigh demand?
 "The national housing market remains balanced, but is edging closer to seller's market territory." -CREA
According to CMHC forecasts, the residential resale market will see 1.9% increase in sales in 2012. They also expect the average residential resale home price to increase to 1.2%, for an average price of $368,200, with British Columbia trail-blazing the way at $564,900. If mortgage rates in Canada continue to remain flat in 2012, and many expect they will, the market will continue to remain balanced.