Prairie housing prices continue to decline as housing prices in both larger cities like Toronto and Vancouver, along with smaller markets like Ottawa and Montreal, rise.
The Canadian Real Estate Association (CREA) reports that the MLS Home Price Index benchmark prices dropped across the Prairies year over year for Calgary homes for sale (2.9 per cent),  Edmonton homes for sale  (1.9 per cent), Regina homes for sale (4 per cent) and in Saskatoon (0.3 per cent.)
"Amid elevated supply relative to sales, the home pricing environment will remain weak in these housing markets until they become better balanced," says CREA's November report, blaming falling prices on an excess of inventory.
Meanwhile, in Ontario, benchmark prices rose year over year in Guelph (9.3 per cent), the Niagara Region (7.2 per cent), Hamilton-Burlington (6.3 per cent), Oakville-Milton (3.4 per cent) and the Greater Toronto Area (2.7 per cent).
Prices are also up across most of British Columbia, including 12.6 per cent on Vancouver Island, 7.2 per cent in Victoria and 4.7 per cent in the Fraser Valley. For the first time in five years, however, prices on the Vancouver MLS  slipped slightly, by 1.4 per cent.
Smaller metropolitan markets are doing well, with benchmark home prices rising 6.6 per cent in Ottawa and 6.2 per cent in Montreal.
The disparity seen across the country is natural.
"National sales activity has lost a bit of momentum over the past couple of months, but local market trends can be, and very often are, different by comparison," said CREA President Barb Sukkau. "All real estate is local."
Overall benchmark prices are up 2 per cent year over year, across the 17 tracked markets.
Sales slowed down across the country, declining  2.3 per cent from October to November and 12.6 per cent year over year.
CREA blames the new mortgage lending rules of 2018, saying it decreased affordability. Prospective buyers now must qualify at their contract rate plus 2 per cent, which is even tougher now that interest rates have started to rise.
"The decline in homeownership affordability caused by this year's new mortgage stress-test remains very much in evidence," said Gregory Klump, CREA's Chief Economist. "Despite supportive economic and demographic fundamentals, national home sales have begun trending lower. While national home sales were anticipated to recover in the wake of a large drop in activity earlier this year due to the introduction of the stress-test, the rebound appears to have run its course."
Check out the infographic for more details.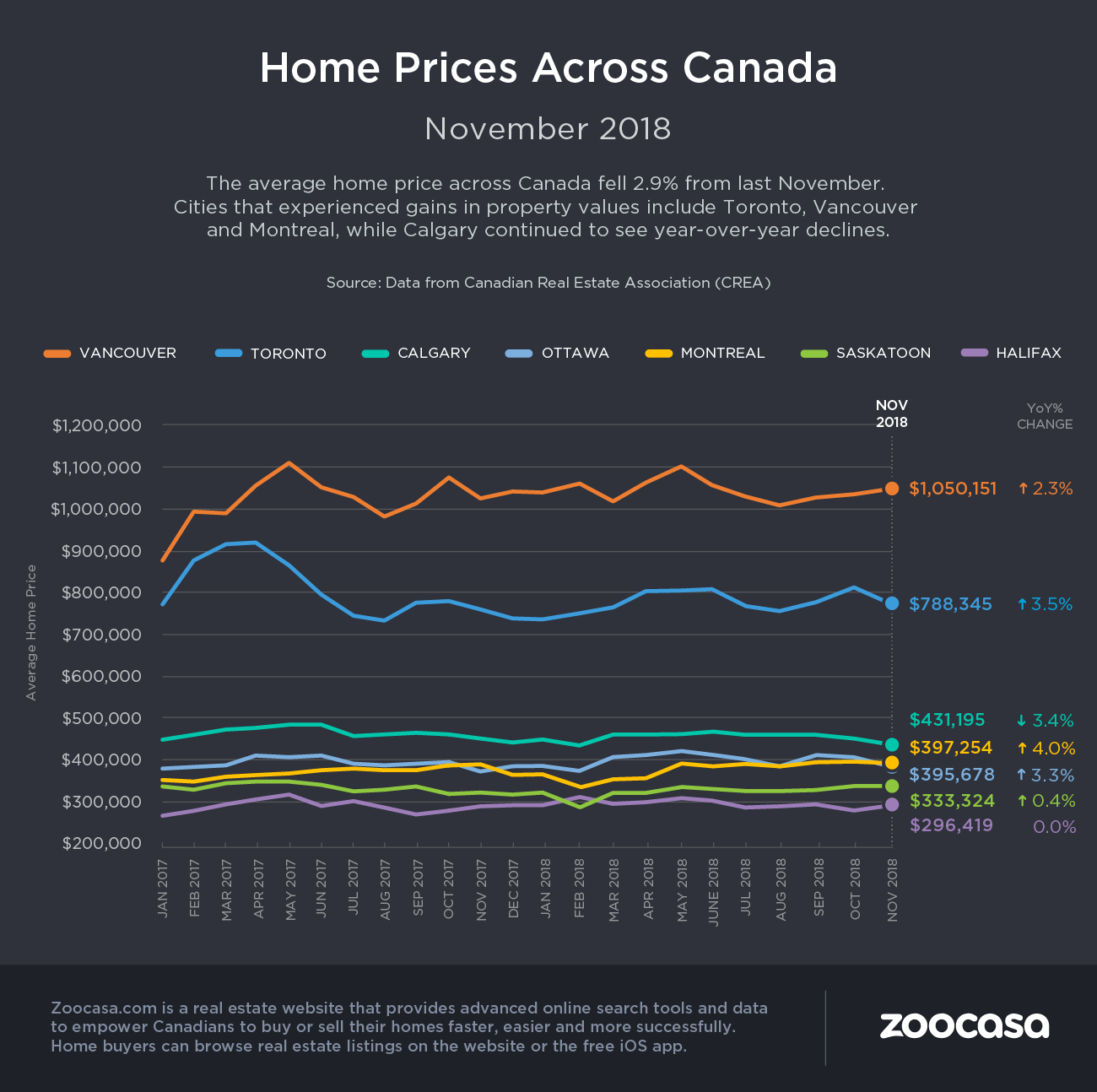 Zoocasa.com is a real estate company that combines online search tools and a full-service brokerage to empower Canadians to buy or sell their homes faster, easier and more successfully. Home buyers can browse homes across Canada on the website or the free iOS app.
Photo by Taylor Leopold on Unsplash