Mark Carney to leave Bank of Canada for England – CBC
Shocking news emerged this week when Mark Carney announced he would be leaving his post in Ottawa to become the governor of the Bank of England. This is the first time a foreign national has been the head of the Bank of England, although the role is fitting, as Mark Carney does carry many ties to the United Kingdom. Carney's wife, Diana Fox, is a British economist whom he met at Oxford while completing his master's degree.
Carney will continue to serve as the governor of the Bank of Canada (BoC) until June of 2013, when Sir Mervyn King steps down from his London post. CIBC believes the next governor of the Bank of Canada will maintain the same monetary policy as Mark Carney. Scotiabank's chief foreign strategist agreed stating, "We note that there are no interest rate increases or decreases priced into markets over the next 12 months and it is unlikely that the BoC would need to cut interest rates."
However, the Organization for Economic Co-operation (OECD) believes higher interest rates may be needed, by the time Mark Carney's successor takes over in June. Currently, the overnight lending rate is 1.00 per cent, where it has been for two years. Variable rate mortgage holders will be directly impacted by an increase in the overnight rate.
Canada's finance minister Jim Flaherty said Carney's departure was "bittersweet" and that the loss will be felt in Canada.
Toronto and Vancouver are no longer the top real estate markets – Calgary Herald
Calgary is now the top-ranked city in the country for overall real estate prospects, according to the Emerging Trends in Real Estate 2013 report released by PricewaterhouseCoopers (PwC). Calgary and Edmonton have surpassed Toronto and Vancouver as the premier Canadian real estate markets, due to solid supply and demand expectations, and Ottawa rounds out the top five. "The Canadian real estate community understands real estate fundamentals and knows how to react to fluctuations in monetary policy and capital markets. Canada's real estate industry continues to operate well despite uncertainties in domestic and global economies," said the PwC. Sales in Calgary are up 15 per cent year-over-year and total housing starts are expected to finish the year at the highest output level since 2007.
TWITTER REACTIONS
@AndreCimini on the Bank of England usurping Mark Carney from Canada, to govern the second oldest central bank in the world.
@LorenaRomano on Rob Ford's departure as mayor of Toronto, which seemingly adds to growing list of vacated Canadian leadership positions.
CANADIAN MORTGAGE RATES:
Where are they this week?
A history of weekly 5-year fixed mortgage rates and 5-year variable mortgage rates
Canadian Mortgage Rates in 2012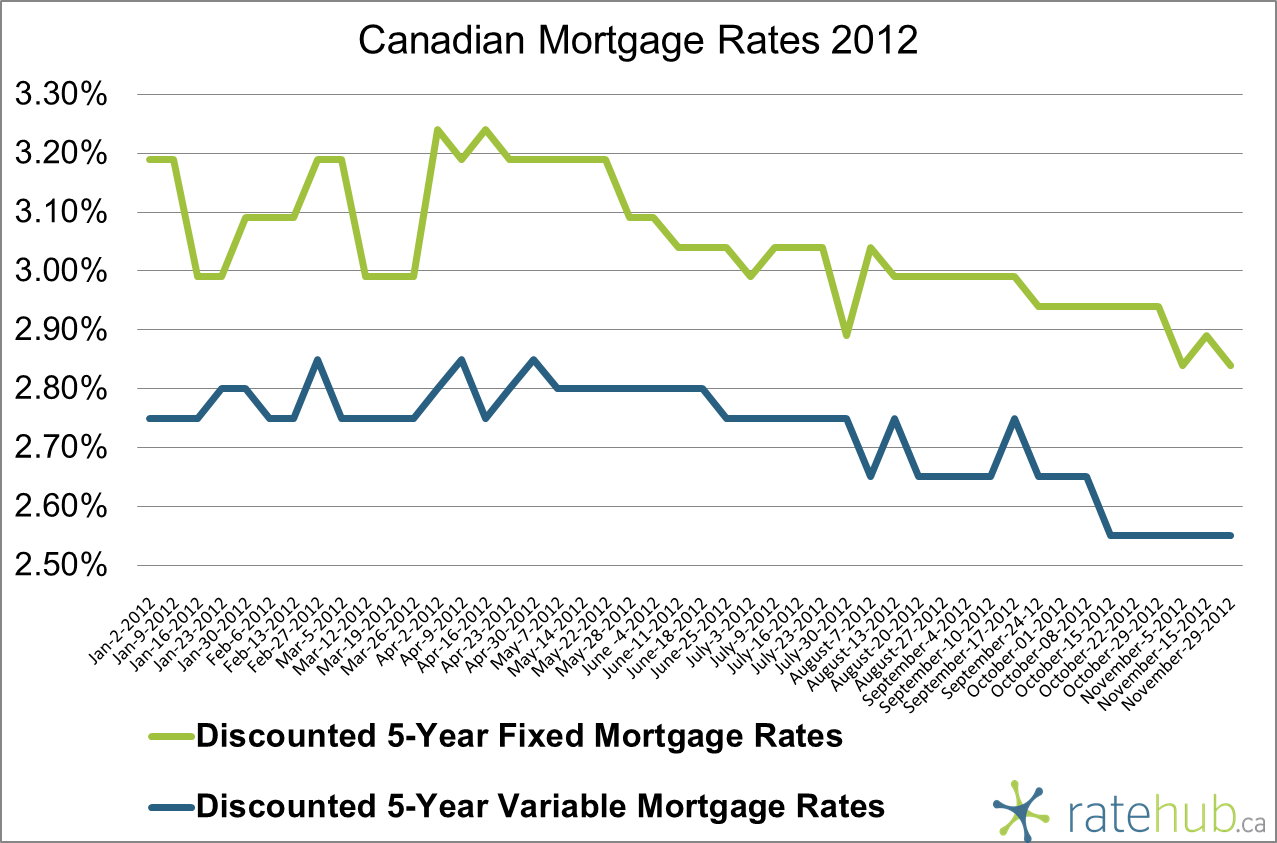 The average discounted mortgage rate in Canada for 2012:
Would you like to licence Ratehub.ca data? Contact us.