The Toronto condo market will be okay says CMHC – Canadian Real Estate Magazine
Toronto's condo market has been on ice over the past few months. Urbanation, a condo market research agency, reports sales are down 47.5 per cent in the third quarter of this year. However, the Canadian Mortgage and Housing Corporation (CMHC) believes prices will hold up in the condo segment. According to Shaun Hildebrand, a senior market analyst for CMHC, "[Condo prices] may decline slightly over the next six to nine months, but in an environment where mortgage interest rates remain low and the economy's holding stable, any sort of reductions in price are just going to help improve affordability and set the stage for a better level of sales towards the end of 2013." Hildebrand did acknowledge, however, that there is still risk of the condo market plummeting again over the longer term, due to unpredictable investor activity around 2014 and 2015.
The Bank of Canada will probably raise interest rates in 2013 – Bloomberg
A Bloomberg survey of economists found that the Bank of Canada will likely raise its benchmark overnight rate in the third quarter of 2013, for a median 0.25 per cent increase. The overnight rate is currently at 1.00 per cent, where the central bank has kept it for more than two years, in part because Canada's economy has been restrained by weak global demand. An increase in the overnight rate would cause lenders to make a similar increase to their prime rates, which would then be passed onto the consumer level, especially homeowners with variable rate mortgages. Although not publicly stated, it is assumed by many that the Bank of Canada would like to raise interest rates to slow the growth rate of household debt among Canadians, particularly with mortgage debt. "The central bank is monitoring the effect of measures by the Canadian government and national regulators to limit mortgage lending," said Carney in an interview.
Household debt growth at 10-year low – Globe and Mail
For months, the federal government has been asking consumers to reign in their debts and it appears Canadians are finally starting to get the message. The rate at which consumers borrow has fallen to the lowest level since early 2002, according to RBC. In the third quarter of this year, growth in consumer debt – that includes everything from credit card debt to mortgage loans – fell to 5.6 per cent, down from 6.3 per cent a year ago. "The easing in credit growth reflected a deceleration in mortgage growth, which fell to a three-year low," said economist David Onyett-Jeffries of RBC. Growth of non-mortgage debt slowed for the second consecutive month, rising only 2.6 per cent in September.
FACEBOOK POLL:
On Tuesday, posed the question on our Facebook Page of whether or not it is okay for a couple to buy a home before they were married.
And Twitter replied:



Share with us your thoughts. We'd love to hear them!
CANADIAN MORTGAGE RATES:
Where are they this week?
A history of weekly 5-year fixed mortgage rates and 5-year variable mortgage rates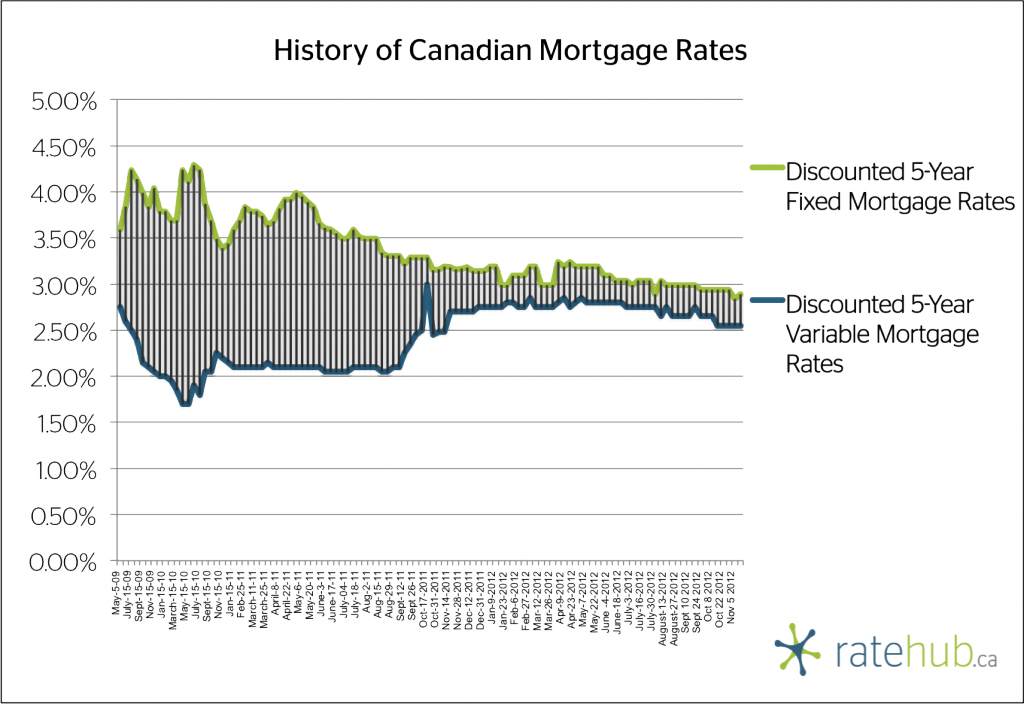 Canadian Mortgage Rates in 2012
The average discounted mortgage rate in Canada for 2012:

Would you like to licence Ratehub.ca data? Contact us.