BMO reintroduces last year's 2.99% mortgage product – Ratehub.ca
In what seemed to come as a shock to the media, but to no one in the mortgage industry, BMO reintroduced its 2.99% mortgage product again last weekend. While the same product was deemed controversial last year, as it sparked a mortgage rates war among all lenders, 2.99% today is anything but low. With better products offered at much lower rates by mortgage brokers across the country, we broke down the fine details of BMO's "new" product in this post.
Banks urged to be prudent with lending – The Province
In response to BMO's announcement, Finance Minister Jim Flaherty urged other banks not to follow suit. "Our government has taken action several times to make sure the housing market remains sound," Flaherty said Monday, referring to the change in mortgage rules last July, along with continued low interest rates. "My expectation is that banks will engage in prudent lending – not the type of 'race to the bottom' practices that led to a mortgage crisis in the United States."
The question on many people's minds now is: will the other lenders play the mortgage rate war game? Mortgage Broker Chris Molder doesn't think so. "Most banks aren't advertising 2.99 per cent, but I know if you walk into any branch in [Toronto] right now they'll start off with 2.99 per cent as the starting rate," Molder told the Globe and Mail earlier this week. If Molder is wrong, Flaherty says the government will consider other measures.
Canadian home prices overvalued by about 20% – Financial Post
In a headline that would catch anyone's eye, numerous outlets reported on Fitch Ratings' findings this week, which suggest that Canadian home prices are currently overvalued by close to 20%. "But don't expect a housing crash," the subline reads as, "prices will take several years to cool and may only decline by 10%."
In a model that first reduces home prices to their "sustainable" value then further subjects them to a "stressed market" value, Fitch said it looked to data from the United States to help measure and draw these conclusions. While the ratings agency believes resale homes could see an overall decline of 10% this year, other market watchers see this as an over-estimate. Barclay's, for example, believes there will be a 5% decline in 2013.
CANADIAN MORTGAGE RATES
Where are they this week?
A history of weekly 5-year fixed mortgage rates and 5-year variable mortgage rates.
Canadian Mortgage Rates Since 2012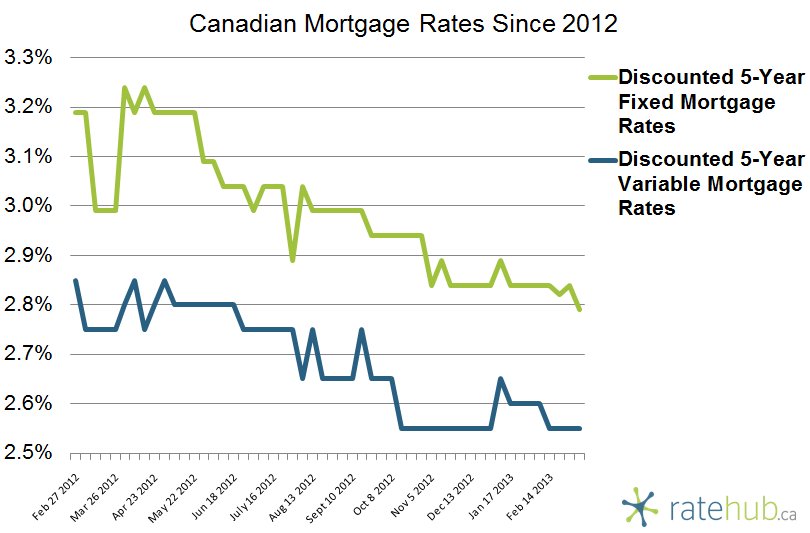 The average discounted mortgage rates in Canada in 2013: